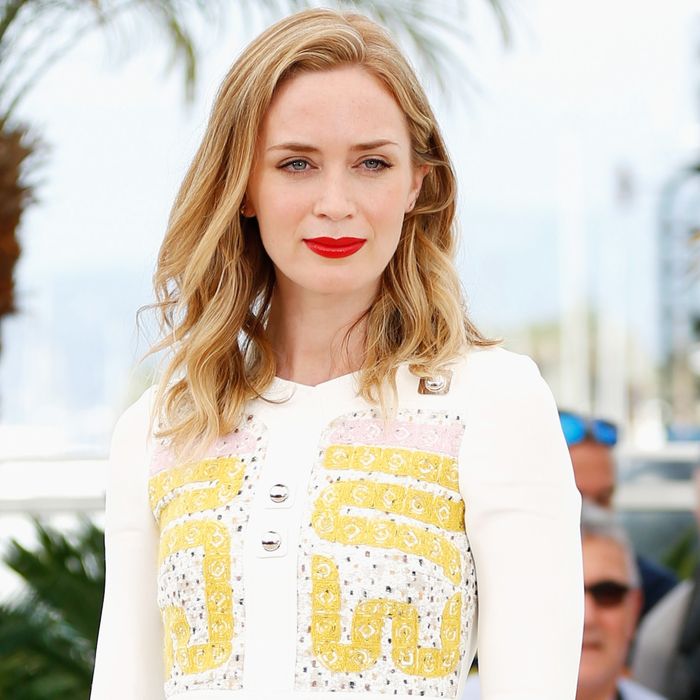 Emily Blunt.
Photo: Tristan Fewings/Getty Images
Emily Blunt doesn't talk to a single other woman on camera in Sicario, her new Cannes film about a female FBI agent who joins a CIA team using questionably legal — and questionably moral — tactics to battle Mexican drug cartels. But that wasn't stopping the boy's club of a cast, including Benicio del Toro and Josh Brolin, as well as director Denis Villeneuve (Prisoners, Enemy), from declaring their feminism loud and proud at today's press conference in Cannes.
Alerted to an incident last night where several women over 50 were denied access to the gala premiere of Carol for wearing fancy flats — with rhinestones, even! — instead of high heels, Villeneuve declared: "In a sign of protest, Benicio, Josh, and I will walk the stairs [of the Palais] in high heels tomorrow."
Oh, the irony of oppressive footwear being enforced for the premiere of a movie about a repressed lesbian romance in the 1950s! And in a year when the festival is already being criticized for the dearth of films by female directors in competition, and when the likes of Salma Hayek, Jane Fonda, and Isabella Rossellini have been giving frank talks about sexism in the film industry. (According to the festival website, "Black tie/evening dress is required for gala screenings. For all other screenings appropriate smart dress is sufficient," which in practice means dresses and heels are required for women, and suits with bow ties for men.
"That's very disappointing," said Blunt of the festival's stilettos-or-bust edict. "We shouldn't wear high heels, anyway. I prefer wearing Converse sneakers." Her own dress tomorrow night is going to be long enough to disguise not-very-high heels.
Still, it doesn't take a dress code to illustrate how much progress needs to be made. "You kind of think that there's these new waves of equality and waves of people realizing that women are just as fascinating and interesting to watch, and as bankable," said Blunt, turning to Villeneuve. "[But] it was interesting, with this film, I think you got asked early on if you'd rewrite my part for a guy."
Villeneuve clarified that over the three years that screenwriter Taylor Sheridan had been shopping the script around, he'd been asked many times to rethink the gender of the lead. "It was a screenplay that people were afraid of in part because the lead was a female character. And I know that the screenwriter was asked to rewrite the part," Villeneuve said, adding that he and the producers embraced the script as it was. "But the pressure came before those guys [signed on]. I can't believe — it's crazy that I'm saying that right now."
Blunt, who describes herself as "pretty competent" with a gun, also takes issue with constantly being asked about playing "tough female roles." "I don't really see them as tough," she said. " I think there are plenty of strong women out there, and I don't think they can just be compartmentalized as one thing, like, 'You're tough.' Why? Because I have a gun? I found this character strangely quite damaged and vulnerable, and she's struggling within this realm of being a female cop and certainly with the morally questionable things that she's having to experience with these guys. And it's not safe. So you see this girl going through pretty much the worst three days of her life, and so she's trying to maintain face through most of it … She's definitely trying to survive in a predominantly male-driven profession."
Through her research, Blunt talked on the phone with four female FBI agents, and, she said, "They sound like me. They just sound like normal girls, and they go home and they watch Gosford Park and Downton Abbey and all this stuff. They're really great girls. You definitely want to have a beer with them."
As for having zero scenes with other women, Blunt appeared not to have even noticed that. "It's something I've become quite used to because I think it's something that happens a lot in films that there aren't a ton of chicks around a movie," she said. The set itself, she said, was "giggly and funny," particularly with del Toro, whom she seemed to hint was as good as a girlfriend on set. ("I had this guy, so …") And he probably looks great in heels.