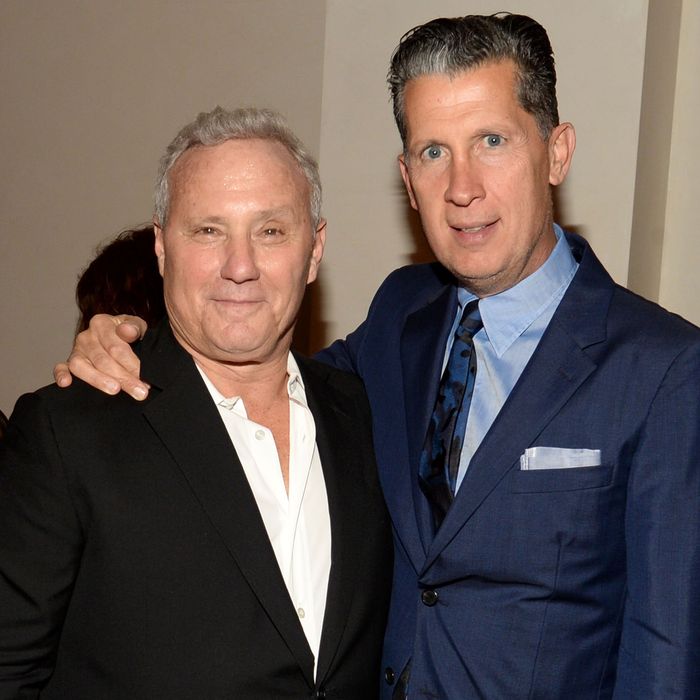 Photo: Clint Spaulding/Patrick McMullan
Last night, yet again finding myself at a New York party, I posed the very same question being posed, like clockwork, all over New York: Were culture and capital ever such charming bedfellows? The answer? Oh, why not! And so I found myself embracing a spirit of our time, and had a genuinely grand evening watching luminaries and luminary-adjacent people watch two of New York's indefatigable culture creators — Stefano Tonchi, the editor of W magazine, and Ian Schrager, the Studio 54 entrepreneur and hotelier — suavely co-celebrate their new brainchildren. Like many great men, they are good friends.
"He was the owner of the Royalton," says Tonchi with spirited elegance, of Schrager. "Don't forget! Nothing else came after that!" I have not forgotten — since I never knew — and instead direct the conversation back to the topic at hand: this party at the Clocktower building on Madison Square. The iconic New York landmark renowned for its four-sided clock, gilded cupola, and its onetime status as the tallest building in the world will now house the New York Edition, Schrager's newest hotel, this one with a dumb name. It provided a more than suitable space to celebrate itself and its friends over at W, who chose the occasion to fête their May issue, which is being written about on this site because it is "the art issue." Yoko is on the cover, though she was not in attendance. (Leonardo DiCaprio was — or so I hear — undoubtedly chauffeured out in a model clown car right under my nose.)
Not all the kinks are worked out at the hotel, but it's not at the expense of feeling, at all times, that you are a fun-loving modern girl in a swell modern city. What an exciting time to be alive! For instance, I asked what cocktail I was drinking, and the waitress said, "A clocktower cup." And I said, "Okay," and assumed it was vodka-based and acknowledged the pomegranate seeds on top were a nice touch. For instance, I gave the "classic Venetian plaster walls" close inspection, but I know not much of plaster in Venice. For instance, there are no elevator buttons. This came in handy when a guard sent me to the wrong floor for coat check and, having no choice but to get out on that floor, ran into Martha Stewart, a woman I have noticed speaks as calmly as she walks. I asked her if anything awful had ever happened to her in a hotel.
"I won't tell you what happened," she said, placidly or kindly. "All I will tell you is it's very dark. The Anouska Hempel hotel."
This from a woman who has been to prison.
After checking my coat, I flex my proverbial muscles at cocktail hour — which I think is really two hours or maybe three, it was wildly behind schedule, but no one cared because there were so many people to look at: the designer Jason Wu, Chrissy Teigen, Cynthia Rowley, and so on. Professional personality Alexa Chung — known for being attractive and thin — and the musician Dev Hynes caught up in a fireplace "nook," his cheekbones lit by wild outcroppings of white candles in clear outsize vases. Like Pottery Barn.
(What Rosario Dawson told me after I seemingly dropped down a baby flight of stairs to talk to her — "You have to catch your moment" — does not apply, necessarily, to hotel décor.)
I can't help but ask Alexa Chung if she's ever done anything crazy in a hotel room, even though I know full well Alexa Chung is not the type of girl to happen upon "incidents" of any sort.
"I'm always quite sad I never managed to throw a TV out a window," she says, gamely confirming all my worldly suspicions. "I guess I'm not rock-and-roll enough."
Before I can begin nodding wildly, she notes, "They're harder to detach these days from the wall. Life is rubbish." That was funny, actually. Then she and Dev claimed that people from England play "a game where you throw a Wellie boot." Their friend (I forgot to mention a non-famous person was there) asked, "What is the game called?" (Good reporter.) "The Wellie-boot game," Alexa answered.
As the PR girls say: "VIP dinner's fashion crowd will mingle with art-world personalities." So I found myself among some personalities, practically sitting down in Marilyn Minter's lap, who was cozy in a couch with her husband, Bill Miller. I apologize for "always" interrupting them, but I just had to because they really are my favorite couple in the entire art world.
"We're married," says Bill. "You couldn't interrupt a married couple." He wants to know if I've seen any artists. I admit I haven't seen any. "I haven't either!" Marilyn shouts. We laugh. "I don't know anybody here!" she continues. "I figured this was the art issue! We saw Rachel Lehman come in and thought, Wow! There's another art-world person here." Marilyn doesn't know if Yoko is coming, though she saw a lot of Yoko during her show at the Everson Museum in 1971, when Minter was a grad student. "I worked at the museum in the gift shop and got paid in her art. I got a grapefruit. I got a smile box. I got a glass key." I don't get it, I say. "A box of smiles," says Bill, friendly-like. "A box of smiles," Marilyn says, nodding vigorously. "A smile box."
I head to dinner. To my delight, I am seated next to the very polite Peter Copping, the new creative director of Oscar de la Renta. Refined as he is relaxed, he seemed neither tired nor particularly invested in the proceedings. Teasing me about reportorial ingenuity — probably mine but maybe the entire fourth estate's — he deadpans, "Now, what's your favorite color?" I ask instead if he's ever thought of wearing his own dresses. "Oh. Good one." He ponders it. "It's not my thing." I don't ask Copping what women should wear (who cares?) but what I should wear.
"Can you imagine if you put a really nice vintage Chanel jacket on?" he says. Yes, I can, I say. I have a terribly, just frightfully good imagination. He thinks for a while. "I think you could look good in something really frumpy. Like something a 70-year-old woman would wear." Me in particular? I ask, or all women? "No. Just you. I think you have the character to make that work."
Peter and I speak for a while with Ennio Capasa, of Costume National, about fashion. By which I mean I listened to them speak, and turned my attention to a well-coiffed Jay Manuel in floral print. I ask him how often he gets his hair cut. A well-cropped head, Jay Manuel has. He tells me all about his hair. He gets it cut once "every 12 days" (he shows me a picture of the salon he built in his house for this express purpose). He dyed it gray after "Tyra dared me." I admire Jay — whom I began talking to because a seat next to him emptied, at no fault of his own — because he truly seemed unflappable. He radiates security, maybe even happiness. "I have no gray," he's saying, "at all. My hair is so jet-black. I have eight grey hairs here. Maybe 14 in my sideburns." What a good resting face, I'm thinking, a perfect visage for the tedium of reality television and, I imagine, the capriciousness of Tyra Banks (who did eventually fire him from America's Next Top Model). "I don't have much to dye," says Copping.
Dinner isn't winding down because it doesn't want to. Also, there's fresh blood, it seems, pouring in from downstairs, where there is a DJ and a crowd who didn't shell out for the gala food. Not that we cared about it, anyway. As Stefano Tonchi, the W editor, told me, "Who has any power lunches? Nobody. Nobody drinks or eats anymore."
Still, I want to know what Iman is doing after this. "From here?" she asks, grabbing my arm and laughing like I've told a good joke. "Going home. I mean, it's Tuesday, for God's sake."