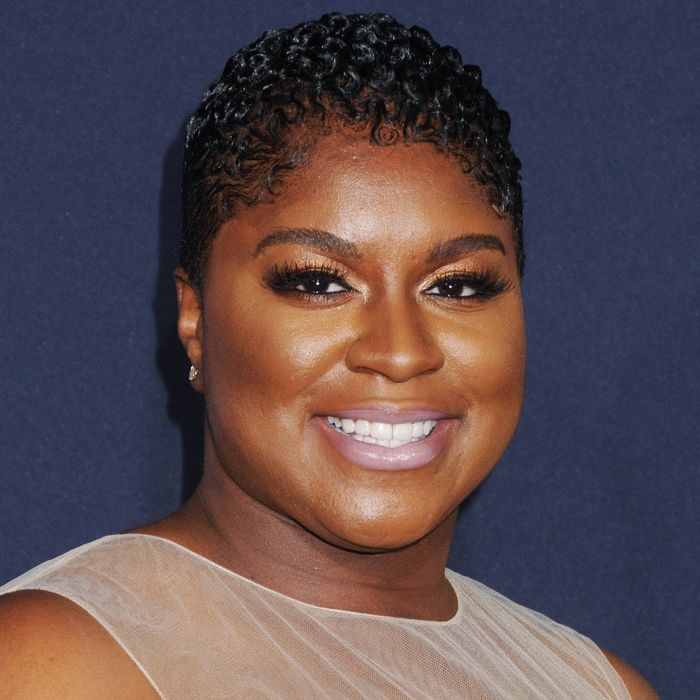 Ester Dean.
Photo: Byron Purvis/Corbis
When Pitch Perfect was released in September 2012, the film, about an underdog college a capella troupe named the Barden Bellas, was one of the year's surprise hits, earning more than $113 million at the box office. Smart, endearing, and charmingly square, the movie supercharged the careers of Anna Kendrick and Rebel Wilson.
One of the other Bellas was already a star, though, albeit of the backroom variety: Ester Dean, who played Pitch Perfect's Cynthia, has over the last few years amassed co-writing credits on a slew of pop hits, including, among others, Rihanna's "Rude Boy" and Nicki Minaj's "Super Bass."
But spending long hours in recording studios wasn't scratching a particular career itch. "I like to entertain because I write songs for people to dance to and sing to," Dean tells me by phone before explaining that being on the Pitch Perfect set compelled a career epiphany. She learned that she's "ready to tap into another creative source to make people happy." In other words, more movies.
Now, with Pitch Perfect 2 opening on Friday, Dean is moving further along in her transition from being a musician who moonlights to becoming a fully committed actress. Over the past three years, Dean, raised in Tulsa, has taken tentative steps in that direction, performing voice work in Rio and Ice Age: Continental Drift. "I don't want people to say, 'She's only in this movie because she can sing,'" Dean says about her onscreen work."I am going to say to the movie industry what I already told the music industry: I want my shot."
While she's done the voice work and hit the audition circuit in the time since the first Pitch Perfect came out, Dean still felt like she was on a steep learning curve while filming the sequel this past summer in Baton Rouge."I'm still growing, and I understand I'm not going to go from the bottom to the top," she says. "But it's been an uphill battle trying to prove to people that I am an actress."
Her fellow Bellas were quick to offer advice. Wilson and Hana Mae Lee in particular instructed Dean on how to become a more well-rounded performer. "I didn't know anything about character building," Dean says, "and they both taught me how to create a backstory." According to Wilson, Dean has taken quickly to the profession. "When you're new to acting, I think it is important to know the basics," says Wilson via email, "but it is also very important in comedy to stay in the moment and improvise when you can … Ester is such a quick learner that a few weeks into production she was watching myself, Kendrick and the other girls, and really picking up on the whole acting thing fast."
Still, leaving the studio behind was a challenge for Dean. For her to fully commit to her new career path, she needed to take a break from music — a change from how she approached the first Pitch Perfect. "Last time I took my engineer, Big Juice," she says. "But this time I told him to stay back, so I didn't have anybody who I could call in the middle of the night if I wanted to record."
Dean was involved with only a handful of songs in 2014, writing the hooks for Nicki Minaj's single "Pills N Potions" and "The Night Is Still Young," but once Pitch Perfect 2 wrapped, she quickly recorded an EP, Miss Ester Dean.
So things are going well for the 33-year-old, but when they're not, she resorts to a trick she learned from The Secret, and makes a vision board, a collage of images that correspond to her future goals. It's a technique she's been using for a while, and the results have been good. Dean tells me that one of her earliest boards featured images of Ciara, a house, and an American Express card. Not long after making it, she was able to get a house, a credit card, and write one of her first singles, "Drop It Low," created with Ciara in mind. Recently, she made another vision board, this one adorned with photos of Judd Apatow, Steven Spielberg, the Avengers, and Guardians of the Galaxy. She noticed something funny about that very ambitious gathering. "I felt guilty that there was no music on here," she says. "But I realized this is now my acting board, and acting is my goal in life."