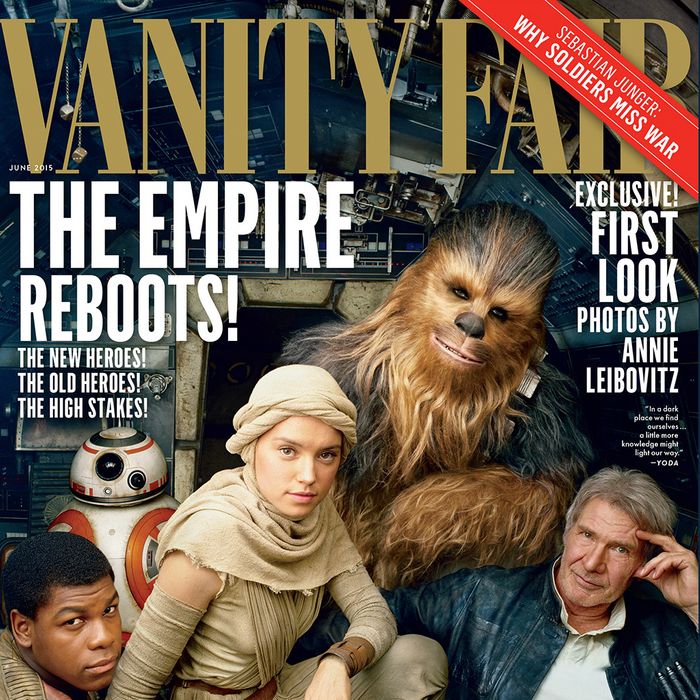 A long time ago, on newsstands far, far away….
Photo: Courtesy of Vanity Fair
Vanity Fair sent its finest protocol droid, AN-E L3-B0-V1TZ, to the U.K. set of Star Wars: The Force Awakens, and it returned with our first good looks at two of the film's most mysterious characters. The first is Adam Driver's Kylo Ren — the three-pronged lightsaber guy — who, if you couldn't tell from his all-black ensemble and legion of Snowtroopers, is supposed to be a bad guy. According to the mag, Ren and the troopers are "loyal to the evil First Order," and are seen here "on the frozen plains of their secret base." They're not riding tauntauns, which is just more proof that the Rebellion — er, the Resistance — is more fun.
The second revelation confirms rumors we'd been hearing for a while: Lupita Nyong'o will be Serkis-ing it up as a fully motion-captured character. She's playing Maz Kanata, a pirate whose castle is a meeting ground for "galactic travelers, smugglers, and other assorted riffraff." This is what People's Most Beautiful Woman of 2014 looks like with a bunch of dots on her face:
UPDATE: And here's another look at Gwendoline Christie's character, a chrome stormtrooper who goes by the name Captain Phasma. Imposing!
There are additional glimpses of the new characters in the behind-the-scenes video below, and more set photos over at Vanity Fair.