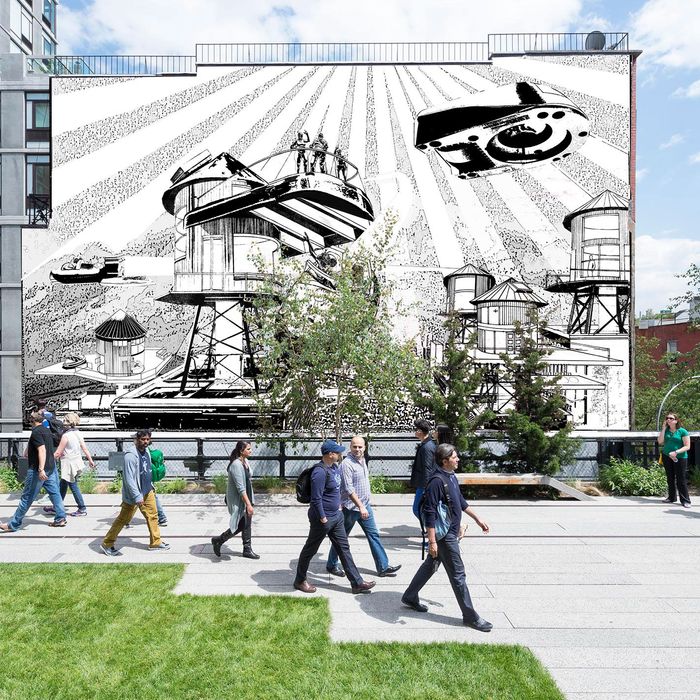 Photo: Rendering of Kerry James Marshall, Above the Line, 2015. A High Line Commission. Courtesy of Friends of the High Line.
Can the High Line get away with critiquing the High Line (or at least the gentrification it put into hyperdrive) on the High Line itself? In the six years since the first phase of the abandoned industrial railroad reopened as a tourist promenade, empty lots have become multi-million-dollar condos seemingly overnight. The park has also spawned more and more of its own kind, sprouting minimalist urban platforms like those outside the new Whitney. The High Line's curator and director of art, Cecilia Alemani, can barely keep up.
"We used to have a big billboard that we used for four years — we can't use it anymore," said Alemani, who has made a habit of installing works by the likes of Ed Ruscha, Rashid Johnson, and El Anatsui within and in view of the park, over the phone (she's in Venice, naturally). "The city changes so radically around the High Line that with the art program, we need to adjust. There's a new rooftop, but the wall that you always loved has been demolished."
The city's churn makes Alemani's upcoming project — a mural by artist Kerry James Marshall that will replace a previous piece by Ruscha on a wall near West 22nd Street next month, which she is premiering on SEEN — feel particularly apropos. The piece, which will be hand-painted by the Brooklyn mural company Colossal Media (they make those faux-artisanal Vans and Jim Beam ads all over the place), depicts a semi-dystopian urban future in which even water towers have been transformed into glassed-in condos overlooking the city. In other words, everything looks like the very Chelsea residential towers that are rising up so quickly behind the High Line.
Titled Above the Line, the piece is Marshall's first public commission in New York City, and it stems from the artist's series of cartoons called "Dailies." "They feature black superheroes, who are overlooked in contemporary mainstream culture," Alemani says.
As the glut of unavoidable Marvel superhero blockbusters show, the demographic is largely white. Marshall draws from African-American culture to create new heroes in his "Rhythm Mastr" series, and looks to African sculpture to inspire superheroic powers.
Marshall's mural encourages different readings, depending on who sees it. The piece makes a previously hidden demographic publicly visible in a visual language — comic drawing — that's universally recognizable. But it also functions as "a criticism of what's happening in the cities, something that local community will appreciate much more," according to Alemani. It's a satire of gentrification in its native habitat.
Apart from the flying cars zipping around the glassy condos, the work is recognizable even as it is dystopian. The gentrification visible around Above the Line presages a future in which every part of the city looks like the High Line, stocked with glassy façades and inaccessible views. It's an eerily imminent fate, or maybe one already past, in which the city is more striated than ever. Can we escape it?
"This is very much a vision of a futuristic imaginary city, maybe New York City, I don't know!" Alemani says of Marshall's work. "We hope that is not what's going to happen next to the High Line, but it's almost there." If we are indeed almost there, almost reaching Marshall's vision of a High Line–ized cityscape, it would only make sense for a former freight railway, not so long ago a rusty, romantic artifact abandoned to the elements, to eventually become a runway for flying cars.