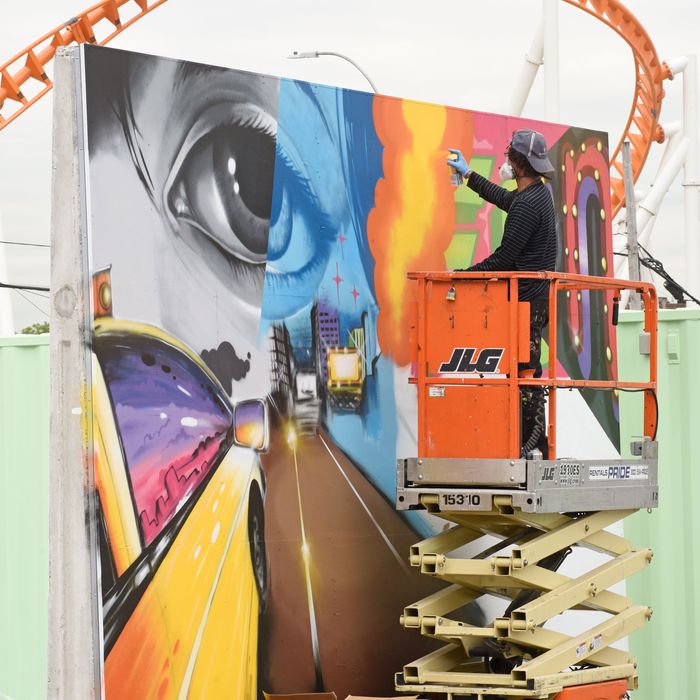 Jeffrey Deitch is back in New York and as ubiquitous on the art scene here as ever, even without (at least so far) a space to program as his own. One of his great successes out at MoCA in L.A. was 2011's "Art in the Streets" and now, working with Thor Equities, which is redeveloping the ragtag urban resort, he's invited a slew of famous street artists to light up walls in Coney Island. The Times recently called Deitch an "itinerant showman and dealmaker." It's true that he's without a permanent base in New York — dealer without portfolio — but perhaps, at this point, he doesn't need one. As he told SEEN of his explorations in Brooklyn's Red Hook, "When word got out that I was considering doing something here, people suddenly began offering me free spaces." His reputation for fun still precedes him.
Indeed, perhaps Deitch is ready for some lighter fare after his ambitious curatorial projects in California largely failed to pan out. As with Miami Basel's "Wynwood Walls" series, which Deitch initially co-curated, "Coney Art Walls" can also be seen as a marketing mechanism. The exhibition takes place on 25 temporary walls constructed by Thor. The walls will form the center of a pop-up "summer village" food court for hipster dining. (Hey, the Rockaways can't have all the cool-kid food fun.)
But enjoy the murals while munching on your Asian-fusion kimchi bratwursts! Even in progress, the works portray a new Coney Island — more colorful, more dynamic, and doubtless much more expensive. The old becomes a re-branded wrapper for the new, as Deitch knows better than most.
We've collected in-progress shots by Martha Cooper, as Lady Pink, Daze, Aiko, KATSU, and Ron English, among others, get up.