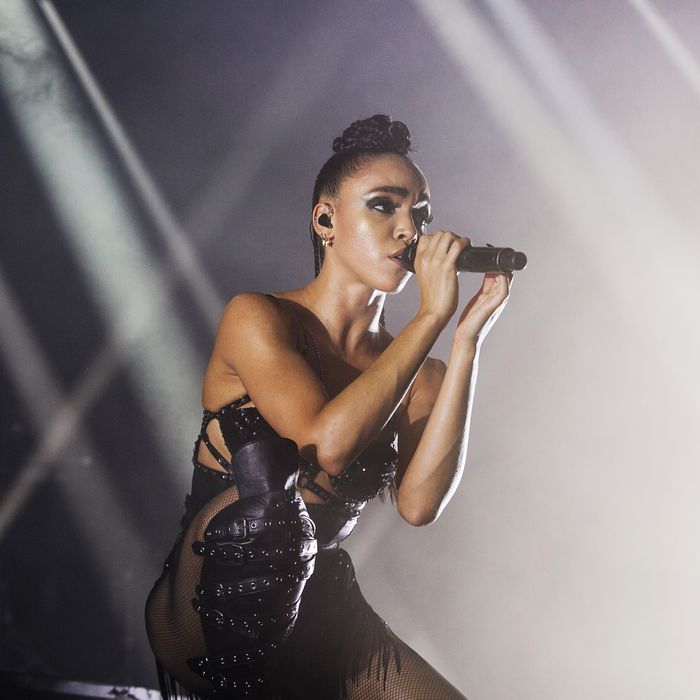 Photo: Maria Jose Govea/Red Bull Content Pool
"A lot of people on YouTube and Instagram say 'Twigs is the queen of voguing.' But I'm really not, I'm still learning." It's the first — and only — time in her nearly two-hour-long show that FKA Twigs takes to speak at length to her audience. Washed out in a cloud of gray fog, she's winded during this, the second of three nights of her ambitious sold-out Congregata series (the marquee event at this year's Red Bull Music Academy Festival New York). Waiting in the wings of the Brooklyn Hangar, a boiling warehouse in Sunset Park, for their introduction are a who's who of dance titans — Benjamin Milan, David Magnifique, Dominant from Wet Wipez, members of Vogue Evolution, to name a few — some of whom had a part in Twigs' latest visual masterpiece, "Glass & Patron," and her commercial for Google Glass.
But on this night in New York City, they're fused together as a makeshift dance company to show a couple of thousand attendees, dressed in their Brooklyn street-style best, how to slay. "I'm not working with these people because they're hot or Tumblr said so," Twigs explains during her curtain call, just in case anyone with their jaw to the ground was wondering about what they'd just witnessed.

Twigs, a 27-year-old Brit born Tahliah Barnett, has had a confounding ascent to pop divadom: Music blogs saw her as this mousy video girl turned R&B provocateur, raising eyebrows with erotic videos that portrayed her in Margaret Keane style. That underground seductress image has been shed a bit, but only a bit, as she's found more frequently on E! News these days alongside reported fiancé Robert Pattinson at the Met Gala, where she wore a Christopher Kane gown with a flaccid penis on it. With every creative decision, Twigs thwarts the industry's archetypes of how its female pop stars should behave. "It makes you want to smash your face into the mirror," she recently told the New York Times of feeling strangled by celebrity culture and the draining album cycle.
Perhaps as a therapeutic retreat from that stress, she locked in for the Brooklyn concerts with Ryan Heffington and Aaron Sillis, the show's director and choreographer, respectively, and recruited a dozen of her dance friends whom, she told the audience, she'd met at various periods in her life over the last decade while on her way to discovering FKA Twigs. Their individual mantras about movement, sexuality, anatomy, and music all gelled to become Congregata (the name, in Latin, she tells us, means "coming together"), which had a test run in London back in February.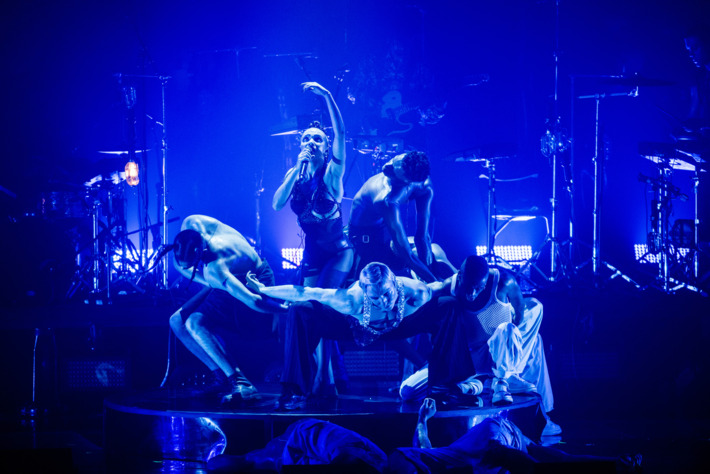 At its best, Congregata is a revival of the ballroom drag scene worshipped in the '90s. Guest Dashaun Wesley and a stable of local veterans of that era, at one point, bait the crowd by asking, "Did miss Twigs say she was coming to New York?" a snap-second before having her kindly hand them the floor so they can turn the place out into a voguing free-for-all that would've had RuPaul screaming "yasss kween." That aesthetic is blended with a collective of show-stopping daredevil krumpers and bone-breakers, as well as Twigs' mesmerizing contorted poses, visually enhanced by her many S&M-themed black corsets and thigh-high stilettos. During "Papi Pacify," her most carnal song, she's flung in the air by a muscular male dancer atop a rotating platform, each hip thrust and sexual simulation an aphrodisiac potent enough to hypnotize the room.
The show falters only when it gets woozy from its own spectacle, which, for one particular visual stunner during "Video Girl," sees Twigs and a line of five dancers using a row of lasers as both a stripper pole and partition, slithering around and between them. Those moving parts coupled with the music — which even involves sweeping solos from a violinist —and impressive strobe-light shows aren't always as in sync with the art in motion as they need to be for maximum effect. It's a minor error, to be sure, but just enough of one to snap you briefly out of Twigs's trance.

As much as Congregata is a study in the history of dance and celebration of queer countercultures evolved from it, the show is also a tease at what's on Twigs' mind moving forward. If Twigs is looking for a jailbreak from her first album, it'll come in the form of her third EP, slated for sometime later this year. Small morsels of that project were offered at Monday's show in both "Glass & Patron" and another song reportedly called "I'm Your Doll," a goth deep-dive into control via submission. ("Dress me up, I'm your doll," she commands.) "Push things forward, instead of dumbing things down," she tells the crowd here, and it comes off less as reassurance to any fans worried that fame might cheapen her, but as a reminder to herself that if stardom wants to make her smash her face into the mirror, she may as well invent stronger glass.