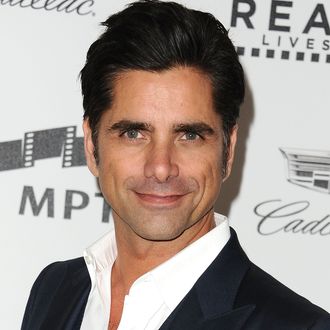 John Stamos.
Photo: Jason LaVeris/FilmMagic
If you've been sifting your way through our upfronts updates, you might be wondering about Fox. Well, the network just picked up that John Stamos show and another show about a dating app. (Kidding.) The network just picked up that John Stamos show and that other show where Rob Lowe and Fred Savage are supposed to be brothers. (Not kidding.) There will also be a series about a private pathologist in Miami, as well as one that sounds like another batch of millennials entering the real world. Here are Fox's four new shows for next season:
Grandfathered: This is the Stamos show, which will also feature Josh Peck, Paget Brewster, Christina Milian, Kelly Jenrette, and Ravi Patel. It's called Grandfathered, because "a longtime bachelor," presumably the mystical Stamos, has his life "upended when he discovers he's a father — and a grandfather." Whoops! It's a single-cam comedy, from Danny Chun, with, yes, the Josh from Drake & Josh.
The Grinder: Lowe's single-cam comedy has the actor starring as a TV lawyer, better known as "The Grinder," because what else would you ever want to be known as? (Keep your answers to yourself.) Yes, Fred Savage really does play Lowe's brother, known as Stewart, because his badass nickname is still a work in progress. Lowe's character is going to bump into a crossroads when his TV law show comes to an end, and Grindy thinks he should move back to his family's small hometown and take over their law firm. (Hopefully, this is significantly less depressing than The Judge.) Mary Elizabeth Ellis, William Devane, and Hana Hayes round out the cast.
The Guide to Surviving Life: Fox has called dibs on half a dozen episodes of this single-cam comedy, about the mishaps that happen in the postcollege years, before settling down. Jay Lacopo is the man behind the pen, and Jack Cutmore-Scott, Meaghan Rath, James Earl, Charlie Saxton, Justin Bartha, and Maureen Sebastian will star as the cast of what sounds a lot like Girls with fewer girls.
Rosewood: Morris Chestnut toplines this series as the titular, Über-optimistic Beaumont Rosewood Jr., a private pathologist with a fantastic name. Rosewood spends a lot of his time studying bodies and death (fun!), and he's also gonna hang out with and help this super-cynical detective, played by Jaina Lee Ortiz. Really, it sounds like someone put House, Dexter, and Backstrom in a NutriBullet and then just went smoothie crazy. (For what it's worth, other character names include Pippy, TMI, and Bella — yes, they are crushing the name game.)