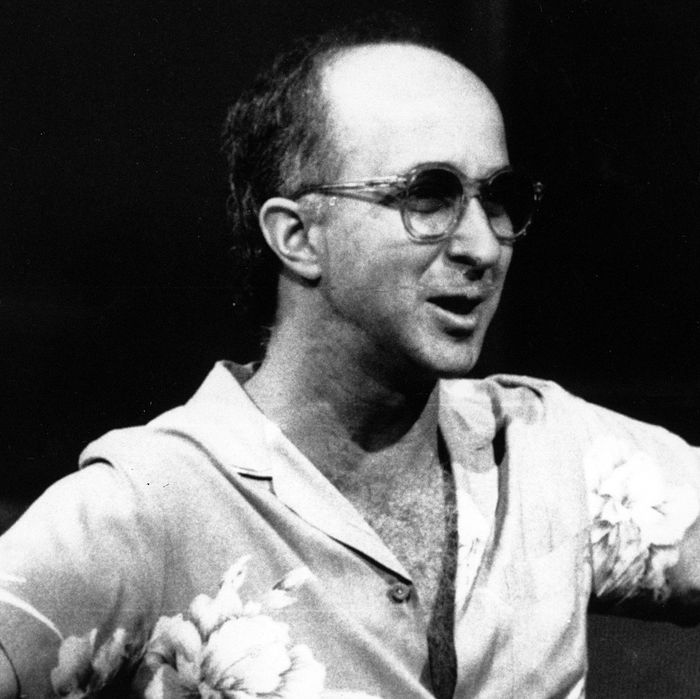 Bandleader Paul Shaffer directs his band during a rehearsal for Late Night with David Letterman in New York. Shaffer, now 65, has been the gravel-voiced sidekick of David Letterman since 1982.
Photo: Susan Ragan/Corbis
Of course, tonight is David Letterman's final night as host of the Late Show, but it's also Paul Shaffer's last night as his bandleader. To celebrate Shaffer's 33 years in late night (40 if you include Saturday Night Live), Vulture asked another late-night bandleader, Fred Armisen, to pay tribute. Dan Reilly spoke with Armisen for this as-told-to piece.
I didn't decide to join Late Night With Seth Meyers as his bandleader. My life is, "Do you want to try this?" "Yes." "Do you want to do this?" "Okay." If someone asked me to do a Spanish soap opera tomorrow, I'd say, "Let me try it. Let me see what that's like." It was Lorne Michaels's idea. I had finished SNL, and they were trying different things out for Seth's band. Maybe it was going to be a DJ, maybe it was going to be nothing — and then Lorne Michaels had this idea. He knew I was busy doing Portlandia, but he had this idea, and I really liked it. It keeps me at NBC, it keeps me close to Seth and my friends, and it also gives me an opportunity to put punks together. So, when I started, I looked at how other people did it: Questlove, the guys from Conan's band, and the legendary Paul Shaffer.
Every time I talk to Paul, I see his whole history, like this waterfall. I'm like, "Oh my God. There's this, this, this, and this." His roots come from the perfect mix of comedy and music. He was such a huge part of Saturday Night Live and Lorne Michaels's world. He was part of Godspell in Toronto, he knew Gilda Radner and the rest of that incredible cast, and he was part of that pre-SNL Toronto comedy world. What a great place to come from. He was with Bill Murray in the "Nick the Lounge Singer" sketch. He had the right taste to put the Blues Brothers band together. Anyone who was a key player in Spinal Tap is automatically put in the highest stratosphere of comedic and music history. He's legitimately a funny, funny person. He makes other people look and sound funny. That's a person I'd want to spend time with and listen to music with and play music with. It made total sense that he ended up on David Letterman's show. 
I asked Paul for advice when I was starting out on Seth Meyers: "How do you make it look easy?" We talked a little bit. I laughed, "I had no idea that this is what the job entailed." The camera and stage cues have nothing to do with musical timing, so when you're in the middle of a chorus or a verse, it's not like someone says, "Well, we'd like you to finish the verse before we cut to whatever." It's more like, "No, really, we're moving on right now, so wherever you are, get your band to stop, and make it sound like you've rehearsed it a million times." That's not easy for me. I don't come from the world of an accomplished musician. Your instinct is to finish out the verse, and here, you just don't. Paul always seems comfortable and so accomplished with that.
And how great is it that he picked the keyboards? It's a really difficult instrument, but it has such a full sound, and he really commands it. That is not to be taken for granted: to make an instrument command the stage like that, front and center. Most people would pick the guitar to be that kind of person, to really drive that truck of a band. His music, even coming through a TV speaker, really has resonance; it's dense and thick. How do you make a sound like that? It's incredibly difficult.
But even though he's a consummate entertainer, Paul is not a show-off. He is being himself and enjoys being himself, but he is there to serve. You can tell by the way his band, for the most part, has the same musicians. He's picked the best drummers, the best guitar players, and so on. That says a lot, that they trust him and want to be part of his group. Musicians usually get bored pretty easily, and they stuck with it.
Going back to the very beginning of when David Letterman was on TV, Paul would play with many of the bands that came on the show. That's not easy to do seamlessly — to learn the chords and make it sound great — but it was with Paul Shaffer. If I ever got the opportunity to jam with him, I'd play "Hitsville U.K." by the Clash. Mick Jones playing that keyboard has the same kind of love of the instrument that Paul Shaffer does. I know those drum parts; I've been playing it since I was a teenager. And I would guarantee you he knows how to play it, and play it well.
I don't want to consider this a farewell, because even if he isn't doing The Late Show, Paul Shaffer has always been active, doing something amazing, and he will continue to. He has led his life in such a brilliant way. Given the opportunity, I would ask him the same advice today. How do you keep it going? How do you make it look easy?