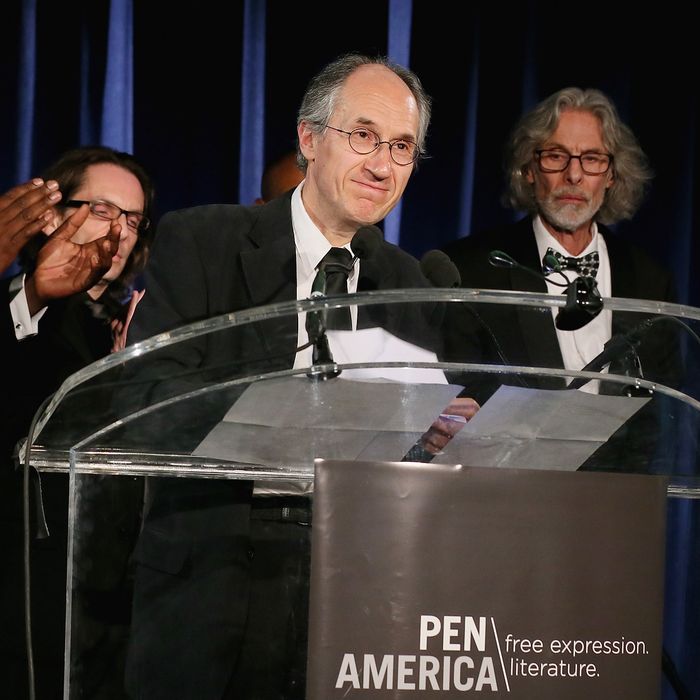 Charlie Hebdo editor-in-chief Gerard Biard accepts the PEN/Toni and James C. Goodale Freedom of Expression Courage Award onstage with Charlie Hebdo film critic Jean-Baptiste Thoret and New Yorker cartoon editor Bob Mankoff, presented by author Alain Mabanckou at the PEN American Center Literary Gala at the American Museum of Natural History on May 5, 2015 in New York City.
Photo: Jemal Countess/Getty Images
"I knew there was gonna be security — I wasn't quite expecting the military scale of it," said Salman Rushdie, who knows from security, at the cocktail hour before the start of last night's PEN American Center gala at the Museum of Natural History.
It was a superlative night in many ways for the free-speech writers' advocacy organization: a record number of guests (more than 800) and a record fund-raising haul ($1.4 million). But also a record level of anxiety. PEN's decision to honor Charlie Hebdo was the cause of all the fuss — both the massive police presence outside and in (dogs sniffing under dinosaur skeletons) and the recent withdrawal in protest of six table hosts, followed by a disapproving petition signed by 200-plus members.
Perhaps unsurprisingly, the two people most sanguine about the ruckus were the honorees, who've seen worse. "I'm surrounded by cops, and it's no problem," said Gérard Biard, the French satirical paper's current editor-in-chief. "I began to get used to it," he added — as he has to the notion that Hebdo traffics in needlessly provocative racist caricatures. "I would like to remind the protesters that the first victims of Islamism are Muslim. We don't attack Muslims, we defend them. Do they?"
His colleague Jean-Baptiste Thoret, who was late to the editorial meeting at which eight Hebdo staff members were killed in January, regretted that the missing hosts — including Peter Carey, Michael Ondaatje, Rachel Kushner, and Teju Cole — had skipped a morning PEN panel where he'd appeared. (They'd declined in an email, saying they did not want to bother "the recently bereaved.") "We missed a chance to have a discussion and find a common truth," said Thoret. "I am not the owner of the Truth with a big T. The truth is somewhere in the middle, and to find the truth you have to discuss."
Other PEN hosts — especially Art Spiegelman and several other cartoonists he'd drafted to replace the protesters at tables — gave less ground on the ten-day-old debate. "I think of them as the Sanctimonious Six," said Spiegelman, wearing a Nancy comic tie, of the absent hosts. He detected in them a note of anti-cartoonist bias, especially in the way criticism over the last few days had integrated the Dallas Muhammad-drawing contest that provoked a shooting. "Some of them were derogatory for the medium, talking about them as by nature vulgar," he said. "Sure, Charlie Hebdo's drawings are often vulgar when you think of Muhammad with a crescent moon up his ass, but the ideas behind it are rather sophisticated. A lot of the criticism seemed to blur the distinctions between Pamela Geller's organization," the Muhammad-drawing contest group, "and Charlie Hebdo, which has been lauded as an anti-racist organization by SOS Racisme" — a French anti-racism NGO.
SOS Racisme president Dominique Sopo was the surprise witness of the ceremony. He'd flown in from Paris to testify in what felt like a carefully constructed defense of PEN's position. For ten days, the organization had struck a cordial and conciliatory tone, touting the benefits of vigorous debate and even saying it would be okay to boo Hebdo. Tonight, with the help of an audience looking for applause lines and nary a heckler in the house, PEN exuded the sense of having already won.
The defense offered stood on three legs. SOS Racisme tackled the first one, arguing that the work of Charlie Hebdo was not racist. "We honor their antiracist commitment, which has been consistent throughout their existence," said Sopo. The previous week's "polemic" was based on a fundamental "misunderstanding of what Charlie Hebdo means in France. I think it's very important that we do not kill those who died a second time by raising a polemic."
The second leg was a defense of secularism. "Secularism is not a bad word," Biard said in his speech, subtitles flashing behind him, making it feel only more like a high-school lesson on laicité. "Nor is it a French cultural obsession, like smelly cheese or flabby presidents. It's one of the many conditions for democracy. Secularism protects our freedom of conscience, which is both the right to believe and the right not to believe."
New Yorker cartoon editor Robert Mankoff made the final point. "The attack was targeted on cartoonists, and that wasn't an accident," he said. "I do feel that cartoonists, humorists, satirists, and jokers are the marginalized group in the defense of freedom of expression. Often, humor is the second-class citizen in the defense, and I want to say that it's nice that Charlie Hebdo is up here in the first-class cabin." Then he named the one thing his cartoons and Hebdo's have in common: "Not everyone gets the joke." It echoed Biard's closing line, like a flashy defense attorney's last flourish: "Being shocked is a part of democratic debate. Being shot is not."
The other honorees of the evening — yes, there were others — seemed conscripted into the cause, too. Penguin Random House CEO Markus Dohle, honored by Solomon as "a cultural institution" all his own, attacked the self-righteous echo chamber of Twitter. Tom Stoppard, while accepting a lifetime achievement award, drew applause for saying that PEN's "purpose is not to protect some persecuted writers and not other persecuted writers" — though also insisted, "Incompatible truths have to survive together. If they end up being a Punch and Judy show, then neither of them will persist."
The Freedom to Write award was given to Khadija Ismayilova, a journalist imprisoned in Azerbaijan for exposing government corruption. Emin Milli, who presented the prize in absentia, spent some of his time begging for more attention to her case — soliciting movie treatments of her story, lobbying for her to win a Nobel Prize, and leading a group chant of "Khadija!" But he also made much of Azerbaijan's forgotten origins as a secular majority-Muslim state. PEN president Andrew Solomon had begun the night by referencing "the elephant in the room, or rather the whale in the room" (i.e., the giant blue whale that hung over the guests with slightly more menace than usual). By the end of the night, it simply was the room.
The closing argument went to executive director Suzanne Nossel. Before announcing the prize for Khadija, she couldn't help adding, "The defense rests. And for those who didn't want to be here and didn't feel comfortable, tout est pardonné." It was a reference to Muhammad's thought bubble in the Charlie Hebdo cover immediately following the attack — an ambiguous statement of forgiveness. "Welcome back," she added. "Let's move on together in defense of the freedom of expression."
Whether they'll move on is, like everything, open to debate. As Nossel herself conceded early in the night, "It's been a prominent, robust, mushrooming debate," she said. "So I don't think it's going to go away anytime soon."