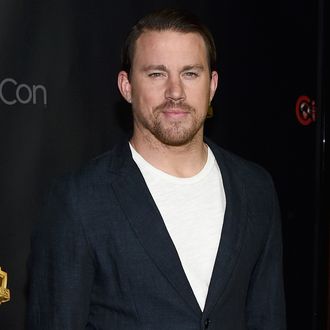 Channing Tatum.
Photo: Photo by Michael Buckner/Getty Images for CinemaCon
Channing Tatum has revealed that his solo Gambit X-Men movie will be an origin story, according to SlashFilm. Score. The actor was talking about the project in the most recent issue of Empire and mentioned that its first draft is done. "[I]t's killer. None of us were sure how [Josh Zetumer] was going to deal with the X-Men world," he says. "But we're going to be changing some of the tropes of these movies. It's always about saving the world, but maybe we're going to shift things a little bit." Zetumer is reportedly working off of a treatment penned by Gambit's creator, Chris Claremont.
The Ragin' Cajun, as Tatum pointed out in his interview, is not exactly a straightforward superhero; his badass kinetic energy control is offset by his vice-driven sketchiness and penchant for thievery. Naturally, Tatum is pumped because that makes for some fun acting, but also because he just loves Gambit. "I grew up in the South; my father's from Louisiana. We'd go to New Orleans and I heard all the dialects. It felt so different from the rest of America; it has its own ancient culture. So I identified with that," he adds. "[Gambit] always felt the most real of the X-Men to me. He's kind of a tortured soul and he's not a good guy. But he's not a bad guy, either. He walks his own path. And of course he plays cards and drinks and is a martial-arts badass!" SlashFilm notes that we could see Tatum's Gambit in Bryan Singer's X-Men: Apocalypse film, but if not, Remy LeBeau and his unconventional rise to mutant superheroics hits the big screen October 7, 2016.