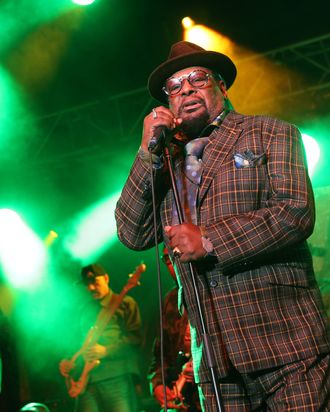 Photo: Jesse Grant/Getty Images
George Clinton, doyen of funk, captain of the Mothership, needs no introduction, but just for reference: His catalogue spans six decades and more than 30 albums, encompassing his legendary bands Parliament and Funkadelic, as well as his solo work. His music has been sampled by everyone from Sleigh Bells to Snoop Dogg. He's on the new Kendrick Lamar album. A replica of his preferred mode of transportation, the Mothership — a cartoonishly elaborate silver spaceship from which he would descend during P-Funk live shows in the 1970s — is now housed in the National Museum of African American History. The sound he perfected, and largely invented, combined Jimi Hendrix, doo-wop, soul, and rhythm and blues to create something entirely unique, and almost impossibly funky. Put simply, Clinton is one of the most important artists of our time. I spoke with him in advance of an upcoming appearance at the Brooklyn Museum, where the head funkateer will talk about his life and career as part of the Red Bull Music Academy Festival New York.

At 73, Clinton is sharp as a whistle, right down to the tailored suits he now prefers over the technicolor hair extensions and cosmic costumes he once wore. He reemerged last year after a dormant period with both a new record, first ya gotta Shake the Gate, and a memoir, Brothas Be, Yo Like George, Ain't That Funkin' Kinda Hard on You? He re-aired a very important, all-too-familiar complaint: He wants back the rights to his music.
Clinton was eager to detail his ongoing battle with Bridgeport Music, a music publishing company who obtained the rights to his music in the '80s. "It's crystal clear that there's been a fraud committed throughout the courts for almost 35 years," he said, speaking over the phone from his home in Florida, of his case against the company. "I haven't had a chance to have my day in court to say that. There's been a bunch of legal maneuvers, and that's why [his memoir] was written. I had to at least say my part of how I see it. It needs federal investigation. That's how serious it is."

Clinton has actually had several days in court; he just didn't get the outcome he hoped for. He sued Bridgeport in 1999 to reclaim the copyright to his music, but lost that case in 2001 when a federal judge ruled that Armen Boladian, founder of Bridgeport, owned all of Clinton's work between 1976 and 1983, and that Clinton had no royalty rights. In 2013, Clinton again tried and lost his case against Bridgeport. "I know it sounds crazy, but it is crazy," he says of the decision. "I'm not getting anything. The legality of the situation is unbelievable. The accounting, the documentation on royalties — you can't get any of that information right now. It's like slavery. You can't find out what you're owed and, at the same time, you get sued by the same people that's stealing from you and they're using your money to sue you. You try to audit the amounts of money that's due you, and all that's withheld because they know it takes money to fight in court. I feel like I'm in slavery."
How Bridgeport came to be the owner of Clinton's music is complicated, and his days as a crack addict likely led to some less than astute business decisions. Nevertheless, Bridgeport does have a reputation for being a "sample troll." Not surprisingly, the company was one of the defendants in the recent "Blurred Lines" case with Pharrell and Robin Thicke. Clinton is glad the plaintiffs in that case, who sued as a preemptive measure, are planning to appeal. "It was wrong," he says of the jury's decision that Thicke and Pharrell had infringed on the copyright of a Marvin Gaye song by using its "feel" and "vibe." "I would hope that they appeal it to the Supreme Court because what do you do with reggae and go-go music? That's music that relies on having the same riff." Clinton is especially familiar with the case because there were claims that "Blurred Lines" had also copped from the 1974 Funkadelic song "Sexy Ways." In response, Clinton went to TMZ and told them he didn't think his song was used: "They had said that it was in there," Clinton says. "When I said it wasn't, I haven't heard any more about." (Bridgeport has been content to let the courts' decisions speak on its behalf.)
Clinton is so passionate about the alleged wrongdoing against him, that I wrongly assumed copyright and his legal battle would be the centerpiece of his Red Bull talk, but he says he'd rather focus on other things. "I don't expound on that stuff unless somebody asks, and if they ask me, I often tell them to go to page 379 in the book, and that answers most of what's been asked of me about the legal stuff." Beyond that, "I'll talk about whatever they ask me," he says, from getting caught smoking crack in a car with his longtime friend Sly Stone, to concealing a hot crack pipe in his hand when Chelsea Clinton came to meet him backstage. He'll even talk about aliens. "I believe in outer space and other life forms," he tells me, "but I also believe that somehow it will be suggested to us that we've been populated by aliens in the last century, that we've been inbred with aliens for the last hundreds of years. I'm sure that people know that there's aliens around."

Close encounters and lawsuits, though, are ancillary to what Clinton knows best: music. "Let the people entertain themselves," he says of his ideal live show. "Let them become a part of it. Once they feel loose, they make the environment what they want it to be, and that makes the band play better because you feed off of that energy." Once that energy starts to flow, he says, "it's one groove" — and it's unstoppable.
*A previous version of this article incorrectly identified Bridgeport Music as a plaintiff in the "Blurred Lines" case. The company was one of the original defendants preemptively sued by Pharrell Williams, et al.