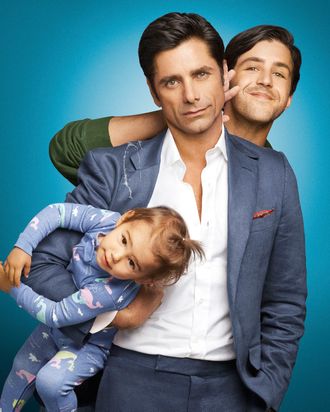 Danny Chun's Grandfathered will premiere on Fox this fall.
Photo: FOX
TV comedy writer Danny Chun (The Office, The Simpsons) is the creator of two pilots that were in the running at the upfronts this year — Grandfathered, starring John Stamos, at Fox, and Delores and Jermaine, starring Jermaine Fowler, at ABC. In his upfronts diary for Vulture, Chun describes what it feels like to have one pilot killed and the other picked up, pointless conversations with executives, and why the upfronts are the showbiz equivalent of a petting zoo.
WEDNESDAY, MAY 6

5:32 p.m. PST
I'm interviewing a writer. I have two network pilots in contention this year – Grandfathered at Fox, and Delores and Jermaine at ABC. This writer is meeting for D&J. We both agree that the lead actor, Jermaine Fowler (who also co-wrote the script with me), is a huge star in the making. I tell her that any minute now, we should learn whether we've been picked up to series. And then I spy an email from one of the executive producers. It's five words long: "Boy, did we get fucked." I know it means we're not getting picked up. And just like that, the show doesn't exist. This job interview has instantly become the most pointless conversation in the entire universe.
9:07 p.m. PST
Oh, wait, I was wrong — the most pointless conversation in the entire universe is the one when an exec calls you to console you about your dead pilot. They always make sure to imbue the call with as much shame as possible — the calls tend to happen at night, and the execs usually sound like they're hiding in the trunk of their car or under a large rock in a park.
9:20 p.m. PST
I talk to Jermaine. He's taking it in stride. I guess it's hard to be upset about stuff like this when you and everyone else knows you're destined for megastardom. I hope we stay friends — he's so much cooler than all my other friends.
THURSDAY, MAY 7
5:20 p.m. PST
I'm about to meet a writer named Laura about Grandfathered when I get a phone call. Here's how you know a call in Hollywood is going to be good news: There are half a billion people on the line, because they all want to be in on the celebration. I'm talking to half of Fox — I swear I hear Bill O'Reilly and Moe from The Simpsons on the other end.
David Madden delivers the news: We've been picked up to series! I'm so excited I immediately hire Laura. Luckily, she's also a very good writer.
SUNDAY, MAY 10
9:40 a.m. PST
I'm waiting at the gate for my flight to the upfronts in New York. My flight is about to board when I make a horrible realization: I bet my ticket would've gotten me into the Ambassador's Club, and I've been sitting at the gate like an idiot.
9:45 a.m. PST
I sprint through the Ambassador's Club, trying to take advantage of its splendors in the five minutes I have before boarding. I scarf down a Chobani and flip through a magazine about golf courses in Vail that looks like a prop you'd see on a douchebag's desk in a movie. Speaking of douchebags, time to go to upfronts!
7 p.m. EST
I head from JFK to the hotel in Manhattan where Fox is putting up everyone for upfronts. My head is swimming with questions, foremost being: What are the upfronts?
The car rolls up to the hotel. A throng of autograph-seekers waits to see who's getting out of the car. Just me, suckers!! They look sad. I try to sign some autographs but they run away.
9:18 p.m. EST
I head to a party thrown by 20th Century Fox. I've been warned about what to expect at these upfront parties — a lot of cushy treatment, and a lot of execs and agents treating you like the hottest shit in the history of hot shits. I make a vow to let it all go straight to my head. If at least ten people in suits don't tell me I'm "crushing it" or I "made pilot season my bitch," I'm going to quit the business.
I walk into the party and the first person I see is Brian Grazer. I feel like I'm in a spec script of Entourage.
9:20–10 p.m. EST
The last 40 minutes have basically been a bunch of people high-fiving and screaming, "WE DID IT!!!!" at each other.
10:08 p.m. EST
I'm realizing I am desperately in need of food to soak up the whiskey in my stomach. A waitress walks up with a tray of the most comically tiny grilled-cheese sandwiches I've ever seen. I guess it's a sign that God wants me to get wasted tonight. I can tell it's happening when, a few minutes later, I demand that some Fox executives introduce me to potential advertisers so I can "close some accounts."
10:45 p.m. EST
I head to the UTA party. I talk to Josh Peck and Ravi Patel, two of the stars of Grandfathered. They have the exact same mixture of befuddlement and giddiness that I have. I secretly hope they do something embarrassing that I can hold over their heads when we're in production on the show, but they conduct themselves with annoying professionalism.
I chat with a few UTA agents who want me to hire some of their clients as writers. Oh, so that's what this was about, UTA? You sponsored a huge party at the upfronts and invited me because you wanted something from me? I slap an agent's face in disgust.
MONDAY, MAY 11

1:14 a.m. EST
My brother Justin has now joined me. We're at a 24/7 Korean-Chinese restaurant with Nasim Pedrad, Lamorne Morris, and Glen Powell. Life is weird.
1 p.m. EST
I'm meeting my manager, my agent, and John Stamos (star of Grandfathered) for lunch. John exits his cab and runs right into Billy Eichner, who is shooting Billy on the Street. Is that what living in New York is like now? Just constantly finding yourself interacting with Billy Eichner?
4–6 p.m. EST
It's the actual upfronts at the Beacon Theatre. I'm sitting next to the director of the pilot, Chris Koch. The Fox bigwigs onstage say a lot of words like "branding," "synergy," and "viewership." The Empire cast comes out and sings a song — I can't make out the lyrics, but presumably they're about branding and viewership. They play a trailer for Grandfathered, which goes over well. It's very jarring to see my show being peddled as a product for the first time. I thought I was making art! Just kidding, I'm a capitalist whore.
6 p.m. EST
After the upfronts, Fox has a reception where the advertisers get to meet actors and take photos with them. It's literally the show-business equivalent of a petting zoo. I'm excited to see that Stamos appears to be one of the biggest, if not the biggest, draws. He walks past a group of women who audibly sigh, like they're in an old cartoon.
9:40 p.m. EST
I'm at another party thrown by Fox. By now, I've spent so much time with the execs that we've run out of things to say about the show and are reduced to talking about our families. The food is great, the open bar has that fancy new Absolut vodka, and January Jones is there, but the best thing of all is that we're in the same building as my hotel, which means I can sneak a nap. I run upstairs and grab a 20-minute one — it's  one of those weird naps you take at night, where you wake up disoriented and for a second it feels like maybe the rest of humanity has gone extinct. But I fight through the weird post-nap hangover — I have to go to the WME party. And by "have to," I mean "definitely don't have to." But I go.
TUESDAY, MAY 12

3:30 p.m. EST
I'm on the plane back to L.A., reflecting on the last two days. I've had so many surreal, extravagant, once-in-a-lifetime experiences. But the most surreal part is just beginning: I get to make a TV series. I smile, feeling incredibly fortunate … and then I realize I forgot about the Ambassador's Club again. Damn it.