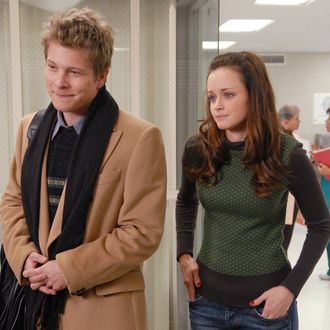 Never happening.
Photo: CW
Matt Czuchry currently appears on The Good Wife, but most fans know him for playing the annoying, pompous Logan Huntzberger on Gilmore Girls. His character was the last and — depending on whom you ask — least likable of Rory's boyfriends, and it's a relationship Czuchry still gets asked about nearly ten years after the show ended. GG fans hijacked his Reddit AMA today with questions about his time on the beloved series, one of which involved Rory's controversial decision to decline Logan's marriage proposal in the show's final season. Asked how he felt about the way he was written out of the show, Czuchry thought Rory made the right call:
"I actually liked how Rory refused Logan's proposal. I feel that the show is about two strong independent women, and that refusal captures the heart of the show.

And I don't think it was personal to Logan. I just think it was the right decision for Rory regardless of who her boyfriend was."
Czuchry also revealed that there were talks to revive the show, with his character returning, but that "nothing was ever set in stone." Luckily for fans still holding out hope for Rory and Logan as their OTP, Czuchry says he'll be attending the Gilmore Girls reunion at the ATX Television Festival in June. And while Czuchry's feminist explanation is pretty solid, I have an even better reason Rory said no: #TeamJess.