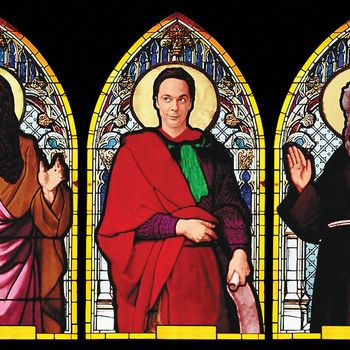 Alanis Morrisette, Jim Parsons (who stars in An Act of God on Broadway this month), and Charlton Heston.
Photo: Sam Levi/Andrew Eccles/Silver Screen Collection/WireImage/Getty Images
God comes to Broadway this month in the form of Big Bang Theory star Jim Parsons, who will portray the Almighty in the new comedy An Act of God. But he's not the first to portray the man upstairs. Here's a history of Gods in movies, TV, and theater.
Rex Ingram, The Green Pastures, 1936
Ingram starred as "De Lawd" in this adaptation of several Biblical stories, which featured an all-black cast.
Charlton Heston (voice), The Ten Commandments, 1956
Heston wasn't just Moses in Cecil B. DeMille's classic. He also provided God's booming voice.
John Huston (voice), The Bible, 1966
Along with directing and playing Noah, Huston handled voice-over duties for the Almighty.
Jeff Chandler, Elizabeth I, 1972
This Broadway show told the story of Elizabethan performers trying to mount a play about their queen. Among other characters, Chandler played an actor playing God.
Stephen Elliott, The Creation of the World and Other Business, 1972
Before playing an old guy in Beverly Hills Cop, Elliott was the oldest guy in Arthur Miller's comedic play based on Genesis.
Graham Chapman (voice), Monty Python and the Holy Grail, 1975
A floating head in the clouds with no patience for groveling, Chapman's God told King Arthur (also Chapman) to seek the Holy Grail.
George Burns, Oh, God!, 1977, Oh, God! Book II, 1980, and Oh, God! You Devil, 1984
Burns was a grandpa-ish God in this trilogy that had him enlisting the help of John Denver and an 11-year-old girl to run PR campaigns for the Lord's waning brand.
Ralph Richardson, Time Bandits, 1981
The British stage legend was the Supreme Being in Terry Gilliam's weirdo story of time-traveling dwarves.
Gene Hackman (voice), Two of a Kind, 1983
Hackman was a vengeful God in this goofy rom-com that reunited the leads from Grease. He intends to send another great flood—until his angels convince him there might be some good left on Earth, namely John Travolta and Olivia Newton-John.
Len Cariou, Up From Paradise, 1983
In Miller's reworked version of The Creation, Cariou was a tuxedo-wearing, song-singing God.
Robert Morley, Second Time Lucky, 1984
Morley's God dressed like a superhero, with a white cape and bedazzled G on his chest, in this comedy that had God and Satan giving man a second chance.
Ferdy Mayne, Night Train to Terror, 1985
In this cult horror classic, the German actor played a white-bearded, train-­riding God who sits with Satan and debates the fates of three unfortunate souls.
George Plimpton, Religion, Inc., 1989
Under a towel and surrounded by women in bikinis, the writer's version of the Almighty is more of a cad than most.
Harry Shearer and Phil Hartman (voice), The Simpsons, 1989
God appeared to Homer a handful of times throughout, as a bearded giant in a flowing robe and on one occasion eating KFC popcorn chicken.
Robert Mitchum, Les Sept Péchés Capitaux, 1992
The septuagenarian actor played a cigar-smoking, aggressively American God in this Belgian comedy.
Scott Bairstow, Touched by an Angel, 1994
God arrived in the series finale of CBS's long-running drama disguised as a drifter named Zack who's accused of blowing up a school full of kids.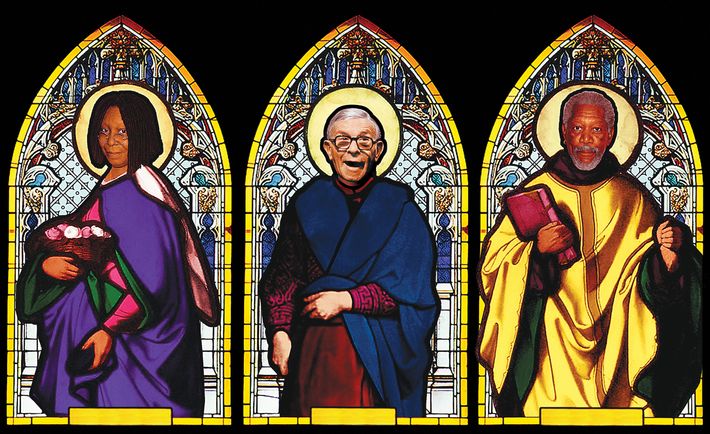 Emily Watson, Breaking the Waves, 1996
Lars von Trier had Watson play a young woman in the Scottish Highlands who converses with God by talking to herself.
Trey Parker (voice), South Park, 1997
Parker's God was a ghastly animal hybrid with the body of a rodent and the face of a hippo.
Val Kilmer (voice), Prince of Egypt, 1998
Kilmer provided the voices of both God and Moses in DreamWorks's animated interpretation of Exodus.
Bob Odenkirk, Mr. Show, 1998
Odenkirk channeled Robert Evans in a sketch that had a pompous God recording the audiobook version of his memoir, My Life in the Fast Lane: God's Autobiography.
Maurice Roëves, The Acid House, 1998
This film featured a beer-swilling God who admits in a heavy Scottish accent that he's nothing but a "lazy, apathetic, slovenly cunt."
Bud Cort and Alanis Morissette, Dogma, 1999
When the God of Kevin Smith's comedy came to Earth to play Skee-Ball, he did so in the form of a homeless New Jersey man (Cort). Later, the Almighty reappears in the form of Morissette, with a voice that makes Ben Affleck's head explode.
Jon Voight (voice), Noah's Ark, 1999
In this made-for-TV mini-series, Voight voiced both God and Noah.
Hank the Angry Drunken Dwarf, Citizen Toxie: The Toxic Avenger IV, 2000
As the Toxic Avenger traveled through dimensions, he encountered a diminutive, spiteful God played by the late "Howard Stern Show" regular.
James Garner (voice), God, the Devil and Bob, 2000
This animated NBC sitcom had a Jerry Garcia–looking God team up with a porn-loving auto-plant worker (French Stewart) to make the world a better place.
Frank Finlay (voice), In the Beginning, 2000
Another in the long line of British stage actors who lent his pipes to the man upstairs, Finlay voiced God in this 2000 TV movie starring Martin Landau and Jacqueline Bisset.
Whoopi Goldberg, It's a Very Merry Muppet Christmas Movie, 2002
When Kermit was in trouble in this NBC movie, Goldberg's God, known as the Boss, allowed an angel (David Arquette) to lend him a hand.
Morgan Freeman, Bruce Almighty, 2003, and Evan Almighty, 2007
Freeman's God was more of a loving prankster than a spiteful ruler in these goofy comedies.
Antônio Fagundes, God Is Brazilian, 2003
Found floating in the middle of the ocean, Fagundes's God was on a quest to find someone to take over as ruler of the universe.
Various, Joan of Arcadia, 2003
God took the form of dozens of people for this CBS dramedy. Among the actors to portray the deity and pass wisdom onto Amber Tamblyn's Joan were Will.i.am and Zachary Quinto.
Rodney Dangerfield, Angels With Angles, 2005
In his final role, Dangerfield was finally respected as a God who drank wine in the bathtub and sent angels on missions to rescue humans from meaninglessness.
John Cleese and Eric Idle (voice), Spamalot, 2005
The Pythons provided the recorded voice for the Almighty, who yells at King Arthur, for the Broadway and touring versions of the musical.
Rob Zombie (voice), Super, 2010
God's advice to Rainn Wilson in this dark superhero comedy: "Marry her."
Whoopi Goldberg, A Little Bit of Heaven, 2011
In this Kate Hudson rom-com, God looks like Goldberg only because that's how Hudson's character wanted to see her. When she tells the Almighty, "I love Whoopi!" God answers: "Me too!"
Paul Sorvino, The Devil's Carnival, 2012
Sorvino's God began this bizarre musical by casting three sinners out of heaven and sending them to Hell.
Jim Parsons, An Act of God, 2015
Parsons brings God to Broadway for an informational show in which He answers humanity's most pressing questions.
*This article appears in the May 18, 2015 issue of New York Magazine.