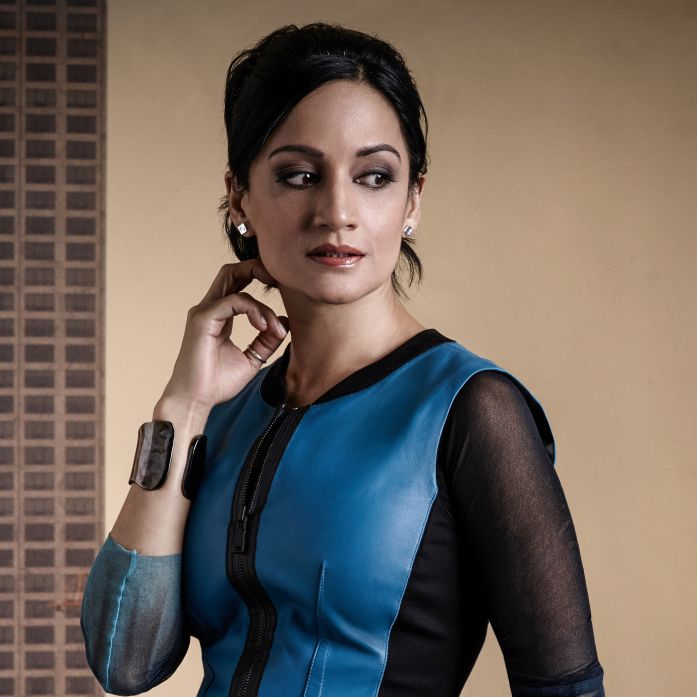 Goodbye, Kalinda.
Photo: Justin Stephens/CBS
We knew Kalinda Sharma's departure from The Good Wife was imminent since Emmy-winner Archie Panjabi announced this was her last season. What we didn't know was the kind of send-off she'd get. We got to see the sly, leather-jacketed sleuth work her magic one last time: solving Diane's mandatory-minimum case, bringing Lemond Bishop to justice, and facilitating Alicia and Diane's rapprochement. Ahead of Sunday's penultimate episode, we spoke with showrunners Robert and Michelle King about Archie Panjabi's departure, their top four Kalinda moments, and what we can expect on tonight's episode.
You didn't kill off Kalinda! What went into your thinking about Archie's exit? Did you leave the door open so she could return?
Robert: It's not wrong to think that. But we also didn't want to repeat the way we'd dispatched Josh Charles. We want the show to mimic real life. And we didn't want to keep bumping people off. It seems almost rude. [Laughs.]
Michelle: Given that it's a workplace show, it's more realistic that people leave the workplace.
Robert: Also, Archie's character is about mystery, and it seemed a mistake to have it be so definite.
It was intense; viewers were waiting for her story to end with a bang, so to speak.
Robert: Yeah, we liked the idea that Kalinda had a way out and then love reared its head, and Cary got in the way.

Kalinda went out having solved Diane's case, handing Lemond Bishop to the DA and getting Alicia and Diane back together. Was that one of the top Kalinda moments? If not, what are they?
Robert: One of my favorites was in the first season where she's in a tight situation and she starts talking about the judge sleeping with prostitutes without saying that it's the judge in that case. Then the judge stops the hearing. Another was in the second season when she used a baseball bat on [Lockhart Gardner investigator] Blake's car with "Luv Song" by Jane Jensen playing. There was also the scene between FBI Special Agent Lana Delaney and a very vulnerable Kalinda in Delaney's apartment. It was very erotic with the camera just on their faces. And there's one coming up in the last episode. I won't tell you what it is. But it's the first scene with Wallace Shawn [Lemond Bishop's shady lawyer Charles Lester].
Will we find out what was in the note Kalinda left for Alicia that sent her into hysterics this Sunday?
Michelle: No, but you will find out in the finale.
Michelle, you've already revealed we'll see Kalinda in the finale and said she'll land on her feet. Will we get an Alicia-Kalinda reunion, and will Kalinda be clad in leather?
Michelle: One of those is yes, and one of those is wait and see.
Robert: Alicia and Kalinda will be together. And I believe leather will be involved. But not in a Fifty Shades of Grey way!