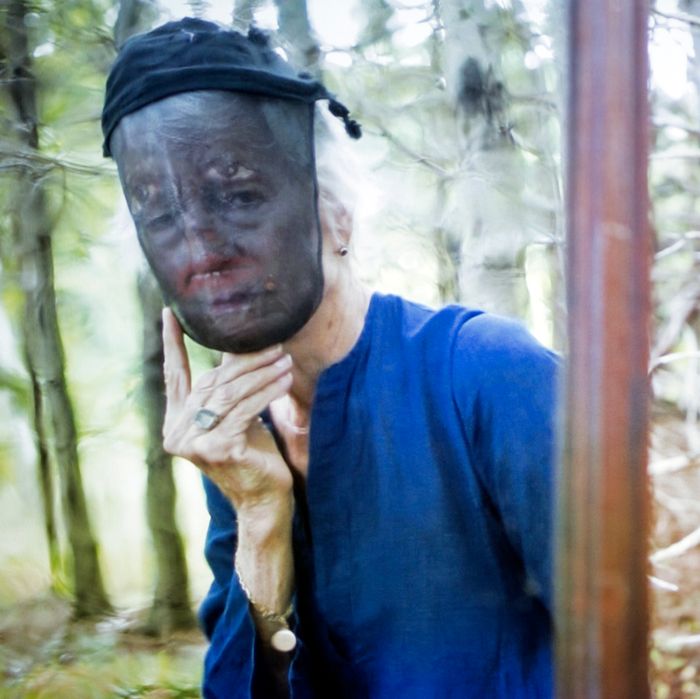 The artist.
Photo: Courtesy of the artist
The American art world still gets jealous. But it's not of Nick Jonas, singer of that catchy lyric. Nor is it of Joe, the other member of the Jonas Brothers boy band. It's all about Joan Jonas (no relation), the video artist behind the United States pavilion at the just-opened Venice Biennale.
For boy-band audiences, the artist's work is doubtless obscure. At 78, Jonas has had a long career making softly surreal yet deeply meaningful videos and performances — often both at once. The U.S. pavilion often goes to an artist who is already a household name, like Sarah Sze (2013) or Bruce Nauman (2009). So we're treasuring the chance to better get to know Jonas's oeuvre. To that end, here's a brief guide to her life and career, plus a look at a few of her pieces.
Who Is Joan Jonas?
A native New Yorker, Jonas graduated in 1958 with a degree in art history from Mount Holyoke college in Massachusetts, then later received an MFA in sculpture from Columbia University in 1965. She was part of a performance-oriented downtown cohort that included choreographers like Trisha Brown and Yvonne Rainer.
Like Richard Serra, with whom the artist traveled to Japan in 1970, Jonas explored a new path somewhere between video, performance, and sculpture, interacting with her materials on camera. Jonas's pieces over the next decades often took her body as a site of action, the artist acting as her own medium, as in the 1974 Left Side Right Side. As her work has progressed, the performances have also grown more elaborate — though they retain a minimliast, do-it-yourself aesthetic as they cross between media including music, drawing, and theatrical recitation.
What Makes Her Work Great?
As Jonas is creating, she enters "the world of the performance," as she told T magazine. Indeed, viewing her work always feels like entering into a new, miniature world. Jonas's practice also constantly engages social ideas of identity politics and the female body, as in Mirror Check, in which Jonas (or another performer, as in a 2014 version) inspects her own form with a handheld mirror. The pure slapstick of bodily humor is also present: Check out this video of Jonas drawing with the prone performance artist Clifford Owens.
Jonas takes viewers to an intimate narrative space that other artists can only hint at. While watching one of her pieces can feel deeply strange, the various elements are often drawn from autobiography or inspirations outside the art world. The epic 2014 Reanimation, a combination of drawing, camera projections, improvisational speech, and live piano from musician Jason Moran, was created in response to the 1968 Icelandic novel Under the Glacier by Halldór Laxness.
With exhibitions and performances in spaces like the Stedelijk Museum, the Kitchen, and the Queens Museum of Art, Jonas has demonstrated a long-standing commitment to exploring a very personal relationship to the language of art history. Her work makes that process public.
What's in Venice?
For the U.S. pavilion in Venice, Jonas is showing They Come to Us Without a Word II, a new performance with Moran will take place on three evenings in July at the Teatro Piccolo Arsenale. Footage from the pavilion installation will also be repurposed into the performance. The piece evolved out of the earlier Reanimation and continues to explore themes like the fragility of nature. Each room in the pavilion centers on an example of that theme, like bees or fish. Brief snippets of a ghost story from Nova Scotia, where Jonas often works, weave from room to room.
The piece also incorporates artifacts from the Pavilion's locale, including an outdoor sculpture assembled from tree trunks. It's a kind of gesamtkunstwerk that incorporates threads from various eras of Jonas's career and creative output, drawing on her distinctive aesthetic themes — mirrors, kites, chalk sketches — to building something entirely new.