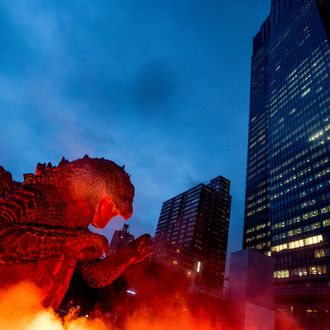 A replica of Godzilla.
Photo: Chris McGrath/2014 Getty Images
Voltage Pictures's Colossal, currently seeking buyers at Cannes, has become embroiled in a legal showdown with Godzilla, The Hollywood Reporter writes. Toho, the rights holders of the original monster franchise, is suing Voltage because it claims Colossal is so similar to Godzilla that this new movie's essentially an unauthorized rip-off that infringes on Godzilla's copyright, trademark, and content. Described as "Godzilla meets Being John Malkovich," the flick reportedly stars Anne Hathaway "as a woman who realizes her mind is strangely connected to a giant lizard destroying Tokyo." Toho, according to THR, wants to recoup unspecified damages, as well as for Voltage to put the kibosh on producing the project.
The complaint was filed Tuesday in California federal court. "The Director's Notes also make clear that Defendants have not only taken the Godzilla Character as their own, but that they also intend to use the Godzilla Character in precisely the same way that Toho used the character in its initial film — attacking Tokyo," the complaint reads. The plaintiffs go on to allege that Colossal, along with its pitch materials and director's notes (which have gone as far as using images from official Toho works), grabbed Godzilla to entice prospective buyers and build an audience. THR points out that writer-director Nacho Vigalondo has said of the film: "It's going to be the cheapest Godzilla movie ever, I promise. It's going to be a serious Godzilla movie, but I've got an idea that's going to make it so cheap that you will feel betrayed." Yikes.