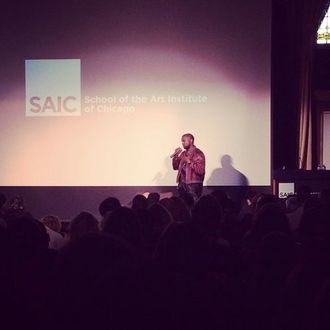 Kanye at the Art Institute Sunday night.
Kanye West got an honorary degree from the School of the Art Institute of Chicago today, sort of fulfilling the promise he made back in "Hey Mama." In his short speech to the graduating class, West adhered to the No. 1 rule of college graduation speakers: Be funny! Commencement ceremonies are often very long and uncomfortably hot, and Mom and Dad have driven such a long way — the best thing you can do is break up the monotony with a few zingers. The best one? An expertly timed "George Bush … has some very cool self-portraits." His (captive) audience loved it!
If you want actual insight, turn to Kanye's hour-long Q&A at the Art Institute Sunday night. As Kanye interviews go, this one is intimate and thoughtful in the Zane Lowe style. Listen to the whole thing below:
That occasion was also Kanye's chance to show off his fully meme-able self, as displayed in the tweet below. He really does love to smile!