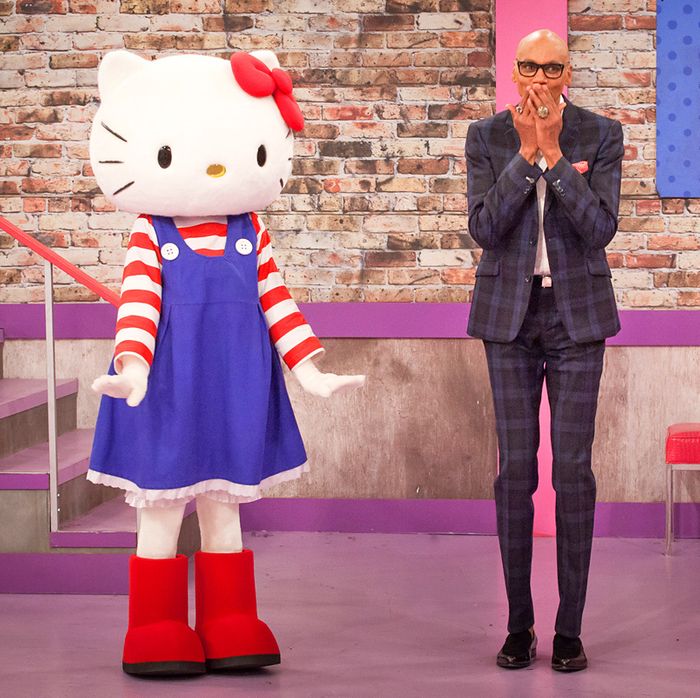 With only a handful of episodes left in its seventh season, RuPaul's Drag Race cranks up the competition by asking the contestants to tap into their creative sides yet again, and design looks centered around everybody's favorite cutie cat, Hello Kitty. But another clothing-design challenge leaves some of the queens with a crisis of confidence and ultimately sends a frontrunner home.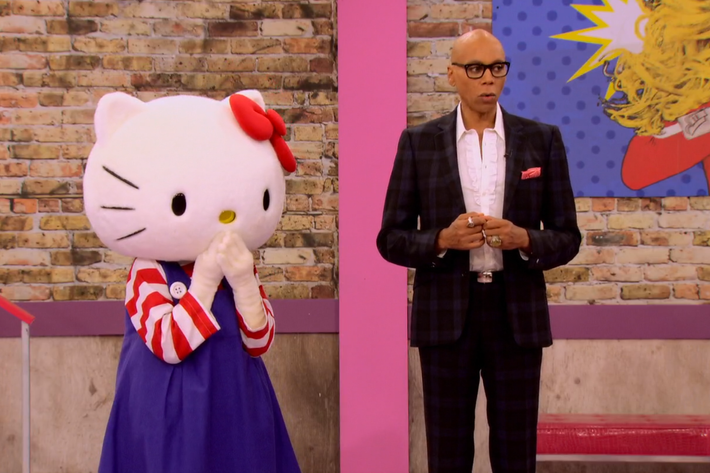 Hello Kitty Girl
Much like last week's nods to both the Real Housewives franchise and Dancing With the Stars, this week's main challenge seemed like a page straight out of the Project Runway playbook, with the queens designing an elegant look made entirely out of repurposed Hello Kitty merchandise. As if that wasn't enough, they also have to design a second surprise look creating a new bestest friend for the overgrown cat-girl. The results are mixed, and for good reason. Repurposing material for new designs is difficult for even the most practiced seamstresses, and beyond that, at this point in the season, some of the queens seem absolutely sapped of creative energy.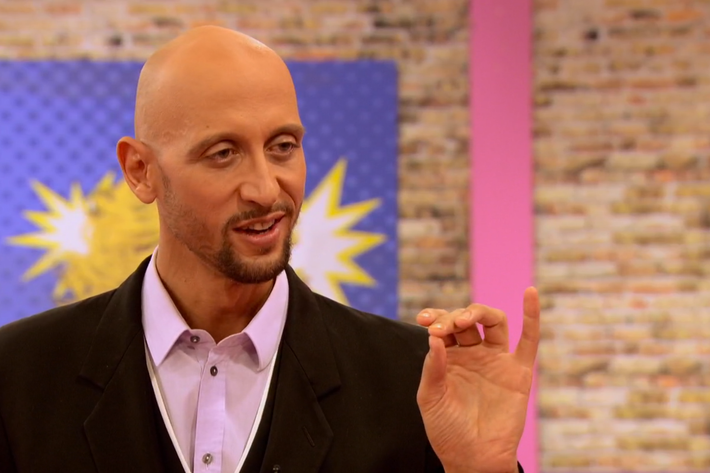 Prodigal Son
Speaking of Project Runway, "Hello, Kitty Girls" also heralds the return of original judge, Project Runway star Santino Rice, to the panel, albeit as a guest. It's nice to have Santino back on the show, as he always brings an extremely unique point of view to the proceedings. Not only that, his eye for fashion and design allow him insights that balance the panel more evenly toward contestants more adept at design and costuming as opposed to performance or comedy.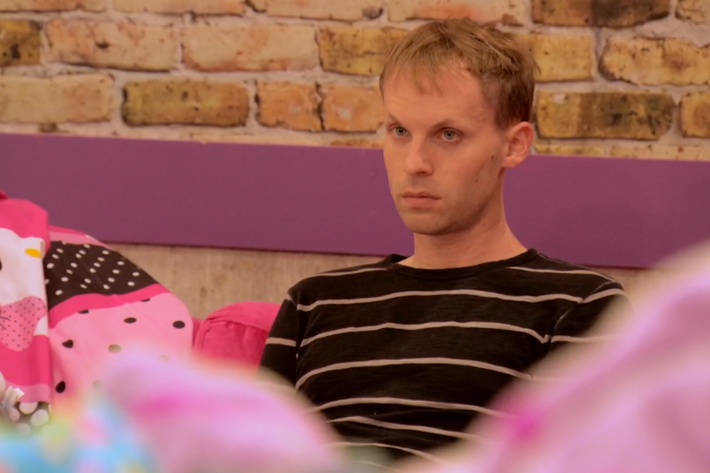 Funny Girl Flop Sweat
As interesting as the Hello Kitty challenge is, coming so late in the season puts it in a very precarious position where for much of the episode, several of the queens, particularly those with less sewing and design skill, seem completely overwhelmed, to the point where it seemed like they may not finish with much of anything at all. While Kennedy and Ginger both had their moments on this front, none were so harried as Katya. Having previously established issues with self-esteem and confidence in previous episodes, it's no real surprise to see Katya racked with anxiety over such a significantly intimidating challenge, but the extent to which she seems almost incapacitated renders the episode nearly unwatchable. Watching Katya sink under the weight of her own doubts just doesn't make for enjoyable television, no matter how inspired the challenge.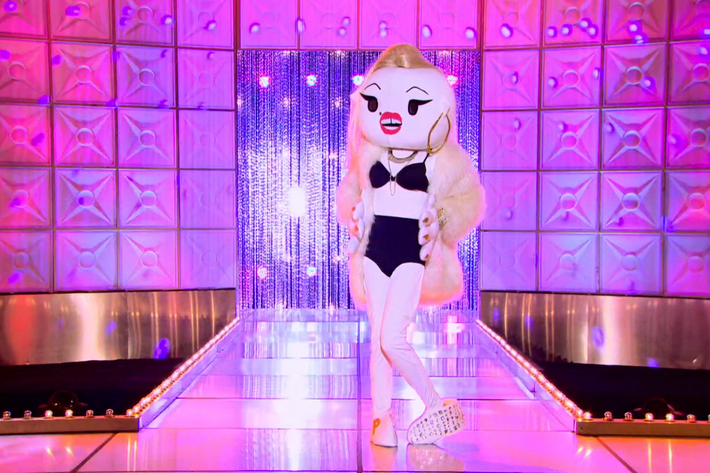 Costume Carnage
One of the most memorable runways to grace the main stage, the mascot aspect of the challenge had a total David Lynch–lite feel about it, as one might expect whenever five people put on modified Hello Kitty heads and stalk about a runway. The offerings run the gamut from saccharine (Violet) to sensible (Ginger) to Siberian hooker (Katya), and the runway was all the better for them, if still deeply, deeply unsettling.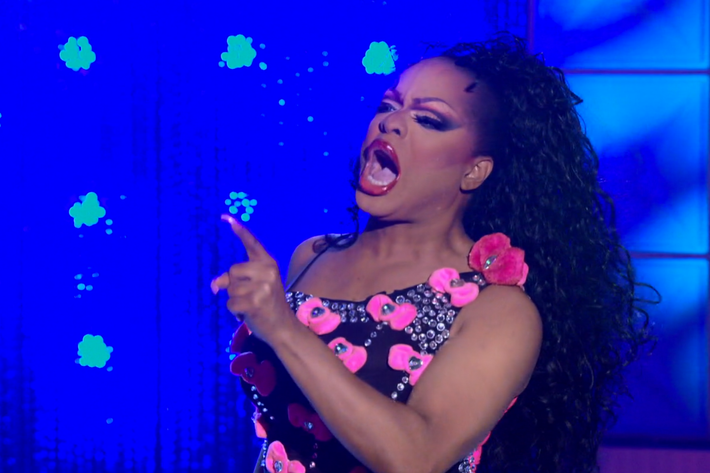 Roar
Thematically perfect, it's only natural that when Kennedy and Katya lip-sync for their lives, it would be to Katy Perry's "Roar." As much as this should have, could have been the ideal anthem for Katya to redeem herself after such a pained performance this week, it appears as though she just runs out of gas. Her lip sync is strong, but compared to Kennedy's sheer energy output, she looks like she's sleepwalking.
Winner: Violet Chachki
Bottom Two: Katya and Kennedy Davenport
Eliminated: Katya
Line of the Night Honorable Mentions:
"No, girl. I can barely speak fucking English." —Pearl is aware of her shortcomings and, no, cannot speak another language.
"Make it work." —Santino gives inspiration the only way he knows how.
"Can we go to Red Lobster?" —Violet, missing no beats, harkens back to the best Santino moment of all time.
"Bringing international flavor to the meow mix." —Rebecca Romijn with the best non-anatomy-based cat joke of the judges panel.
"Hello Kitty, would you hang out with an older Russian woman who smokes cigarettes and is from Siberia?" [Hello Kitty silently nods.] —Huh. Did not see that coming.
Winner:
"Violet looks like the human gaydar." —Kennedy is not impressed with Violet's headpiece. She is also not wrong.