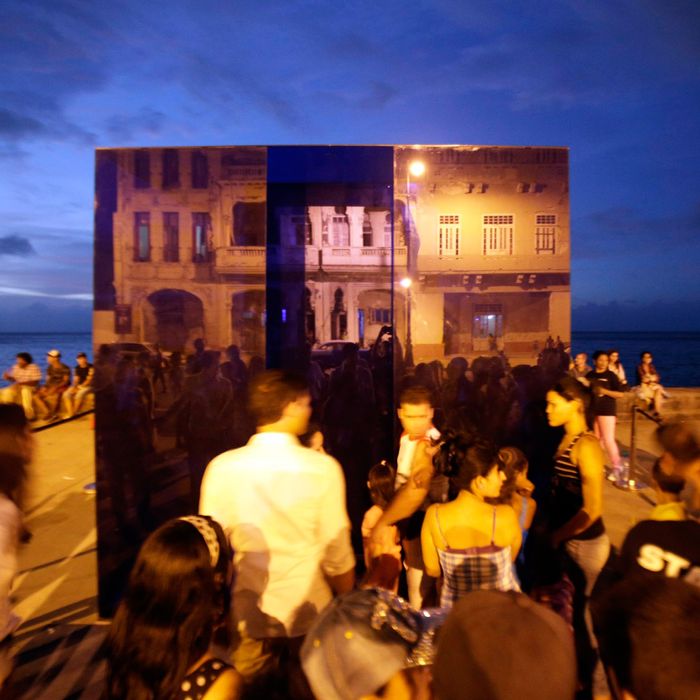 Cubans look at the "Behind the Wall" project at Havanas Malecon waterfront during the 12th Bienal art fair, on May 24, 2015 in Havana, Cuba.
Photo: Sven Creutzmann/Mambo Photo/Getty
Just six months after President Obama declared his intention of normalizing relations with Cuba, the 12th edition of La Bienal de la Habana opened on May 22, with the promise of new beginnings in the air — as well as up in the air: hospitality ventures, emotions, market speculation, venture-capitalist mouth-foaming, artistic output, and hope are all peaking.

And not just for the Cubans.
"This Bienal will be historic because it's mixing so many different languages," says Dago Rodríguez, who together with Marco Castillo forms the art duo (formerly the three-person collective) Los Carpinteros, which splits its time between Madrid and Havana. "Now the Bienal has the same problem Cuba has: It keeps considering itself as part of the third world, but that's going to change."
"Maybe next time they hire a fancy curator and everything changes," adds Castillo, noting the Bienal has been run by the same group since its inception. "That might be sad for the Bienal, but very good for the Cubans."
In December, the duo purchased the three-story mid-century Nuevo Vedado home of Fidel Castro's "super communist" physician, Dr. René Vallejo, and are currently in the process of renovating it. (During the Bienal, they hosted a group show in the home studio titled "OCUPACIÓN // OCCUPATION.")
"We never actually left," clarifies Castillo. "We always kept an office, but material-wise, it's difficult to work here."
"Let's be honest," adds Rodríguez. "It's impossible to work here. But at the same time it's very good for artists because it forces you to do something. It's very limited, but we are experts in limitations."
Despite the name, the Bienal, which first took place in 1984, now recurs every three years, but there are other peculiarities to it. For example, it now officially shows fewer artists — the first edition in 1984 featured 800 local and international artists (mainly from Caribbean countries) on the program; this one has 130 from over 40 countries (including Mexico's Adrián Villar Rojas, Anish Kapoor for India, Italy's Michelangelo Pistoletto, and Joseph Kosuth officially representing the U.S.) — but it's definitely expanded in scope, ambition, and conceptual rigor, with many works dealing with non-object-based sound, light, earth, performance, and other ephemeral mediums.
"For me this Bienal has been different, as it is a more popular or open Bienal," says megacollector Ella Fontanals-Cisneros, who threw the party of the week at her palatial Cubanacan estate and whose foundation (CIFO) organized the historical retrospective "Gustavo Pérez Monzón: Tramas."
"The last Bienal was the first step to making it more engaged with the public," say Bienal co-founder Nelson Herrera Ysla about the increased number of public-art works throughout the city, from the likes of Havana-based artist Arles del Rio to the Russian conceptual artists Ilya and Emilia Kabakov, who brought their globe-trotting "Ship of Tolerance" project to the city in 2012.
"The history of art is in the museum, but contemporary art is contextualized outside with architecture, design, and the culture at large," adds Ysla. "More and more artists have become social activists. There's a lot of sound art and art you can smell. We are trying to leave behind the traditional ways of making art, and the traditional meanings."
Which might be so, but much of the feeling is that of a land rush. "I think if I could get a great house, I could definitely see myself moving here for a few years to work," Mexican artist José Dávila tells me the following night over glasses of 20-year-old Santiago rum at a party inside a coquina stone fort off the Malecón presided over by local superstar DJ Wichy de Vedado. Dávila, who intervened on images from books in the Carpinteros/Vallejo library and suspended furniture from the walls with big rig tie-downs evoking minimalist sculpture and Barnett Newman paintings, is not alone in these wishes. In fact, the most frequent topic of conversation during the Bienal — at least among Americans — was real estate: How do I buy a place down here?
Because only Cubans — for now — can buy and sell property, during the Bienal I was schooled in various methods of acquisition by local scenesters ranging from the clinical ("You need to find a dual-citizenship Cuban and make them sign a contract in a third-party country") to the romantically opportunistic ("Just get a Cuban wife"). At least one American museum director I'm acquainted with is trying to do it via a local artist.
But there are many forms of speculation afoot. "Maybe the Bienal could become an art fair," says del Rio when I meet him at the ex-military fort Morro-Cabaña standing beneath The need for other airs, a ceiling installation he created (similar to one in the chimney turned stairwell of El Cocinero, the city's hottest nightclub), which forms an overhead sea of multicolored scuba snorkels. The way things are run now, he says, "It's good for the artists but shit for the art. The artists can produce one good piece and the collectors come and they produce more and more but the quality goes down."
Of course, Del Rio is known for uniquely interactive pieces, like his Nearness chain-link-silhouettes installation last summer in Times Square, and understands the conceptual art of hospitality. He was undoubtedly the toast of the Malecón boardwalk in 2012 for Fly Away, an earlier chain-link-fence sculpture that was on display in his studio. That work features a cutout relief of an airliner, which, during the last Bienal, seemed to fly into the Malecón-facing buildings — or out into the great wide beyond, depending on your perspective. For this year's project, he dumped ten truckloads of sand onto the boardwalk and carved out a beach, complete with umbrellas and chaises longues, which was packed from sunup to sundown by locals.
While many top artists, including del Rio, the Capote brothers (Yoan and Ivan), and Kcho, still live in Cuba full-time, many more (like Carlos Garaicoa, Raúl Cordero, Los Carpinteros, and Glenda León) live abroad much of the year. However, they are increasingly reestablishing their roots. "There are definitely more artists having openings in their studios, and they're making bigger and better studios," says León, who spends most of her time in Madrid but is now opening her own space in Havana. Though León is quick to note she's "not doing it because the Americans are coming. It's just a newer, bigger venue because I also work with installations."
"Sometimes the Bienal has been more about artists coming to Cuba than the Cuban artists, but I think this Bienal is about Cuban art, and that's important," says Alex Hernández Dueñas (who with his partner Arianna Contino showed at the sleek two-story Playa studio they share with photographer Adrián Fernández and graphite artist Frank Mujica. The duo also took part in a group show called "Crack," about the country's financial rupture at the city's top gallery, the state-run Galería Habana). "It's a special moment."
One of the prime examples of this new breed of activation was on display in the Vedado neighborhood, at the elegant turn-of-the-century home of Cuban artist Damian Aquiles and his wife Pamela Ruiz, an American-born Cuban (aka "ABC") who has produced shows for numerous American artists, including Jack Pierson and Louise Bourgeois's 2005  exhibition at the Wilfredo Lam Centre. Though Aquiles once made dark found-canvas paintings that bear a striking resemblance to the work of Oscar Murillo — except for the fact that Aquiles created his 20 years ago — the Cuban artist now works primarily with found metals in the forms of repurposed oil and paint cans, which he's used to form installations in exotic homes and the walls of El Cocinero.
For a cheeky group show "With friends like you …" — a subtle dig at the Cuban art Establishment — Aquiles covered the façade of their home in a Technicolor cladding of cans while six other artists took over the inside with process-based paintings made with human breath, conceptual sculptures hewn from business cards and palettes, and a sculptural installation by the couple's 17-year-old son, Bastian Silvestre, that comments on the police-related shootings in the U.S. The opening was filled with international visitors (outside the Bienal, many A-listers can be found at Ruiz's epic salon-style dinners), and over the course of the opening week, it attracted everyone from Cuban-American artist Emilio Perez, who installed a massive version of one of his graffiti-style landscapes on the Malecón, to Art Basel director Marc Spiegler.
"The art-world spotlight never stays on one country for all that long — it will come and it will go — and the question is what gets built while the spotlight is there," says Spiegler, a former journalist. He pointed to the massive building bought in the Vedado neighborhood by Wilfredo Prieto, which the New York–based Cuban artist will need to extensively renovate into his atelier, with plans to host residencies and symposia for visiting international artists as well. Prieto also curated an exhibition with Direlia Lazo and Gretel Medina of "site-specific interventions … that re-configure, deconstruct, re-interpret, re-contextualize and confront the physical and intangible heritage" in the abandoned Vedado Bicycle Factory, where multimedia talents like Pierre Huyghe, Ryan Gander, and Abraham Cruzvillegas installed a range of lyrical pieces.
"It's a very literate country, and it's had a good art school for a very long time," he says, speaking of the Instituto Superior de Arte, or the ISA. "So there's a rich history of Cuban work that will be now discovered and promoted in the same way that we've seen with '60s and '70s artists from Brazil and Argentina," says Spiegler. "But I don't think it makes sense to say Cuba is the next China. The big difference between them is that China is a huge country — an economic powerhouse that has a great many domestic collectors, who have created a very strong gallery scene there. That could happen here in five years. It could happen in ten years. Or it could not happen at all."
As the country's kingmaker art school, ISA always puts on its own impressive exhibition of work from fifth-year (or graduating) students that is a must-see during the Bienal. One of the brighter lights from this year's graduates is the young painter Miguel Machado, who grew up in the tobacco-producing region of Pinar del Rio and followed in Yoan Capote's footsteps with a fellowship at the Vermont Studio Center. Dago Rodríguez is also a fan. During a trip to Havana in March, I'd heard Machado's heavily impastoed paintings of war scenes, cowboys, zebra centaurs, and café society — each infused with comic surrealist interruptions — summed up as "Disney meets Delacroix," and that they are already being sought out by collectors far and wide. The attention, however, has been a bit jarring for the young Machado.
"This is one month and I'm sure all this attention will help, but some people are just working for this moment, and in the end, that's very opportunistic," says Machado. "For me, it's about the process. Maybe in one year I'll have a better idea about what's happening."
Maybe we all will.