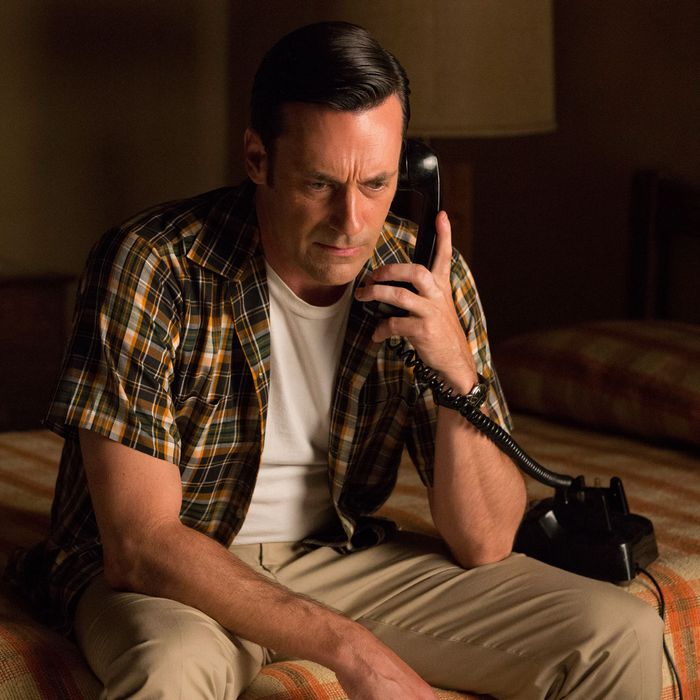 Jon Hamm as Don Draper - Mad Men _ Season 7B, Episode 14 - Photo Credit: Michael Yarish/AMC
Photo: Michael Yarish/AMC
If you thought Matthew Weiner was going to give us a tidy, satisfying ending in tonight's Mad Men series finale then you're probably an idiot. But still, what just happened?
Mad Men has never cared much about delivering on the expectations of its audience — and it really didn't in its final episode. Yes, Peggy wound up with Stan and might be a creative director by 1980, Roger rewrote his will and is probably marrying Marie, Meredith translated Roger's speech into pig Latin, Pete and family flew away on a Learjet, Betty is still smoking, and cocaine finally gave Joan the strength to dump Richard and start her own production company. But Don spent the finale cavorting around an ashram with hippies we've never met before and then, during a TM session, redeeming himself at McCann by composing Coke's "I'd Like to Teach the World to Sing" jingle, an ending that — though predicted by all of the conspiracy theorists who didn't think Don was D.B. Cooper — was kinda pat and would also seem to screw with the show's internal logic: Has Don written many real-life ads before?
I love you anyway, Mad Men. Matt Zoller Seitz's recap will be up in the morning. Until then, let us know what you thought in the comments.