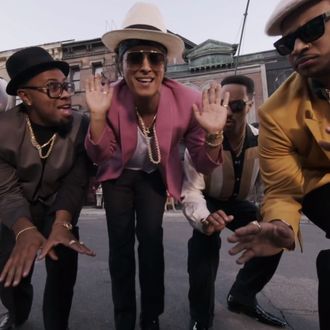 That's a lot of money to split.
Now that Mark Ronson and Bruno Mars's record-breaking hit "Uptown Funk" has officially been Petty'd, a lot of rearranging of how the royalties are being divvied up between the writers is in the works. And a fascinating look by Billboard at just how much each party is owed reveals that quite a few peoples' pockets are about to get a lot fatter thanks to Ronson and Mars's mistakes. At first, just the song's original writers — Ronson, Mars, Phillip Martin Lawrence, and Jeffrey Bhasker — were getting paid. But early on, the four reached out to Trinidad James (known legally as Nicholas Williams) and producer Devon Gallaspy to offer them credit for the song "All Gold Everything," lyrics from which "Uptown Funk" recycles. That move left the original four writers with a 21.26 percent share of the royalties, and Trinidad and Gallaspy splitting a 15 percent share.
Then, along came the Gap Band, who recently settled with Ronson & Co. for borrowing from their 1979 funk song "Oops, Up Side Your Head." The original songwriters agreed to share credit with the Gap Band's members — Charlie, Ronnie, and the late Robert Wilson, as well as keyboardist Rudolph Taylor and producer Lonnie Simmons — for a share of 17 percent. With those names now added to the song, they have to once again split the difference, with the original four writers' shares dipping down to 17 percent. (Trinidad and Gallaspy's shares remain unchanged.)
Billboard estimates that, to date, "Uptown Funk" has made about $840,000 in publishing revenue, so here's how much everyone involved has currently made off the song:
Bhasker/SonyATV: $142,800
Gallaspy/SonyATV: $63,000
Ronson/Imagem: $142,800
Gap Band/Minder: $142,800
Lawrence: $142,800
Trinidad James/Trinlanta: $47,250
Trinidad James Record label/TIG7 Publishing: $15,750
Mars/Mars Force Music/BMG Chrysalis: $124,949
Mars/Northside Independent Music/Warner/Chappel Music: $17,850
Hot damn.