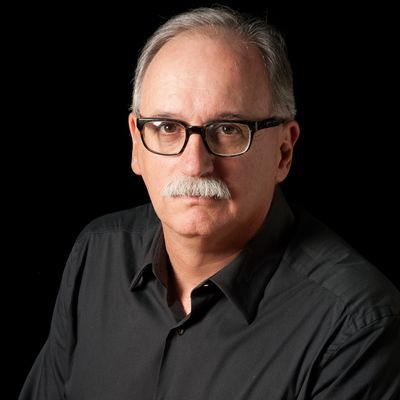 Jim Shepard.
Photo: Barry Goldstein
Jim Shepard is one of the best writers you've never heard of. He's a tenured professor at Williams College, a job he's held happily for 32 years — raising his family in pastoral Massachusetts, teaching generations of admiring acolytes, writing dozens of short stories and seven lean novels (including the intense character studies Nosferatu and Project X) to his own strange, exacting specifications.
Yet Shepard describes himself as "semi-obscure," a "writer's writer," which he takes as a sort of consolation prize: "It used to mean, 'writers like him, anyway.'" He is not happy with his place in literary culture; nor should he be, since his commercial timing has always been a little off. When he joined a friend to ghostwrite YA novels, they decided to focus on sports instead of horror stories, that future genre of blockbusters. Project X, about an eighth-grader plotting a school massacre, showcased his talent for penetrating the consciousness of any character in any circumstance (ranging, in his stories, from a mythical swamp creature to gay lovers on the Hindenburg). That novel was frequently called the best fictional treatment of Columbine, but it came out after Vernon God Little, DBC Pierre's version, which won the Booker Prize. After that, he chose to focus on short stories, just as his fellow writers of genre mash-ups — pop-lit straddlers like Michael Chabon and Jonathan Lethem — were being fêted for big, meaty novels. Now, 11 years after Project X, he's finally back with a novel … about the Holocaust. More specifically, The Book of Aron, out today, is about a preteen troublemaker awaiting deportation to Treblinka.
"I didn't sit back and say, 'It's high time somebody wrote another Holocaust novel,'" Shepard says on the phone from Williamstown. A compulsive reader of history, he says he just found himself returning again and again to those atrocity stories. "If you're drawn to manmade catastrophes," says Shepard, who's built stories around a tsunami, the Hindenburg fire, and the Chernobyl meltdown, "the Holocaust is sitting right there."
For someone who's made a vocation of inhabiting the most unusual characters, a first-person victim's narrative in one of historical fiction's most well-trod genres might seem disappointingly conventional (and perhaps another misfire of timing). His much-better-known contemporary Martin Amis entered the field last year with The Zone of Interest, but he adopted the point of view of the villains and injected subversive notes of humor. Also, he's Martin Amis.
It would be a shame if schmaltz-averse readers — those who'd like Shepard most — skipped the novel, which turns out to be a case study in avoiding schmaltz. Owing to his deep research and severely understated style, The Book of Aron is unique and, in the end, shattering. Instead of humanizing evil, as in Project X, Shepard complicates victimhood, making Aron a petty smuggler and sometime-collaborator filled with self-loathing. Aron narrates his horrible story almost without affect, and his suffering increases so gradually that the ghetto's Nazi-managed slide into disease, starvation, and liquidation feels almost bearable — until it isn't. By the time the newsreel-ready horrors are unveiled, we are both freshly shocked and sadly inured. The frog in the boiling pot died long before the trains arrived.
Shepard is also unafraid of killing his darlings: His featured player is Janusz Korczak, the real-life head of a Warsaw orphanage who refused to save himself and abandon the children. Fairly or not, Shepard blames Steven Spielberg for our latter-day cult of Holocaust sentimentality. "Schindler can show you an enormous and quite historically accurate cost in terms of Jewish lives as long as those Jewish lives are extras," says Shepard. "It'll provide you with the security that everybody you care about is going to be saved. That allows people to come out of the theater saying, 'That was a really harrowing experience, but I loved it, you have to go see it.' I think you should come to the end of a Holocaust text shaken on behalf of our species."
If there seems to be something of Walter Mitty in Shepard — the rooted professor imagining himself into wild historical scenarios — that may be because for him, college was the escape. He was the first member of his working-class Connecticut family to go, and the pressure to succeed drove him, oddly, to impractical pursuits. "I was trying to find something that I just wouldn't flunk out at," he says, "and I was drawn to history and English." The latter felt more exciting and revelatory, but Shepard could never shake the historian's hunger for primary sources. He got his MFA at Brown, imbibing just enough of its postmodern ethos to take straight realism off its pedestal. Then, after a brief stint at the University of Michigan, he had an important choice to make.
Much has been made in recent years of the two paths available to today's literary novelist (see, of course, Chad Harbach's n+1 essay "MFA vs. NYC"). There is the academic MFA system, which favors tenure over sales, and there is the go-for-broke New York writer's life of book-party logrolling and attention-seeking bravado. That dilemma has been around since at least the early '80s, when Shepard had to decide whether to take the job at Williams or move to New York. "I had a number of friends who were writers in the city who seemed to have a pretty exciting life," he says. "So I had that pull: If you're serious, maybe you should go there and hang. On the other hand, you're about to get a job that's going to allow you to write. If you go to New York, you're going to be scrambling from job to job. I knew that would have a hugely detrimental effect. Some people can write in coffee shops. I can't."
Shepard has thrived in academia ever since. He was even a finalist for the job of director of the prestigious Iowa Writers' Workshop — effectively the presidency of MFA Land. He believes he lost it partly because he was unenthusiastic about its administrative duties. He just wanted to teach and write.
For a couple of novels, Shepard wrote what he knew, but eventually he gravitated toward his own brand of historical fiction. After his fifth novel, Nosferatu, based on the life of the filmmaker F.W. Murnau, Shepard turned toward short stories based on more or less esoteric scenarios. He once traveled to the rain forest to research "The Creature From the Black Lagoon," a 12-page story about a B-movie monster. Financially, it was not a wise move, he says: "I have novelist friends who tell me, 'You're crazy. You have six months of research here, and you can easily get 350 pages and instead of $1,000 [for a short story], you can get a lot more than that.' I can register the inefficiency, but I don't want to do this big, elaborate machinery if I can avoid it. Maybe I also wanted to put less food on my children's plates."
In fact, thanks to Williams, his children eat fine, while Shepard spends his days delving into, say, the scholarly dispute over the exact date of the deportation of Warsaw's orphans. (For Aron, he chose one over another because it was recorded as being sunny and hot; it never occurred to him to change the weather.) MFA programs have long been knocked for sanding off writers' odd angles and rough edges, but in Shepard's case, they've helped to preserve them.
 "You're trying to communicate, and you want to reach as many people as you can," he says. "I'm sorry that the short story has so little cultural currency. I'm not going to be able to change that, but I like the focus and the economy and the potential ferocity of the form, and so the fact that I'm able to get away with doing that and have an income elsewhere means that I can indulge that. I don't need to write a trilogy in order to keep my family afloat."