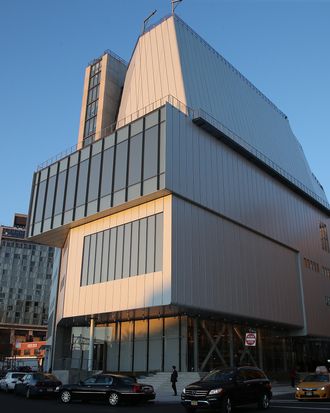 Photo: Neilson Barnard/Getty
The Whitney Museum of American Art opened its doors to the general public — that is, everybody who is everybody, not just everybody who is anybody — this morning, so if you somehow never managed to snag an invite to one of the three dozen or so "members only" tours of the new building, well, it's all yours now. But the reality is, the place has been up and running for nearly two weeks, so here's a way to fake your way through a Whitney-centric conversation this weekend. Now that Roberta Smith's review appeared in today's Times, every major critic has committed his or her opinions, so it's time to fake having your own, even if you're too lazy to walk down to Gansevoort Street.
First up, here's our own Jerry Saltz on the museum. You really do need to read all of his several thousand words on the subject — yeah, we're biased, but really, it's as authoritative and loving as it can get. Here's a distillation of the discourse.
Over and over, artists whose work I thought I knew looked brand-new and suddenly relevant; second-stringers step forcefully to the fore as more prescient and pertinent than they've ever seemed. It's thrilling, for example, to behold, in the gallery of vaunted Abstract Expressionist masterpieces like de Kooning's Door to the River — maybe the best work in terms of sheer originality in the museum right now — and Rothko's tremendous painting Four Darks in Red emanating like a Buddhist television set, Hedda Sterne's electric New York, N.Y., 1955 with spray paint looking absolutely of the present. Miraculously, Alfonso Ossorio's scratched and splattered canvas more than holds its own against Jackson Pollock. Revelations like this are more than the exception — and they are one very vital way to leverage the fresh energy of contemporary art into new insights about the past without entirely handing over the keys to the museum to the galleries up Tenth Avenue.
And it only makes sense to go now to Roberta Smith, who discusses the impressive diversity and inclusion of lesser-known artists next to the big guns — she cites Norman Lewis, Alfonso Ossorio, Hedda Sterne, Eldzier Cortor, and others — before explaining the inherent appeal to the space, and how it will draw in New Yorkers, even the non–art wonks.
But to see the new Whitney in active use is to understand its success as a place for visitors. It instantly became the most physically welcoming art space in New York outside of the Metropolitan Museum of Art. And it accomplished its new level of comfort without carving a huge event space out of its center, as many museums have done. For better or for worse, the Whitney is in something of an event space, the meatpacking district, but it also has a series of events spaces at its margins: a flexible auditorium and four large terraces, three of which are linked by an outdoor staircase.
Holland Cotter, also at the New York Times, filed his review weeks ago because the Whitney has basically been open for so long it really is embarrassing if you haven't been. Sorry to shame you more, but honestly. Anyway, Holland Cotter heaps more praise onto the inaugural show, "America Is Hard to See," but manages to slip in a tiny bit of skepticism at the end.
With the move, the new Whitney makes a promising start. It shakes art and itself up, bracingly, at least a little. Once the opening parties are over, I want it to do much more, to become the living museum of history-in-nowness this city has been waiting for.
Enough with the rational, clear-headed thinking; let's get back to the showers of hosannas! Here's Peter Schjeldahl's column in The New Yorker, which addresses the elephant in the room by mentioning the issues facing another bastion of 20th-century art, a little museum some 40 blocks north.
But first-rate works stand out for their timeless qualities and easily slip the bonds of their classification, while lesser ones provide grace notes and variations on the dominant themes. Seeing, thinking, and evaluating proceed in harness. People will revisit and debate the show until it closes, in September. After that, the concerted seriousness of the Whitney's curatorial team — which includes, notably, Jay Sanders, an expert in performance art — promises a routine of challenges to viewers' intelligence and sensitivity. Don't expect populist cheese like the Museum of Modern Art's current Björk show. Tourists will be welcomed but not stroked.
And here's Andrew Russeth at ARTnews, offering yet another critical embrace of the place, clearly and directly.
With about 600 works by a little over 400 artists, it offers a history of American art — and America — that is richly textured and that teems with beloved classics and electrifying surprises. I am in love with it, and I suspect I will not be the only one.
If you want to appear bit skeptical, you'll have to look west. So far, the most prominent not-so-kind take on the place appeared in the Los Angeles Times, written by its critic Christopher Knight. He's a little angry that all the tourists will come and love how pretty and nice-looking the place is, and sneers enough about how focused on New York the show can be that one senses a left-coaster's jealousy.
[The Whitney] blossomed as an artistic bellwether during an era when the United States became an undisputed superpower, with New York its world headquarters. "What is American about American art?" director Lloyd Goodrich famously asked in 1958, articulating the old institutional mission. The Whitney was a museum for the American Century.

Inevitably, that history passed the Whitney by. Now the world is transnational, thanks to easy travel, flows of global capital and Internet connectivity. It demands a transcontinental view of American art. Curators are valiantly trying to work their way out of the collection's profoundly Manhattan-centric view, but there's a long way to go.
Oh, and I wrote this about it, too, back when I was at the New York Observer, all of ten days ago. Here's a snapshot from that first-night gala.
Charlie Rose, martini in hand, bent down to chat with Chuck Close in front of Tom Wesselman's Still Life Number 36, while Jasper Johns, still sprightly at 84, loomed over the proceedings, sauntering through a heart-stopping seventh-floor room of Pollack, de Kooning, di Suvero, Rothko and Newman (though a Lee Krasner gets the most wall space — sorry, boys). Bill Cunningham darted around taking pictures of visitors oohing and ahhing over a room that included a John Cage score work in the corner, Jeff Koons' illuminated vacuum cleaners in the center, and a Nam June Paik tower of televisions to the side. The names that adorn buildings and museum corridors — Tisch, Lauder, Speyer, Biddle — floated through the massive exhibition, bumping into the artists they quite possibly collect: Lawrence Weiner, John Currin, Wade Guyton, Brice Marden, Cindy Sherman, Glenn Ligon.
So, now you're all caught up, and if someone brings up the Whitney at some function this weekend, go ahead, join the conversation. You've got this.
But really — just go by the museum. Or wait till your relatives are in town and take them.