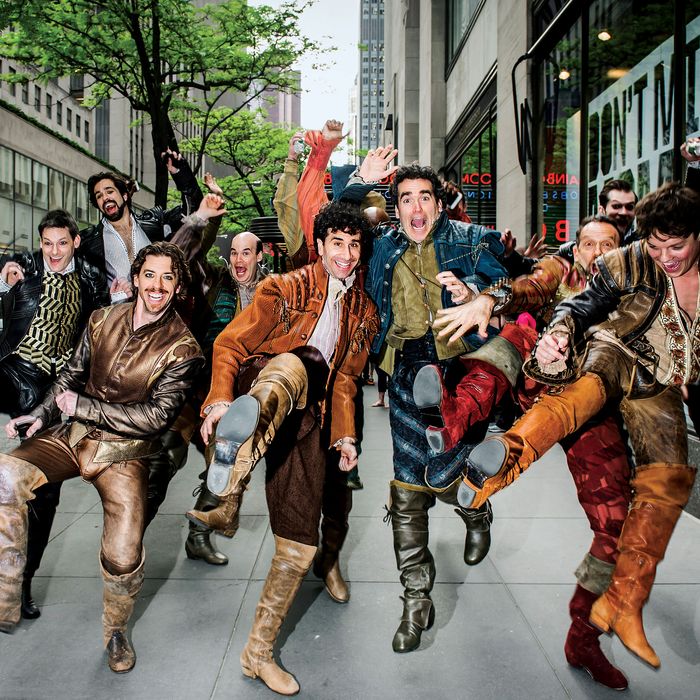 The cast of Something Rotten! heads back to the theater after a Tonight Show taping.
Photo: Dina Litovsky
"Hurry, you'll miss the parade," says Kristin Caskey, a producer of the musical Fun Home, as three of its stars trot arm-in-arm past a line of photographers at the Marriott Marquis. They're late to the Drama League luncheon, having jogged over from the Tony nominees' luncheon, which was accidentally scheduled for the same day and then turned into a brunch. Beth Malone, Emily Skeggs, and 11-year-old Sydney Lucas — who play Fun Home's narrator at different ages — sit down to their salads just as 40 finalists for the League's Distinguished Performance award (including Fun Home's Michael Cerveris and Judy Kuhn) march up to a long dais. They'll eat facing the audience, give 30-second speeches in alphabetical order, and then cheer as one of them is anointed a winner-for-life.
"When they told me what this was going to be like," says Helen Mirren in her speech, "I said, 'God, that sounds ghastly. Do I have to go?' 'Yes, you have to go — everybody will be there.' " The objective of participating in this Hunger Game is to influence the real race — the ad-spattered, rubber-chicken free-for-all of Tony season. Chita Rivera ends up winning Distinguished Performance, and the League's award for outstanding musical goes to An American in Paris, the romantic, balletic rival to Fun Home for Tony awards (they lead the field with 12 nominations apiece). With Something Rotten!, they're in an unusually tight contest for Best Musical, the only category that can make or break a show.
The week of the Drama Leagues is the peak of what publicist Chris Boneau calls "the month of hate," a post-nomination frenzy leading up to the Tonys on June 7. Fun Home's family was here at the Marriott just yesterday, for the New Dramatists Spring Luncheon. Since then, they've run a frantic loop: In the afternoon, the show's director, playwright, and composer shot promo videos while Cerveris and Kuhn met with NY1. Then came the actual show at Circle in the Square — wrenching performances, eight times a week, in a theater now packed with Tony voters. After that, a late cocktail party at Urbo, a huge midtown restaurant, for road managers from the all-important Spring Road Conference.
The conference's members are often blamed for tipping the awards toward musicals suited to a big commercial tour. That would put Fun Home at a disadvantage — if it were true. Road presenters constitute only 10 percent of Tony voters. Then again, the whole electorate is tiny, just 844 people; most voters are producers, investors, and creative-team types (directors, choreographers, lighting designers, and the like). Every handshake matters. "We don't keep running without these things," Fun Home playwright Lisa Kron says at the Urbo party. "We don't have stars or a name that everybody grew up knowing. We'll do whatever it takes to get people into that theater." Which is why she's hitting every party, and why the actors used their Monday off to split up and attend three separate benefits. Their refrain to anyone who hasn't yet seen the musical: "Please go!"
Fourteen shows opened on Broadway in April, a pileup unheard-of before 2009. One Tony voter calls 2015 "the most stressful season in ensuring that you see everything," and it's not as if all the voters even come close. Just as stressful is the choice voters face for Best Musical. After some surprising snubs, the four nominees aren't apples and oranges: They're in different phyla.
The Visit is the oddball underdog. The final musical by John Kander and Fred Ebb (Chicago, Cabaret) is a twisted revenge fantasy based on an obscure Swiss play. During its 14-year slog to Broadway, Ebb died, Kander turned 88, and the lead went from Angela Lansbury to Chita Rivera. It's currently selling at a quarter of its potential. Some observers say it was nominated mainly to shut out Finding Neverland's Harvey Weinstein.
The other night, The Visit's producers arranged a postshow interview between Kander and Lin-Manuel Miranda, whose rap-history, Hamilton is likely to sweep the 2016 awards. But Rivera, who at 82 has two Tonys and a Presidential Medal of Freedom, isn't about to wear herself out on a dark horse. She did attend a "tea dance" in her honor at a rooftop bar, to which only chorus dancers (and a couple of reporters) were invited. She entered with a shimmy, slapped some dancers' bums, and posed for selfies, but when I asked if she planned to perform, she said, "You gonna give me some money?" She added, "I never particularly liked this time of year." Producer Tom Kirdahy was sanguine about her limits. "There's a lyric in the show: 'The world has turned me into a whore.' She will not be a whore for an award."
It's just as well: If you total up ads, benefits, and all those tickets given away to voters, the costs of a campaign can strangle a production as quickly as a snub. "I've been on shows where they say, Please, God, don't nominate me," says one marketer, who has seen shows spend nearly $1 million chasing a trophy. A couple of years ago, the producer of an underdog was offered a prime slot on the Tony broadcast — for $250,000. Thinking it might sell tickets — "Lose the award but win the broadcast" —  he went hat in hand to every investor. One finally gave him $300,000. "We got on the show," he says, "and lost the award, and closed a month later, and that lady lost her money."
An American in Paris has plenty to spend, and its odds look very good. Currently enjoying higher weekly grosses than any other new Broadway show, it's just arty enough, with beautifully danced storytelling. But there are also whispers of a backlash, complaints about calling an adaptation of a Gershwin-scored movie musical "original." All the more reason to run a quiet campaign. Though the Tonys relaxed restrictions this year on swag, American's only special extra is a tasteful book of set sketches. "It's the Hillary Clinton syndrome. People start finding everything wrong with you," says one person involved with the show. "The moment you're declared the front-runner — that's the moment you have to remain humble."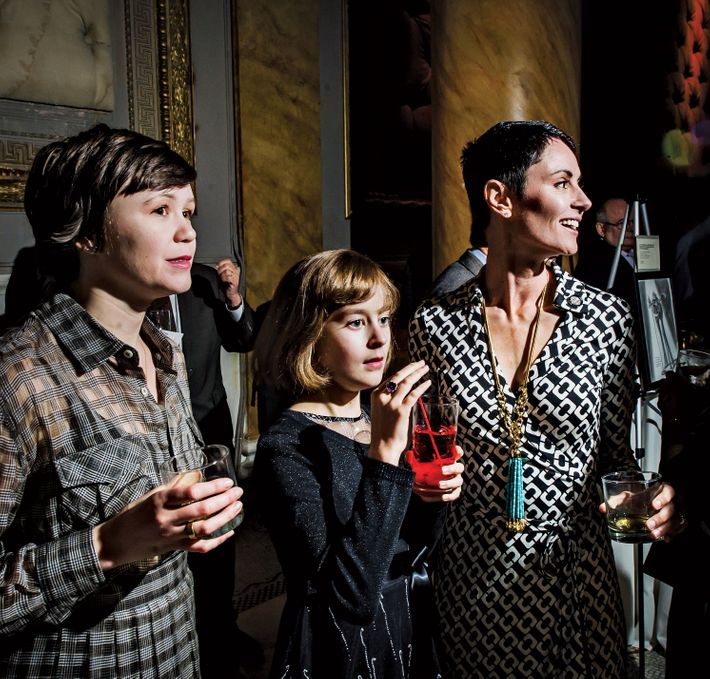 The loudest campaign, for Something Rotten!, is being overseen by Kevin McCollum, who masterminded the bid for 2004's surprise winner, Avenue Q. No one has forgotten what it did to beat Wicked: a cascade of VOTE Q buttons, a "Vote Your Heart" CD sent to voters, and a road-conference lunch that broke with tradition by inviting press and tweaking rivals. This year, McCollum's also trying his techniques on a straight play, Hand to God, parodying other shows in their own Playbills and distributing branded hand sanitizer. (One ad meant for Kinky Boots backfired when it mistakenly ran in the program for The King and I.)
Something Rotten!, about dramatist brothers competing with Shakespeare, aims to be 2015's Spamalot: chockablock with highbrow potty humor and musical-theater in-jokes. It's the only show in the original-musical category that's truly original (the rest are adaptations), and its tagline is "A Very New Musical." But that too can be a handicap. Having skipped tryouts and opened late, Something Rotten! has to educate voters fast.
McCollum is making the most of Something Rotten!'s relatively dour competitors. "We're reminding people it's okay to have a great time," he says. For its road-conference luncheon, the team took a page from Avenue Q and rewrote the opening number, "Welcome to the Renaissance," as "Welcome to the Road Conference," complete with shout-outs to attendees and a naughty play on the name of Robert Wankel, who co-runs the Shubert Organization.
Something Rotten! has had its ups and downs. Ben Brantley panned it, but Deadline.com's review gave McCollum his tagline: "Embrace the exclamation point." Then came a last-minute booking on The Tonight Show. (Last year's big winner, A Gentleman's Guide to Love and Murder, also got that gig.) The spot appeared the day An American in Paris won the Drama League trophy, leaving Fun Home looking a little forlorn. Over a post-lunch martini, the show's PR manager, Rick Miramontez, shrugged it off but admitted, "I did go, Ugh."
Fun Home, adapted from Alison Bechdel's graphic memoir about coming out to her closeted father but failing to connect, is aesthetically daring and genuinely cathartic. Its campaign makes the most of its considerable virtues. With a smaller budget, the show's adman, Nick Pramik at SpotCo., focused on print and digital. Ads and logos use the poppy yellow of a few upbeat scenes rather than the somber tones of the stage set. And "you'll see the word 'Best' probably 35 times in our next full-page ad," says Pramik. "We're just trying to say that we're the best fucking musical of the year."
Fun Home's Scott Forstall may be Broadway's first Silicon Valley producer. He helped create the iPhone's operating system before leaving Apple. Can he hack the Tony process? "I am a pure optimist," Forstall told me in the wee hours at Urbo. "When Steve and I created the iPhone, we said, 'You know what? We should just build a phone we love' … With Fun Home, this team created something they're passionate about, something to surprise and delight … If you create a great product and people see and experience it, they'll be moved to vote for innovation, risk-taking, beauty, quality."
TED-talking points aside, Fun Home's obstacles can't be engineered away. It's ineligible for several pre-Tony awards (which tend to combine Broadway and Off, and build momentum) because it won them last year during its Public Theater run. In a system where nearly every voter has a dog in the race, a show with fewer investors means fewer guaranteed votes. Then, finally, there's taste. It took some searching, but I did find one voter with no investments this year, and his vote was coming down to Fun Home and An American in Paris. "I think that Fun Home is a perfect musical," he said. Then why was he undecided? "That's a great fucking question. Maybe it's because, just as a straight-up evening, I had a better time at An American in Paris."
The weekend after the Drama Leagues was blissfully free of extra commitments, but now it's another May Monday, which means another round of frantic schmoozing for Fun Home's close-knit virtual family. Just before seven, the three Alisons join Cerveris at Capitale for a Symphony Space gala. Cerveris, charming and confident, orders Jamesons straight for himself, Skeggs, and Malone. Lucas ("Small Alison"), opting for a Shirley Temple, gathers everyone for a photo, where they spell out HAL in sign language — the night's honoree is producer Hal Prince. He has 21 Tonys, a record.
The actresses, not mingling much, are introduced to Linda Lavin. Malone tells her that the first Broadway show she ever attended was Gypsy, with Lavin as Momma Rose. "I saw it with my mother, and we had a complicated relationship," says Malone. "It was a very Fun Home experience." As the noise crescendos, Malone and Lavin fall into close conversation. "The Tony thing, yeah, it's tough," Lavin tells her. "I started therapy three years ago, after my last nomination. But you deal with it," she adds. "It's like a big prom — you get some fun things to wear and enjoy every bit of it. You deserve all of it." Malone puts her hand in Lavin's and says, "This was worth putting on a coat and heels for, I'm telling you."
Cerveris brings the Fun Home nominees over to Hal Prince ("I'm crossing my fingers!") before heading to the bathroom. He's not staying for dinner, because he's off to sing "Mack the Knife" at the Obie Awards, the Tonys' Off Broadway stepchild. Ten minutes later, he emerges wearing a top hat, a smoking jacket, round tinted glasses, and a black tutu. "I learned in New Orleans how to throw a costume together quickly," he says.
We jump in a car to Webster Hall, where we find Kimberly Kaye, his partner in the band Loose Cattle, who will accompany him on kazoo. The crowd cheers raucously. Jujamcyn Theaters president Jordan Roth interviews Cerveris on Periscope. This year, for the first time, the Obies are being co-presented by the American Theater Wing — but they're not quite thoroughly uptown yet. Lisa Kron, who's just presented several awards, greets Cerveris backstage in a black, rubbery gown, saying, "This was the one event I actually knew how to dress for." Still, "It's so much calmer than normal. Nobody vomited in the aisle."
The playwright David Henry Hwang ambles over. He won a Tony for M. Butterfly in 1988 and was last nominated in 2003. "It was certainly simpler in '88 — I think I did the nominees' luncheon and that was it," he says. "Every time I've done it, it's gotten more intense, and it's even more intense now. That said, I certainly wouldn't mind getting to do it again sometime."
*This article appears in the June 1, 2015 issue of New York Magazine.