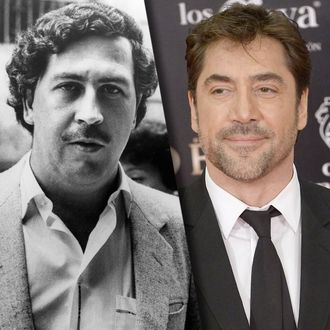 The previous Escobar biopic, Medellín, was booed at Cannes in 2007.
Photo: Corbis, Getty Images
Javier Bardem is a real-life Vincent Chase, and has been trying to play Pablo Escobar for years now. He's been forced to pull out every time, after, we assume, his childhood friend turned manager inevitably clashed with each film's talented-but-mercurial director. But likely thanks to a chance meeting with a Hollywood big shot, Bardem is now attached to star in Fernando León de Aranoa's upcoming biopic Escobar, based on Virginia Vallejo's memoir, Loving Pablo, Hating Escobar. That's right: Javier got the movie! Even better: Since Bardem's wife Penélope Cruz is also attached, there's a good chance his brother and driver get to come along as well. Oh yeah!