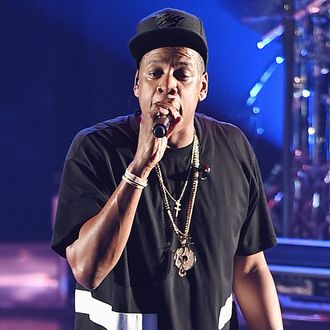 Water you talking about?
Photo: Theo Wargo/Getty Images
In an early defense of Tidal, Jay Z made a puzzling comparison. "The challenge is to get everyone to respect music again, to recognize its value," he told the Times. "Water is free. Music is $6 but no one wants to pay for music." Since water is not, in fact, free, this earned Jay a round of light internet mockery, and now a utility company in Colorado has penned the rapper an open letter to set the record straight. "[T]o say that 'water is free while music is $6' isn't exactly true," Denver Water's Steve Snyder wrote. "This isn't meant to state the obvious fact that some people can't pay their water bills, so water must not be free. But your comments bring up the issue of how people value water — an issue our industry struggles with all the time." Water is not free, Snyder notes, it's just incredibly cheap, which makes people underestimate the value of the utility that provides them with it: "So perhaps we have something in common. You will continue your quest to help people understand the value of music, while people in my industry will do the same with water." Of course, had Jay Z been a more avid Monopoly player in his youth, all of this could have been avoided.