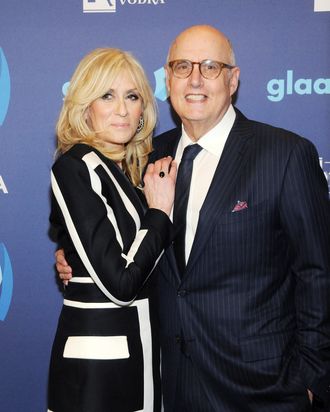 Jeffrey Tambor and Judith Light, ever delightful.
Photo: Desiree Navarro/Getty Images
Life seemed to mimic art when Bruce Jenner came out as a transgender woman in an interview with Diane Sawyer, recalling last year's critical darling Transparent, where Maura Pfefferman, played by Jeffrey Tambor, makes a similarly late-in-life admission. Vulture caught up with Tambor and Judith Light, who plays Maura's ex-wife Shelly, over the weekend at the 26th annual GLAAD Media Awards. The pair chatted about taking inspiration from Bruce Jenner, deciding who the better mom was (Maura), and why it's so important to tell this story with an older actor.
We're excited about Transparent. What are you hoping happens with Maura next season?
Jeffrey Tambor: You know, I would like Maura to have more friends, and I really want her to be happier and more settled.
More settled?
JT: Well, when I think about her life, I would like her to become a better parent. I mean, she's interesting — she kind of knows how to work things. She uses that house to bribe everyone, but I think she really loves her kids. Ultimately, she's a better parent than Shelly [Judith Light].
Judith Light: I agree, Maura is a better parent than Shelly. It's kind of funny because I feel like Maura is a better mother than Shelly. Maura is just naturally more of a nurturer. I'm hoping that Shelly is able to learn from Maura about how to be a more giving and courageous person.
And with Bruce Jenner publicly revealing that he is transitioning, did you draw inspiration from that for your character?
JT: Yes, I did. And, I'm saying this with love: We are people of a certain age. And, I don't mean that disrespectfully, because it's not always something that you want to admit to yourself. But it's true. In real life, Bruce showed tremendous courage by revealing himself to the world. And I thought about that while playing Maura. Having the courage to be honest about your gender, especially when you're no longer a young guy — that is incredibly brave.
You have more to lose.
JT: Exactly. Both Maura and Bruce had the guts to make a break for their freedom despite the consequences. It's terrifying.
JL: And that's what is so strikingly powerful about the combination of Bruce's and Maura's story. I think a lot of naysayers criticized the show saying that nobody wants to see older people dealing with these issues. But life is teaching us something different.
Art and life are mimicking each other.
JT: That's true. And, I still think it's notable that they didn't hire a 25-year-old for this role. When you get older in this business, it's just not the same. I think hiring a man of a certain age to play Maura creates unexpected depth. Not anchoring the show with a young actor gives us credibility; I think that's an extra bonus for us.