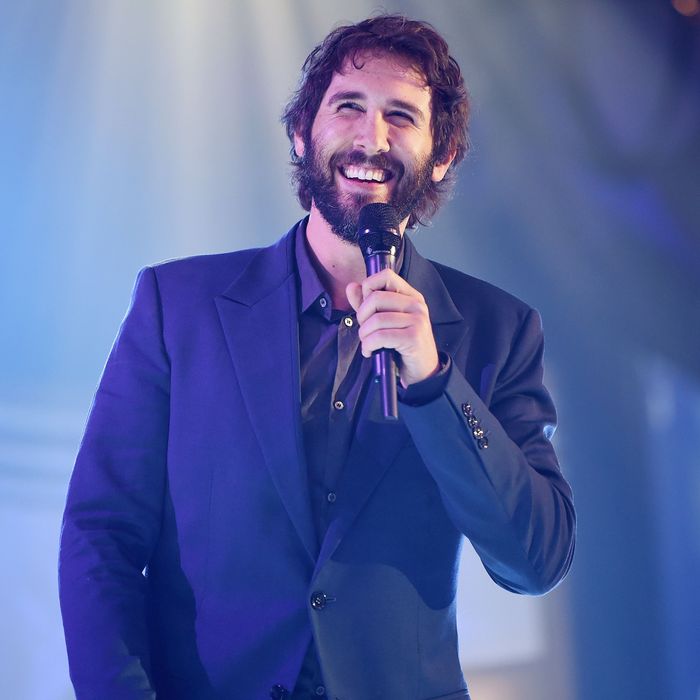 Josh Groban.
Photo: Ethan Miller/Getty Images
Josh Groban is sitting in a quiet corner of the Greenwich Hotel, attempting to sip at a chamomile tea while occasionally dodging a fly. "This bug really likes me," he says, grinning. "Maybe I should shower more often?" You may recall Josh Groban mostly as a quasi-angelic presence — halo of curls, singing in Italian with Andrea Boccelli, belting with Celine Dion — but it's actually this Josh Groban, endearingly scruffy, tossing off quips about his bathing habits, that's far more present these days. Last week, Groban shared his hotel-room workout tips with Kelly Ripa and Michael Strahan (Bouncing on the bed! Leaping over the coffee table!) and sparred with Amy Robach ("You could just stay here and do stand-up all day!" she giggled). The night before we spoke, he sang the epic "Anthem" from the 1986 musical Chess on The Tonight Show, giving America a very intimate view of his throat: "Oh, he doesn't have his tonsils anymore!" Groban exclaims in some mixture of mock delight and horror.
He's promoting Stages, a new album of musical-theater songs that was released last week. It's his eighth, and it feels like confirmation that Groban has always been your dorky best friend from high-school choir (well, the one who grew up to be cooler and more handsome than expected) hiding behind the guise of the serious young man, just waiting to bust out the show tunes. While Stages is heavy on crowd-pleasing standards like "Pure Imagination," "Try to Remember," and "What I Did for Love," it's also dotted with less expected tracks that out Groban as the theater nerd he's been since age 18, when he enrolled in Carnegie Mellon (only to leave before the end of freshman year, thanks to Über-producer David Foster). "I didn't want to shy away from the more known stuff just to be edgy," Groban says of his choices for Stages, but he fought to include picks like Sondheim's "Finishing the Hat" ("That was a battle I was not going to lose") and "Not While I'm Around," too.
"Literally only in the last four or five years do I feel like I've taken ownership of this — like, okay, I'm a professional now," Groban says. For most of his 15-year career, Groban has been what his audience hears, which is the Voice — a tremulous tenor searching for baritone gravitas, or a baritone inching tenor-wards, depending on how Groban unleashes it. "That was frustrating to me early in my career," he admits. "When you have the chance to present yourself vocally, you realize a kind of brand develops around that vocal, and you start to see the public consciousness of you is only about one half of your brain."
It took years of mainstream success, and a lot of vocal training, Groban says, to allow him the freedom to sing the songs that, theoretically, he might have sung when Foster first discovered him. "It's a very ironic thing," he says. "I could have made this album at 18 and sung my ass off, and in many ways it would have made sense, and that might be the reason I didn't do it — it made a little too much sense. I'm glad I waited. I didn't want to just serve the songs on a platter, vocally." "Being Alive," from Sondheim's Company, was on his wish list, but he resisted the temptation to include it on Stages. "We had half an arrangement ready, and you don't want to half-ass 'Being Alive.' We have a few demos — we'll wait for another album to record it."
Groban's Carnegie Mellon classmates included a bunch of Broadway stars — Leslie Odom Jr., Josh Gad, and Rory O'Malley among them (Gad likes to remind Groban of how, at their Carnegie Mellon graduation, he yelled, "Who the fuck is Josh Groban?" when Groban's name was called) — and though he insists he's not a triple threat ("In ballet class I felt like Ralph Wiggum"), he says he'll take on a Broadway project when the time and material (preferably new) is right. He and Tim Rice are "secretly, hopefully" trying to get a new production of Chess onstage "at some point, at the right time. I think it needs a better book, and it needs to be presented in a way that's not dense. But the music speaks for itself."
Lately, though, Groban is getting as much attention for his cheerfully neurotic screen presence as for what comes out of his larynx. He credits Jimmy Kimmel with showing the world that Josh Groban could, in fact, be funny. When Kimmel asked him to sing Kanye West's tweets in dramatic Grobanian fashion, "that was comedy gold," Groban says. "Jimmy has been like my Carson — saying, hey, I think there's something funny in you and I want to show it." Mindy Kaling contacted him directly on Twitter to play Andy's brother on The Office. Many of his friends in L.A. — like Joe Mande, who asked him to guest on Parks and Recreation — are comedy writers. 2 Broke Girls star Beth Behrs set him up with his girlfriend, Kat Dennings, with whom he bonded over Monty Python. "When you're on a first date and somebody does the dead parrot sketch for you," he says, "it's a cool thing that doesn't come around very often."
His relationship with Dennings is only one element of what seems like a particularly unusual life for a contemporary pop singer known for his effect on middle-age women. Theater people don't seem to resent his success, instead flooding his Twitter feed with regular love-fests. Hedwig Tony-winner Lena Hall boasted, "I got Grobed!" after singing with him last week; Kelly Clarkson, who duets with him on "All I Ask of You," warned her fans, "If you don't buy @joshgroban new album 'Stages' you're ridiculous and have crap taste in music"; Hamilton star and creator Lin-Manuel Miranda is prone to outbursts like this, about Groban's rendition of "Bring Him Home": "OH DIP @joshgroban WENT FULL VALJEAN SONNNNNN …. Glorious!"
Unlike so many young male artists looking for credibility from older audiences, Groban's followers seem to be trending younger. Lately, he says, it's not unusual for a fan to tell him, "Oh, you were really funny on It's Always Sunny. I might steal your CD from my mom." His willingness to sing Kanye tweets definitely helps. "Maybe there's a stigma to more classically infused music, that it's older-skewing," Groban says, "but the more I can get out to my age group and younger, it's like, I've liked this stuff since I was your age — we're all weird together."
Weird for Josh Groban, Groban insists, isn't a particularly weird kind of weird. "It's certainly less kooky than for most people in pop," he says. "I don't have a circus around me, and that's a choice. I like to be on planet Earth as much as possible." He proudly calls himself "sort of a hermit" and waxes rhapsodic about his tour bus bedroom. "It's womblike," he says. "I've been offered private planes, and I'm like, no! Don't you dare take my cocoon away!" Next on the Stages promotion-o-rama, he sang the national anthem at the Kentucky Derby. "No mint juleps for me this time, because I have to honor our country with song," he says. "Really, I think I'll just be stoked to be around horses. It's a win for both me and the country."