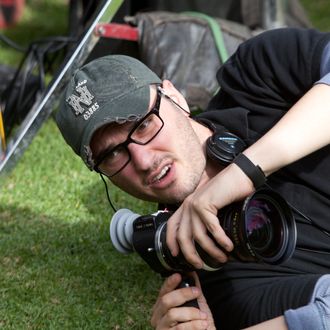 Photo: Alan Markfield/FOX
Josh Trank, whose upcoming Fantastic Four reboot opens August 7, has left the stand-alone Star Wars film he was slated to direct. According to The Hollywood Reporter, the 31-year-old director "made a personal decision" to leave. Trank earned recognition for his clever work on sci-fi found-footage film Chronicle in 2012, but sources suggested that the pressure of a big-budget blockbuster got to him.
Rumors of trouble during the Fantastic Four shoot have persisted. Producers Simon Kinberg and Hutch Parker allegedly held the production together, though Trank is still credited as having directed the film, including all of the re-shoots, as per Director's Guild rules. Trank's work on Fantastic Four was "erratic" and the director became at times "very isolated," according to THR's sources. Trank spurred speculation about the future of his new film when he ditched the Star Wars Celebration Day panel on which he was supposed to have appeared beside Gareth Edwards (who shows no signs of leaving his stand-alone film — don't worry).
In one of the stranger stories to pop up during this ordeal, Trank left several small dogs in a rented house in New Orleans while filming there. The small dogs somehow caused more than $100,000-worth of damage (what kind of dogs were they?), all of which the producers attributed to Trank. In the wise words of a tiny man from Dagobah, "Control, control! You must learn control!"