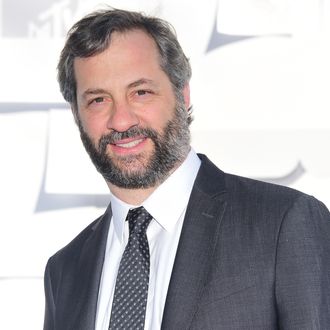 Judd Apatow.
Photo: Frederic J. Brown/Getty Images
What happens when Judd Apatow likes your book? He'll make some movie magic, that's what. Apatow read Phil Klay's Redeployment, a short-story collection about soldiers in the Middle East that won a National Book Award last year, and loved it so much he wanted to collaborate with Klay on a film.* Apatow was on "You Made It Weird With Pete Holmes" when he revealed that he's currently working with Klay on a screenplay. "[It's] a comedy with drama or a drama with comedy about those people and what they've gone through, and hopefully in an entertaining way so it's not one of these depressing movies you don't want to see," said Apatow. "But it's just about, what happens to soldiers who return to a country that isn't even that aware that we're at war?"
And how did this whole conversation get started? Twitter, of course:
Boom.
* A previous version of this post stated that Apatow's screenplay was based on Klay's book. Apatow clarified on Twitter that it is not based on the book, but an original story.