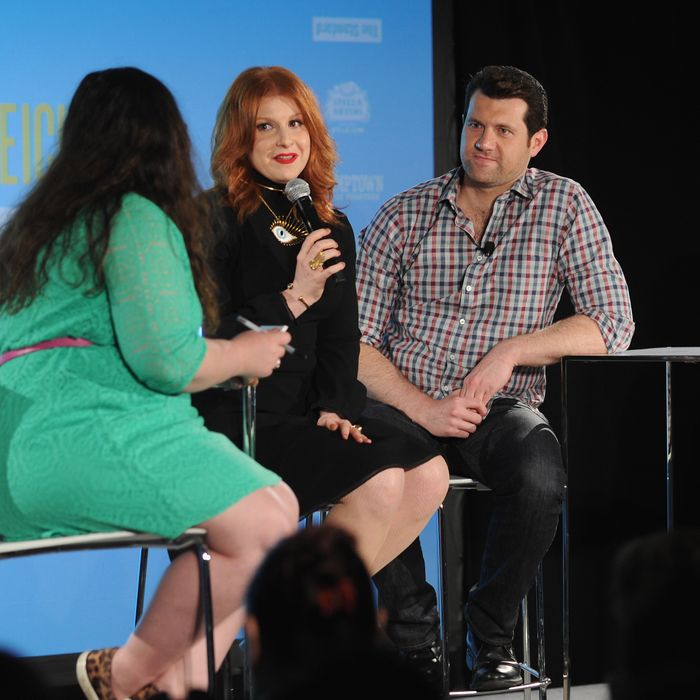 Photo: Craig Barritt/Getty Images
Executive producer Amy Poehler's imprimatur helped make Broad City a phenomenon, and now it looks like it might do the same for Hulu's upcoming Difficult People, a new comedy debuting in August and starring Julie Klausner and Billy Eichner. Klausner, Eichner, and Poehler came to the second annual Vulture Festival today for a screening of their new show, about a pair of struggling comedians behaving badly in New York, and for a talk with Vulture's Margaret Lyons, during which the trio could barely contain their admiration for one another (and also for Game of Thrones).
Eichner on Poehler:
"Julie and I were outliers in the comedy world. We were never the people getting called by SNL or The Daily Show; it took us a moment to get into the professional comedy industry, and it's taken the support of people with vision and balls and good fucking taste, like Amy Poehler, to get behind people like us and [Broad City's] Abbi [Jacobson] and Ilana [Glazer], and that really changes people's lives."
Poehler on Klausner:
"She's a person of the world, she's a real human person of the world, and I say that because she is a woman. I'm starving for television shows that have women in them, because there's a lot of young girls and then there's a lot of television about, like, couples. And there are so many people not having their first job or sexual experience and also not living in a sexless marriage or hating their job, like there's a lot of people in between those, and Julie has that character for sure."
Klausner on Difficult People:
"We just constantly did it our own way. I think it's a combination of knowing that show business is unfair and we're hungry to succeed, but even though we're right in that show business is unfair, we're also wrong in how we go about pursuing our goals. So we end up looking like assholes in most episodes."
Poehler on Difficult People, Klausner, and Eichner:
"There's a lot of Julie and Billy kind of trying to make their next move, right? So Julie's struggling writing recaps, Billy's working in this café, and it's kind of based on them about 10 years ago when they were feeling like outsiders but also feeling like the funniest and smartest people in the room, which they usually are. What's so great about the show is that the banter between Julie and Billy is filled with jokes, just like them. That's how they talk — they just joke and joke and joke and joke and joke, and so it allows the show and Julie's writing to be packed with jokes, but it does also start to tell you a little bit about how they interact with each other. So there are little moments throughout the season where we start to learn what the two want … and a smoke monster at the end."
All three on Game of Thrones:
Billy: You [Amy] like Game of Thrones. It'd be fun to see you on it.

Julie: You could play a dragon.

Billy: We'd get you some horns.

Amy: I'm going to say something really douchey, but I read all of the books. I am a fan of George R. R. Martin. And I often wonder when I'm watching that show, I always wonder, Have Kit Harington and Lena ever been in the same country? Things like that.