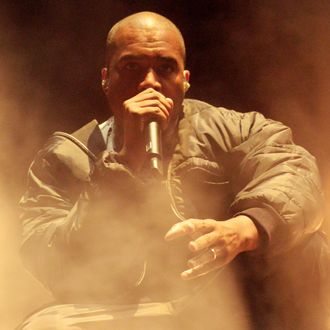 Kanye's pissed.
Photo: Jeff Kravitz/Getty Images
Kanye West was picked to close out Sunday night's Billboard Music Awards, but it was hard to tell from the show's live broadcast. ABC heavily censored his performances of "All Day" and "Black Skinhead," making large sections of his medley unintelligible. (Kanye's over-the-top pyrotechnics also didn't help.) Fans complained, and now Kanye has released a statement, via his publicist, ripping the broadcast for its treatment of his performance:
"Kanye West was grossly over-censored at the Billboard Music Awards. Non-profane lyrics such as 'with my leather black jeans on' were muted for over 30-second intervals. As a result, his voice and performance were seriously misrepresented. It is ridiculous that in 2015, unwarranted censorship is something that artists still have to fight against.

Although West was clearly set up to face elements beyond his control during the live broadcast, he would like to apologize to the television audience who were unable to enjoy the performance the way he envisioned."
According to TMZ, the show's producers say they were unaware he'd perform the explicit versions of his songs because he skipped the dress rehearsal. Their reaction: "He's Kanye. What are we supposed to do?" If Kanye stops appearing at awards shows altogether (as he's often threatened to boycott the Grammys), we wouldn't be surprised. Watch his "grossly over-censored" performance below.