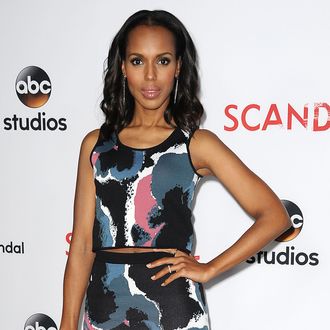 Kerry Washington isn't much of a red wine drinker.
Photo: Jason LaVeris/Getty Images
At a For Your Consideration panel in Los Angeles on Friday night, the moderator asked Kerry Washington if she has the same affinity for popcorn and red wine that her Scandal character Olivia Pope does. "Actually, the first time I saw that Olivia Pope was at home alone drinking wine and eating popcorn, I thought maybe Shonda had hidden cameras in my house, because I do love popcorn," said Washington. "But I drink, I don't know, two to four times a year. So, I'm not a huge drinker." "But heavy," joked Scott Foley, who plays Jake Ballard, one third of the show's love triangle. So what's in her glass during those scenes of Olivia's self-medication? Organic Welch's grape juice, naturally.