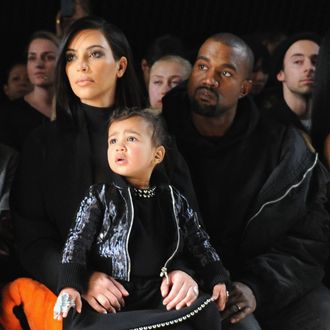 Kimye and North.
Photo: Photo by Craig Barritt/Getty Images
Kim Kardashian West and Yeezus have a gift for you, a gift for us, a gift for the world: more offspring. Kim announced she would be having her second child with Yeezy on Sunday night, in the form of a sneak-peek teaser at the end of Keeping Up with the Kardashians' mid-season finale. The 34-year-old reality star had been aggressively trying to get pregnant, calling her hubby to photo shoots and also undergoing IVF. As seen on KUWTK this season, Kim said the process had been wearing on her, and the lack of results was depressing. Until now. "I just got the blood test back," she says in the teaser, "and I am pregnant!" Boom. Let the name games begin. (South is a little too easy, in my opinion. UnNorth has a nice edge to it, though.) If this news is not truly glorious without hearing the words come out of Kim's own mouth, then here, please, by all means:
There you have it. Congrats, Kimye!