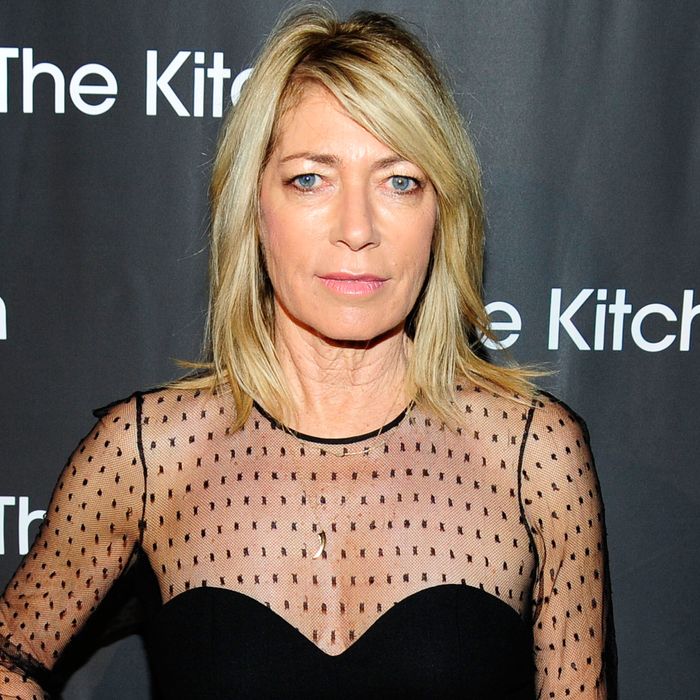 Kim Gordon.
Photo: Paul Bruinooge/Patrick McMullan
"You know, we sort of let Kim and Dan do whatever they wanted," said Tim Griffin, the director of the Kitchen, and that explained why the people who come to galas found themselves picking at a raspberry tart as little-known British female punk duo the Raincoats wailed away onstage, because "Kim" was Kim Gordon and "Dan" was Dan Graham. As he stood off to the side of the cavernous old bank on Wall Street that's now a Cipriani, he looked particularly pleased with this situation, with punks filling in for the usual bland crooners who entertain the tables at these things.
This is one of the better galas, I told Griffin. Or, as Kim Gordon put it in her speech, "It's the most kickass gala. It's the fuckin' best gala."
(She was less caustic earlier in the evening. At the bar, I felt a hand on my shoulder, turned around, and saw it was Kim's. "You left your medium sticker on your shirt," she said. "Can I take a picture?" And so Kim Gordon took a picture of the medium sticker on my new Uniqlo button-up, and then took it off for me.)
Well, let's take stock of Gordon's assessment here. Is the Kitchen Spring Gala Benefit "the fuckin' best gala"? Well, other galas don't have Ray Pettibon stalking through them, looking like he'd rather be at the beach, and not at a place that has bowls of zucchini chips next to a Champagne bar and a woman asking you if you'd like another lamb chop from her platter of lamb chops.
"It's not my … favorite thing in the world?" Pettibon told me, and then made it clear he was referring to fancy parties in general, not the Kitchen Gala; he said he would do anything for the Kitchen and Kim.
Those other galas, they don't have Jersey legends the Feelies ripping through a set, only to be followed by a Stephen Malkmus solo set during the main course; it was basically perfect, as his sets tend to be, in my experience. (Malkmus later told me, over a cigarette, about how he and Superchunk's Mac McCaughan got really into ACC basketball this season — Malkmus is a UVA fan; Mac roots for Duke.)
Do other galas have Sofia Coppola in the house? Well, yes, they probably do, but they probably don't have her talking about meeting Kim Gordon for the first time at a wedding in North Carolina, of all places.
"It was the '90s; I was in my early 20s," she said when pressed for details.
Do other galas have you asking, "Where is the honoree, is he even here?" Because one announcer said Graham was planning on leaving at eight. Maybe he did. It's okay; he's Dan Graham. He can do what he wants! Plus, his fellow artists were around. Joan Jonas was there, as was Richard Prince, an old Sonic Youth cohort. Wade Guyton, too.
And does that two-bit gala down the street have Tony Oursler introducing Kim Gordon with some zingers like this one: "She's probably the only person to work with Larry Gagosian in the '70s, and then go back to show with him."
(Kim, who indeed worked for a then-unknown Gagosian as her first job out of high school, has this to say about her old boss in her memoir, Girl in a Band, that was published this year: "He was mean, yelling at us all the time for messing up, being too slow, just plain being. He was erratic, and the last person on the planet I would have ever thought would later become the world's most powerful art dealer.")
And I'm pretty sure whatever gala's going on tonight won't have an after-party with Chloë Sevingy bopping around to Brian Eno songs as the weirdo art kids too broke for the dinner stream in. Pretty sure I saw Joan Jonas in the scrum of the dance floor, too. And all in the name of raising money for one of New York's best (and last) alternative art spaces. Yes, Kim Gordon, it's a pretty good gala.