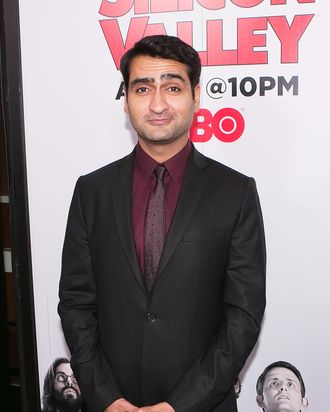 Not Kunal Nayyar.
Photo: Gabriel Olsen/Getty Images
Comedian Kumail Nanjiani is one of the many funny leads on Silicon Valley, but he's still been confused for that other South Asian actor whose name starts with a K, Kunal Nayyar from The Big Bang Theory. "I had a reviewer tell me that I'm also in Big Bang Theory," Nanjiani said during a For Your Consideration panel in Los Angeles on Sunday. (For what it's worth, Nanjiani is Pakistani-American and Nayyar is British-Indian.)
Nanjiani takes his relative anonymity in stride. "Last year we were nominated for Emmys, which was wonderful. And we got to go, which was wonderful," he said. "But security kept asking me what I was doing there. That is the perfect window I want to be in for the rest of my life: being nominated, but also being asked to leave."
He isn't the only Silicon Valley actor who suffers from cases of mistaken identity. Zach Woods, who plays the servile Jared, has been confused for another HBO actor. "Yesterday I was walking into a theater, trying to get to the door, and there was a guy in front of me, and he turned around and he went, 'Don't sneak up on me like that, Jonah!' which is a character from Veep. That's not me," recalled Woods. "He thought I was Tim Simons."
Building on the crowd's laughter, moderator Nick Kroll pushed Woods on the issue: "Zach, why aren't you Jonah in Veep?" "That's a question that's probably too profound for me to answer," said Woods. "I guess, well, we're two different people." Word.