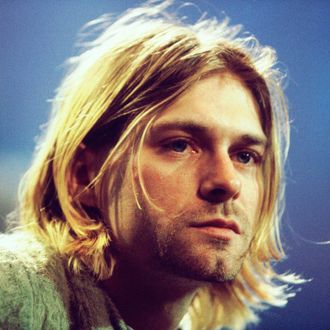 This is not a drill!
Photo: Frank Micelotta/Getty Images
The new Kurt Cobain documentary Montage of Heck uncovered a treasure trove of never-before-heard recordings from the late Nirvana front man. And according to the film's director, Brett Morgen, fans will soon to get hear even more of the music that didn't make it into the film. In an interview with Bedford + Bowery, Morgen revealed that there are plans to put out a Kurt Cobain album this summer:
"The album of home recordings will feel like you're kind of hanging out with Kurt Cobain on a hot summer day in Olympia, Washington as he fiddles about. It's going to really surprise people. Just to be clear, it's not a Nirvana album, it's just Kurt and you're going to hear him do things you never expected to come out of him."
We've already heard his take on the Beatles' "And I Love Her," and there have always been persistent reports that Cobain was working on a solo album prior to his death. So it seems we may finally get a glimpse at what he was working on! Thank you, rock gods.