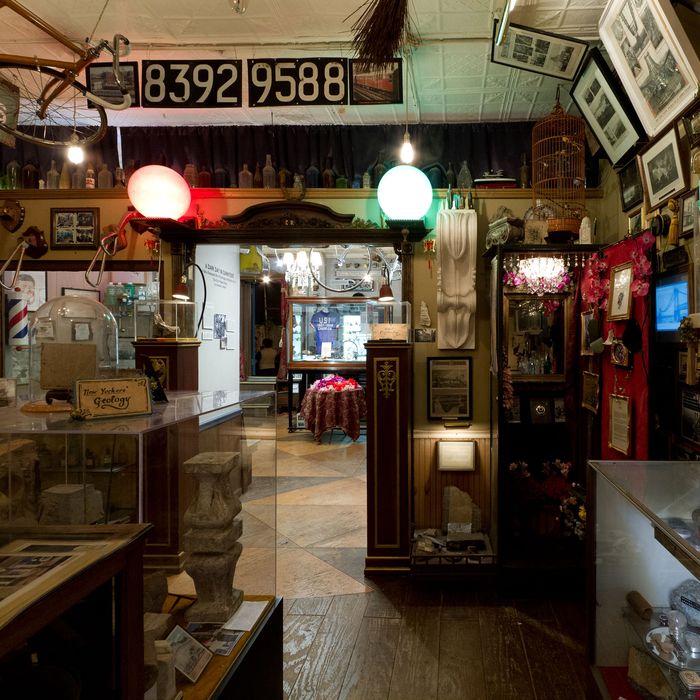 As postindustrial Brooklyn inevitably goes the way of postindustrial Manhattan — i.e., double strollers and eager developers pushing out all the weirdos — Oriana Leckert sought to document this endangered landscape before it was too late. The results are published in her new book: Brooklyn Spaces: 50 Hubs of Culture and Creativity, out May 19.
The book was written over the summer of 2014, a time she describes as "the culmination of a crisis, a tipping-point moment where Brooklyn was shifting irrevocably from a space of rampant innovation and thriving culture to one of hyper-gentrification paired with a total disinterest in preserving underground nightlife and artistic experimentation." In July, one month before her manuscript was due, news broke that Vice Media would be moving into a complex of waterfront warehouses in Williamsburg, effectively evicting indie-music clubs Death by Audio and Glasslands. Artists marked the departure with pointed art and graffiti: a plastic tombstone reading "R.I.P W'Burg" and a sprayed-on message to the space's new tenants: "Don't kill the culture that made you."
Of the 50 spaces Leckert profiled, ten have closed — five of them since summer. One of them, the House of Yes, is reopening this June off the Jefferson L-train stop. Another, the Muse, moved successfully from its home on South 1st to an industrial factory in Bushwick. Not everything has to move to Detroit, where Galapagos chose to go after spending its post-Williamsburg years in a space in Dumbo (which was subsidized by well-intentioned developers). Here are a few of our favorites from the book that are still kicking — check them out now while you can.
Big Irv's, South Williamsburg
What goes on there: Nine artists, writers, and musicians live in this former bodega, supermarket, hardware store, and Pentecostal church. The living room doubles as an art gallery and performance space, hosting art exhibitions, film screenings, reading series, and monthly music and art showcases.
When it started: 2012
High point: Big Irv's first incarnation, the Bushwick Project for the Arts, consisted of a dozen salvaged trailers built into a former nut-roasting factory in the East Williamsburg Industrial Park, each transformed into a bedroom or studio. They were quickly shut down by the Department of Buildings.
City Reliquary, Williamsburg 
What goes on there: A nonprofit micro-museum dedicated to preserving the city's past through (seemingly) mundane objects: dentures found in Dead Horse Bay, a fire bucket from the Grand Paradise Ballroom, and an irradiated dime from the 1964 World's Fair, among many other items.
When it started: 2002
High point: One of the first exhibits consisted solely of swung glass and ET figurines.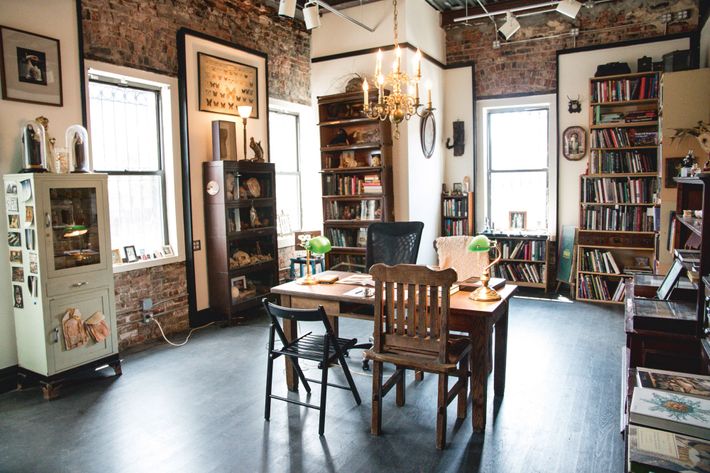 Morbid Anatomy Museum, Gowanus
What goes on there: Founder Joanna Ebenstein's tastes have always run dark: As a child, her father would jar dead birds in formaldehyde for her room. The museum is stocked with other such oddities: phrenological death masks, antique medical devices, and, perhaps most bizarre, a taxidermied kitten with four eyes, two faces, and two mouths.
When it started: 2014
High point: Ebenstein conceived of the space while curating an event series, with lectures on topics such as: the history of skin grafts, the art of spider seduction, and an anthropomorphic taxidermy workshop that was so popular it often had more than 600 people on the waiting list.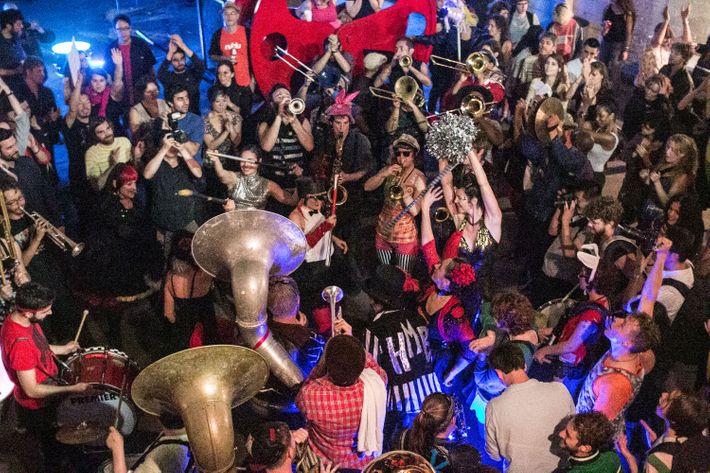 Gowanus Ballroom, Gowanus
What goes on there: Every few months, Josh Young transforms his 16,000-square-foot crafting and design firm into a venue for performance spectacles and group art exhibitions.
When it started: 2010
High point: Young once built, in Leckert's words, "a flaming shopping-cart catapult and a pulley system to drop a piano fifty feet onto a tower of champagne glasses." Plus, the Ballroom has shown artists like Kiki Smith, Swoon, Duke Riley, Dustin Yellin, and Tom Otterness.
The Living Gallery, Bushwick
What goes on there: The Living Gallery operates as a classroom, art gallery, performance venue, and community hub, hosting, among other things, exhibitions, drawing classes, dance performances, and art battles.
When it started: 2012
High point: Founder and curator Nyssa Frank doesn't depend on art sales to pay the rent — she rents the space instead so she can show emerging and underground artists. Her exhibits are wide-ranging, from a showcase of Chicana artists from the 1970s to a solo watercolor show called "Presidents With Boob Faces."