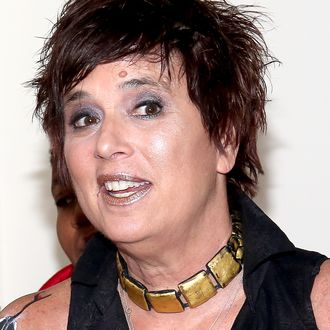 Photo: Paul Zimmerman/Getty
How does one prepare for the post-apocalypse? Well, if you are Rosie Huntington-Whiteley, who plays one of the five captured women in Mad Max: Fury Road, you speak to the esteemed feminist playwright Eve Ensler. Director George Miller flew Ensler in for about a week, during which she told Huntington-Whiteley and the other actresses "the most tragic stories." "We did extensive research with her," Huntington-Whiteley told Esquire.com. "Eve herself has had a very intense life." Here's what she said:
She's spent time in the Congo working with rape victims and women who have had unthinkable things happen to them through the power of men's hands. We were able to pick her brain for a week. She told us the most tragic stories I've ever heard in my life, which gave us so much background to our characters. We really wanted to kind of showcase that. It was a privilege to have her around to make these characters something more than just five beautiful girls.
The Vagina Monologues, coming to a post-apocalypse near you.