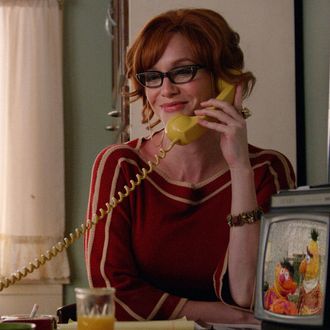 Christina Hendricks.
Photo: Courtesy of AMC
Ratings for Sunday's Mad Men finale predictably surged, with Matthew Weiner's AMC drama generating its third-biggest same-day audience ever and setting a record among a core demographic group. According to Nielsen data, at least 3.3 million people have already watched Don Draper's Moment of Om, the show's largest audience since 2013's season-six opener (3.4 million) and the most ever for a finale. Of those 3.3 million, a series-best 1.7 million were in the demo AMC targets for Mad Men, adults between the ages of 25 and 54. Same-day viewership for Sunday's swan song was also up dramatically from last week's penultimate hour, which logged 1.9 million. More impressive, the very last Mad Men more than tripled the audience of the show's season-one finale, which averaged a mere 930,000 viewers in October 2007. Sunday's episode is also currently just 200,000 viewers below the most-watched episode of the show ever, the 2012 season-five premiere (3.5 million).
AMC says it won't release ratings data for Mad Men until Friday, when Nielsen will tally up how many viewers time-shifted the finale via DVR. If the show gets a big enough DVR lift, it's possible Sunday's hour will end up the show's most-watched ever. No matter how big the surge, Mad Men won't end up with anywhere near the audience of some other big cable finales in recent years: Breaking Bad, for example, went out with over 10 million viewers, while FX's Sons of Anarchy had a same-day finale audience of 6.4 million. But Mad Men did go out ahead of some other cable shows that generally drew larger audiences. USA's White Collar, for example, regularly trounced Mad Men for much of its run, topping 3.5 million viewers during its early seasons, from 2009 through 2011. But when it signed off last December, just 1.9 million same-day viewers showed up for the finale. FX's Justified also frequently surpassed Mad Men in same-day ratings (though not by a lot). Its (admittedly much-less-hyped) farewell last month, however, drew a million fewer same-day viewers (2.2 million).