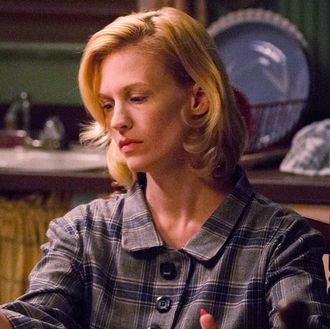 Poor Betty.
Photo: © AMC Network Entertainment LLC and Lions Gate Entertainment Inc. All Rights Reserved.
This post contains spoilers of the final episodes of Mad Men. Your eyes shouldn't cross this line.
Matthew Weiner did a very poor job of consoling the crowd during his LIVE From the New York Public Library talk with author A.M. Homes Wednesday night. Weiner was pretty matter-of-fact about Betty's death, responding to the question of when he knew he was going to kill off Betty by pointing out that all of the characters are going to die eventually, and people die of cancer in the United States all of the time. (Not helpful, Matt.) Weiner sensed early on in the series that Betty Francis would eventually meet an untimely end. "Her mother had just died in the pilot, and I felt this woman wasn't going to live long," Weiner said. "We loved the idea of her realizing her purpose in life right when she ran out of time."
According to Weiner, Betty's death was all but solidified once AMC signed the show on for 36 more episodes after a contract dispute that delayed the season-five premiere of the show was settled in 2011. After that, Weiner said he also knew the "Hilltop" Coke ad would appear on the show, but as for whether he knew Peggy Olson and Stan Rizzo were going to live happily ever after? "That had to be proved to me," Weiner said.