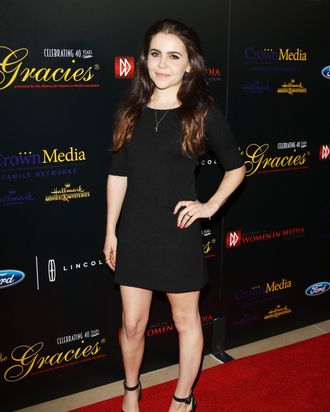 Tears.
Photo: Michael Tran/2015 Michael Tran
It's been four months since we said good-bye to the Braverman clan, and just when we thought we had recovered from that tear-soaked series finale, TV mother and daughter gave us a real-life Parenthood moment when Lauren Graham presented a Gracie Award to her TV daughter Mae Whitman for Outstanding Female Actor in a Breakthrough Role. "You got to watch a rebellious teen grow into a responsible mother," Graham told the audience. "And I got to watch Mae Whitman blossom into a masterful performer whose gripping portrayal of Amber is clearly a career-defining role and, simply put, outstanding."
After giving Graham a big hug, Whitman admitted that she was "crying already" and extolled the genius of Lauren Graham: "When you're acting with her, I could go in and not have any idea what I was doing and look into her eyes and know that I was going to be taken care of, because she's truly the most elegant and smart and funny and classy person I know."
Whitman recalled the scene in the penultimate episode where their characters have a heart-to-heart right before singing Joni Mitchell's "The Circle Game." "They let us improvise a lot on Parenthood," said Whitman. "That was one of the last scenes we shot together after six years of building this relationship with our two characters, and so right before we were about to cut — I added, I looked at her and it just came out — I said, 'You're my hero,' and that really wasn't a line. That came from Mae Whitman to Lauren Graham: So she's my idol and my hero."
As the two walked offstage to enthusiastic applause, host and Black-ish mom Tracee Ellis Ross thanked them with tears in her eyes: "That was beautiful." And it was. Sniff.