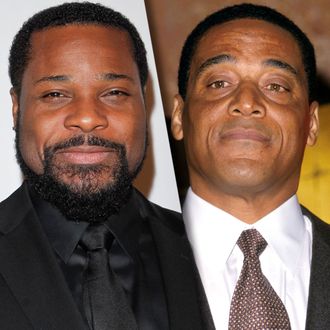 Malcom-Jamal Warner (left) and A.C. Cowlings.
Photo: SGranitz/Getty and Tibrina Hobson/Getty
The fun thing about American Crime Story casting season is remembering the rogues gallery of micro-celebrities who popped up during the O.J. Simpson trial. Up today: Simpson's football teammate and close friend A.C. Cowlings, whom Variety reports will be played by Malcolm-Jamal Warner in the upcoming miniseries. Cowlings is most famous for being behind the wheel of the white Ford Bronco that took police on that low-speed freeway chase on June 17, 1994. (O.J. had allegedly put a gun to his own head and demanded Cowlings help him flee police.) Unlike many figures from the trial, Cowlings has avoided the spotlight since then, which means Ryan Murphy is free to do basically anything with his character. A musical number set to Lana Del Rey's "Ride," perhaps?