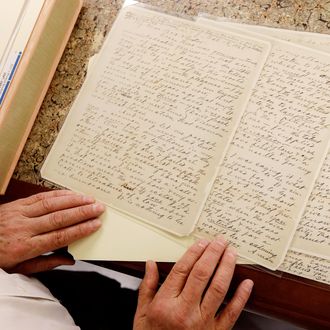 Twain letters.
Photo: Jeff Chiu/Corbis
Before writing Tom Sawyer, Mark Twain had some adventures of his own back in the day. According to Time, scholars at Berkeley have discovered 110 columns the then-29-year-old Twain wrote for the Territorial Enterprise Newspaper between 1865 and 1866. He took, ahem, a few liberties, including dialogue between two gold speculators dangling in a mineshaft from a rope tied to a horse:
"Johnny, I've not lived as I ought to have lived. D–n that infernal horse!" Twain reported one man saying to the other. "Johnny, if we are saved I mean to be a good man and a Christian."
Was Twain in the shaft, too? Maybe one speculator recounted the tale with perfect recall? Maybe it was the horse? Bob Hirst, general editor of the Mark Twain project, said the story is "likely based on some facts." Sure.