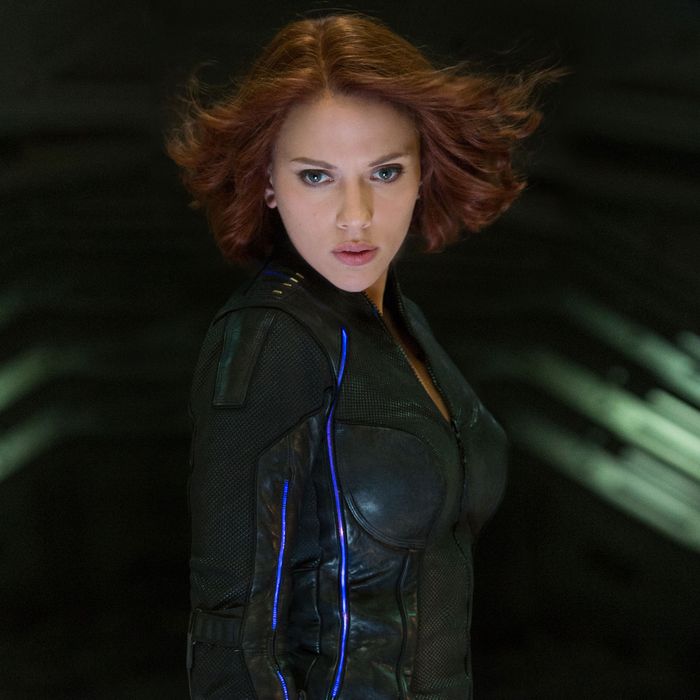 Black Widow in Avengers: Age of Ultron.
Photo: Jay Maidment/Marvel
Well, this isn't great. Indiewire's "Women and Hollywood" blog went digging in WikiLeaks' searchable treasure trove of leaked Sony emails and found a message that appears to be from Marvel Entertainment CEO Ike Perlmutter, sent to Sony exec Michael Lynton. It was sent last August and bears the ominous and blunt subject line "Female Movies." We don't know the context, as it seems to be a follow-up from a phone call, but here's the email in full:
Michael,

As we discussed on the phone, below are just a few examples. There are more.

Thanks,

Ike

1. Electra (Marvel) – Very bad idea and the end result was very, very bad. http://www.boxofficemojo.com/movies/?id=elektra.htm

2. Catwoman (WB/DC) - Catwoman was one of the most important female character within the Batmanfranchise. This film was a disaster. http://www.boxofficemojo.com/movies/?id=catwoman.htm

3. Supergirl – (DC) Supergirl was one of the most important female super hero in Superman franchise. This Movie came out in 1984 and did $14 million total domestic with opening weekend of $5.5 million. Again, another disaster.

Best,
Ike
Again, we don't know the context, but it would appear that Perlmutter was having some kind of high-level discussion with Lynton about woman-led superhero movies. Sony owns the movie rights for Spider-Man and all Spider-Man-related Marvel characters, but Sony and Marvel Studios have had a decent creative relationship in recent years — so, presumably, Perlmutter was advising Lynton to be careful about crafting a superhero flick starring a woman. There have been precious few such movies, and in his little list, Perlmutter accurately pointed out that they don't have a great box-office history (though, of course, there are plenty of male-led superhero movies that have been catastrophes, as well … I'm looking at you, Green Lantern and Superman IV: The Quest for Peace).
In the wake of Sony's critically reviled The Amazing Spider-Man 2, the studio was reportedly mulling a movie starring a female character in the Spider-Man mythos, so it's not unreasonable to assume the phone conversation had something to do with that initiative (which, in the wake of Marvel's historic deal with Sony to jointly reboot the Spider-Man franchise yet again, seems to be off the table). Of course, Marvel went on to announce its first female-led superhero movie a few months later at an October press conference: Captain Marvel. But it's not coming out until 2018, and the Marvel lineup is kind of a sausage-fest until then.
We reached out to Marvel and were told the company has no comment. But this email is already being lambasted on social media and will no doubt tarnish Marvel's repeated efforts (mostly in its comics division) to establish itself as a progressive company when it comes to inclusivity. And it will definitely add to Perlmutter's reputation (most infamously depicted by The Hollywood Reporter) as a bitter, secretive, bottom-line-focused hard-ass.