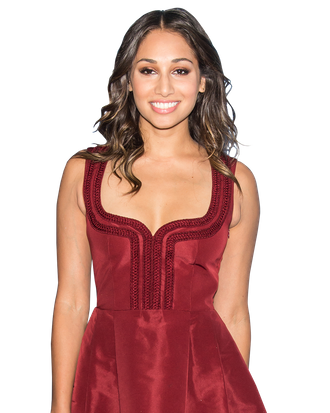 Photo: Gilbert Carrasquillo/FilmMagic
Meaghan Rath first came to our attention as ghost-girl Sally Malik on Syfy's Being Human, but we've since gotten to see her on Secrets and Lies, Banshee, and most recently as Coach's love interest, May, on New Girl. Rath's star is on the rapid rise — earlier this month at the upfronts, she was cast in two TV pilots: The Guide to Surviving Life and NBC's People Are Talking (though it looks like NBC will have to recast her role). We caught her for a few minutes to talk about pilot season, what's next for Coach and May, and the perils of doing your own stunts.
Were you a New Girl fan before you were cast on the show?
I was! I had seen a few episodes and thought it was really funny, and then after I was cast, I watched the most recent season so I could understand the characters and what the vibe of the show was, and then I literally couldn't stop watching. It's really crazy to see how the characters have evolved.
Any chance of May and Coach coming back from New York next season?
I haven't heard anything — I know that the way Damon [Wayans Jr.] left the show was so open-ended that it definitely leaves the door open for many returns. I don't know why we wouldn't come back at some point.
Well, you're at least staying on Fox — you're a star of its upcoming sitcom Cooper Barrett's Guide to Surviving Life.
I'm definitely happy to be staying in the Fox family — I love the comedy that they do, I love the shows they have on the air, and I love that we can continue working together because I had the greatest time on New Girl.
What's the biggest difference between working on a network sitcom versus something a little more sci-fi, like Being Human?
[Laughs.] It is infinitely different! Doing a network comedy, I'm just a happier person at the end of the day, to be honest. On Being Human, I had the greatest time. It's such a dear part of my life. But it was heavy material. When you're crying all day, screaming and acting with a green screen, you do tend to take it home a bit. It's a little more stressful than doing a comedy, where you're laughing all day and you can sort of leave it there, come home happy, which I find refreshing after four years of doing a drama.
And less physically demanding, too.
Yeah, what I did on Being Human was so physical — I like doing my own stunts, so I tried to do as much as I can, or as much as they'd let me before [the producers] put their foot down: "She can't do that!"
Was there anything you really wanted to do that you weren't allowed to do?
The way that my character died — because I played a ghost — was that I was thrown down the stairs, so during the course of four years, there were a lot of callbacks to me being thrown down the stairs. It was this big, slow-motion fall, and at the bottom of the stairs I snapped my neck. Usually my stunt double does that stunt — she's incredible — but I really wanted to do it. And they finally let me do it on a smaller-scale staircase, and I did it a couple times and really hurt myself. They were like, "We told you!"
In terms of a Guide to Surviving Life, it seems like one pretty important way is to be able to fall downstairs correctly.
Oh, it's the No. 1 way to survive life. Let's be honest. [Laughs.]
You were in high demand this past pilot season — for people who don't know, what is the process of pilot auditioning like?
Basically it's just a giant shitshow. Network pilot season is when all the big networks are casting for all the new pilots they're making for the next season of television, and very, very few of those pilots end up getting picked up to series. From January to April, there are hundreds and hundred of pilots out there, and all of the actors in L.A. are running around from audition to audition trying to get a role. I'm Canadian, and a lot of my friends from Canada even come down for that period of time. I'm sure from all over the world people come to see if they can book a pilot. I was very, very lucky this pilot season. I'm very humbled by the situation that I was in. Mine were good problems to have. It's a tough time of year, people tend to go a little crazy.
You've gotten to play a bunch of different kinds of roles — is there a kind of role that you haven't done yet but would love to do?
Honestly, I'm pretty happy with where I've found myself right now — I've been wanting to do a comedy for a long time. Even on the dramas that I would work on, my instinct is to go towards the levity of a situation. Honestly, it was through New Girl that people started seeing me in a different light. On The Guide to Surviving Life, it's exactly the kind of part I've wanted. It feels really close to who I am, and I love it because it's such a funny, well-written show and the cast is amazing, but there is some depth to it as well; it's a love story. It's the perfect balance for me, so I'm very happy where I've landed.
What can you tell us about The Guide to Surviving Life and your character on it?
The show is about that really awkward period in your life just after you graduate college but before you find your first job. Generally, it seems to be most peoples' 20s. The story's told through Cooper Barrett, who is the narrator of the series. He's showing us all the mistakes and bad choices he's made so that we don't have to make them. Cooper and his two college friends move into an apartment building together, and I play Kelly, who lives across the hall from them. It's sort of this group's misadventures. It's a lovely, charming script that has such a great team behind it. I love the cast so much, we get along so well and the chemistry is great.
You have an executive-producer credit listed on IMDb (Three Night Stand) — are there other parts of the entertainment industry we can look forward to you conquering?
I like producing — I like giving my creative input. I feel like I have a good sense for characters and people and casting and story. I also really enjoy bossing people around, telling people what to do … so I feel like that might be the right job for me! [Laughs.]
What's something you wish you had known as a young actor going into the industry?
When I was first starting, I felt like I didn't really have a shot because there were so many people talented people who wanted to do this. So I wish I could have given myself a bit more credit [and told myself], "You actually do have a shot if you work really hard and believe that you can, and make good choices — and the sacrifices that you need to make, you can actually really can do it." You sort of have to take a leap of faith.
That's pretty much the ultimate advice for surviving life.
There it is! We don't need to shoot the show!