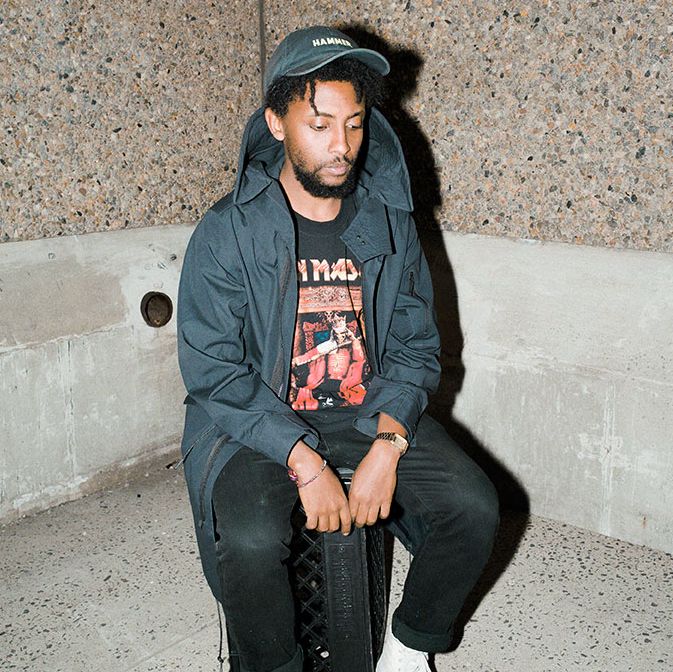 There was laughter in the crowd of the lobby at MoMA — most likely coming from a shared sense of recognition at this guilty pleasure — when the screen showed a video of Awol Erizku scrolling through photos of Rihanna, a.k.a. @badgalriri on Instagram, and liking every one of them. The 26-year-old artist — who is known for his photography but has also worked in sculpture, painting, and film — premiered his short film "Serendipity" along with a live performance from DJ/producer MeLo-X at something called MoMA PopRally. It started in 2006 as a way for MoMA to lure a younger art crowd to midtown with live performances, film screenings, and exhibitions — and some dance music, too. Erizku has been an artist to watch for some time. Easygoing personally and fluent in the digital languages of his generation, he makes Instagram-only art shows (he tries to keep art-gallery hours Tuesday through Friday, when his feed goes from private to public), Soundcloud mixtapes, and is always restocking his Tumblr account with photos of his many friends and new acquaintances visiting his studios (his studio in New York was in the basement of a flower shop in Noho). Scroll through and you can see people like members of A$AP Mob, Virgil Abloh, or, say, collector Glenn Fuhrman. He seems to know everyone. And he has a Yale MFA. With his film "Serendipity," he explores conflicting ideas (there's a white girl wearing a French braid in a T-shirt that says "African Art") and black culture's place in American culture (there's a scene where he smashes a bust of Michaelangelo's David and replaces it with a Nefertiti).

Age: 26
Where is he from: Born in Ethiopia, raised in the South Bronx.
Currently lives in: Los Angeles.
How he got started: He started taking photographs seriously while an undergraduate at Cooper Union, where he received his bachelor of fine arts in 2010. After college, he worked under photographers David LaChapelle, Lorna Simpson, Margaret Morton, and Christine Osinski. In 2014, he graduated from Yale's master of fine arts program.
What he is known for: At his first solo art show, he remixed art classics, such as turning Girl With the Pearl Earring into Girl With the Bamboo Earring. In  "The Only Way Is Up" last summer, he created a stack of basketball hoops based on lyrics from Jay Z's "Picasso Baby" with a nod to Donald Judd. He's also photographed for Vice and Vogue.com, and has documented A$AP Mob.
The story of "Serendipity": "I'm here in L.A. and I'm watching my friends post stuff about the Baltimore protests and riots, and here I am, thinking how can I contribute as an artist, how can I put my thoughts in without being just another voice that's just saying 'Black Lives Matter,' hashtag this, hashtag that, how can I reach deep into someone and make them understand the pain that a lot of people are feeling. A lot of the shots were significant — the girl that's crying, the 40s being poured, that's something that we do when someone has passed away, and the dice games, there's a lot of things that point to the culture that I belong to and the culture that these kids in Baltimore belong to; that was my tribute, in a way. A lot of these things were going through my mind, and it was my way of showing that and putting in my two cents about it. I wasn't really trying to answer questions; films have this way of trying to put a message out there and say something directly, and as I grow as an artist, I'm not going to be answering questions as much as challenging ideas and preconceived notions and just [letting] the audience interpret what they want to. There have been a few people that have come up to me like, 'Yo, I saw XYZ crying,' or they themselves were crying and they were touched. That is so powerful. I wasn't trying to do that intentionally, but the fact that it resonated means I got my point across."
On social media and art: "In terms of how I use it, it's more conceptual. Say, for example, the #hoops show [on Instagram], I just looked up the hashtag 'hoop' and then I curated a show based on the images that already exist on Instagram. I treat my Instagram account like a gallery — I keep it private and then from 9 to 5, Monday or Tuesday through Friday, like gallery hours, that's when it's public. It's in line with what I do anyways, which is kind of like using readymades in the 21st century. That is Instagram — just appropriating what's already out there by millions and just pressing it back out."
On music, mixtapes, and art: "Music is always playing in my studio, I'm always seeking out new music and underground artists, to hear new voices, to hear new perspectives. Inevitably, that content and the culture just seep into my work because I'm living it. I respect it as an art form, I think it's the purest way of communication, I just want to show my appreciation for it by acknowledging it. I made this sculpture of stacked hoops, highly influenced by Jay Z's 'Picasso Baby,' specifically the line, 'Oh what a feeling, aw, fuck it, I want a trillion.' It's a metaphor; people who understand hip-hop know what that means. I love doing that kind of thing with my work. Say someone doesn't have a fine-art background and they don't have any way of interpreting my work, well, I'm trying to create an alternative entry point, which is music. I also use music and mixtapes as a way of making an artist's statement, a lot of artists' statements are a bunch of fancy words that people put together, and although I find that to be a good thing, I also know who I'm trying to speak to, and I also know that part of it goes over their heads, not in a way that's like putting anyone that's viewing it down, it's just the reality. Art talk can be too much sometimes, and I just want to have an alternative way to communicate the same thing that's being said in the press release, but in a way that's maybe more digestible and enjoyable."
On his art and black culture: "Honestly, I don't see it as just being about black culture; it's about my culture, and I'm documenting my culture. If we label everything as black or white or yellow or whatever, then it becomes this thing of, this belongs here, this belong there. There's an aspect in my work that I want to be universal. I never go into my studio and say, 'Well, this is strictly for this group, and I don't want this group to get it.' There's the visual aspect where you look at something and you classify it because that's just what we do as humans, I try to play with that. I think that's what I was trying to do with "Serendipity" — you're looking at people of color, you're looking at white people, and then you're hearing German but then you're also hearing Amharic, which is an African native tongue, but you don't know what's what and where it starts or where it ends, and that's the whole point. I just want you to come in and view something and get that emotion and not try to place yourself in how to understand it."