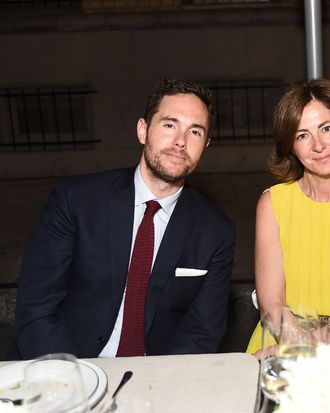 UTA's Joshua Roth.
Photo: Stefanie Keenan/Getty
On April 30, under strings of fairy lights in the shadow of the phony Brooklyn in the New York Street backlot at Paramount Studios, at the start of the Paris Photo Los Angeles art fair, Hollywood muckety-mucks mixed with art-world types and assorted boldface names. There was Jim Berkus, the chairman of United Talent Agency, and the jolly Jeremy Zimmer, UTA's CEO. There was David Hoberman, producer of David O. Russell's The Fighter and the recent Muppets movie. And over there, Keegan-Michael Key from comedy duo Key & Peele settling into a conversation.
It's official: The Hollywoodification of the art world has begun. The interest is there on the movie-star end: Leonardo DiCaprio haunts Basel with his posse; Brad Pitt, Orlando Bloom, Demi Moore, Judd Apatow, Jenji Kohan, and Jodie Foster go to Paris Photo; Jim Carrey's a painter; and James Franco is a fully credentialed performance artist who showed at Pace Gallery. Meanwhile, there's long been a tradition of art people playing Hollywood, from Andy Warhol's screen tests to Cindy Sherman's film stills to Francesco Vezzoli's Caligula trailer.
After all, Steve McQueen and Kathryn Bigelow are currently winning Oscars after having careers as cognoscenti-approved artists, and once upon a time people financed high-profile if not always successful films by David Salle (Search & Destroy), Robert Longo (Johnny Mnemonic), Cindy Sherman (Office Killer), Marco Brambilla (Demolition Man), and Julian Schnabel (The Diving Bell and the Butterfly).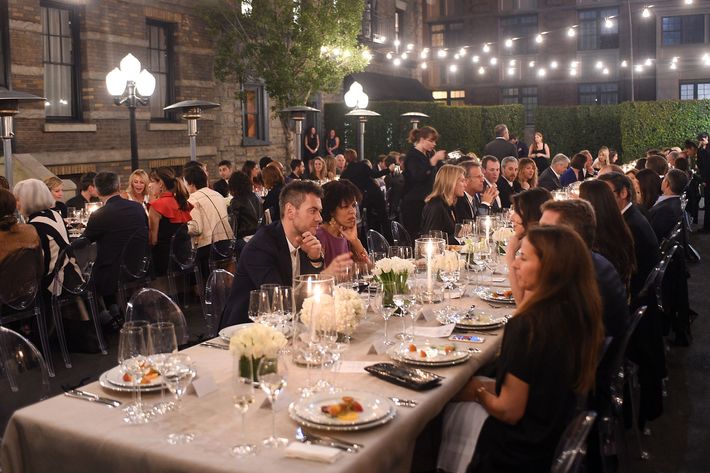 But this is different: Now big-time Hollywood star-making professionals see opportunities — and commissions to be made — in the prosperous world of fine art. And so the dinner was in honor of Josh Roth, the head of UTA's Fine Arts division, which just started in January. The 37-year-old Roth is a lawyer who has worked closely with artists his entire career, even getting buddy-buddy with some of the big ones, including Sterling Ruby, Alex Israel, Sam Falls, and Mark Grotjahn. The new division at UTA has people in Hollywood and Chelsea either nervous over the further Disneyfication of an already grandly commoditized art scene — or salivating at the prospect of new ways of making more money.
What's not entirely clear is how, exactly, UTA Fine Arts will do it.
"UTA Fine Arts is a natural extension of what UTA already does, helping artists achieve their hopes and dreams through cultural expertise, innovative strategies, and superior market intelligence," said Berkus when announcing the endeavor.
In other words: It's representing artists the same way agents represent movie stars and screenwriters, allowing them more and more opportunities to cash in. This is already happening, of course, but mostly with luxury-goods brands — look at Kusama and Vuitton, or Jeff Koons and Dom Pérignon, or Hiroshi Sugimoto and Hermès. But with UTA Fine Arts, the old-world apparatus that inflates the fortunes of bona fide movie stars is taking contemporary artists into its purview, making the collision — or collusion — of two disparate industries all the more inevitable.
As of now, no one is discussing which artists have taken on UTA representation, or which artists they're targeting. (Ruby was sitting next to Roth at the dinner, but who knows if that's much of an indication.)
Roth is the perfect person to spearhead this new era for art stardom: He's both a Hollywood scion and a serious art-world insider. He is the son of Steven F. Roth, co-founder of talent agency CAA, and a trustee at both major L.A. museums, MOCA and LACMA, so he grew up around a serious art collection. Plus, he has an easy smile beneath a perpetual five-o'clock shadow, and a laid-back, not-so-lawyerly voice that he uses to unspool a steady slew of lines about what exactly he's doing at UTA.
"We'll be dealing with corporations and individuals and public entities who want to work with artists," he told me last week. "We'll be helping to facilitate the negotiations and conversations with those people."
Predictably, the art Establishment has wrung their hands ever since UTA announced the new division. Marc Glimcher, the president of Pace, wondered in The Wall Street Journal if artists might lose some of their all-important street cred if they partner with too many brands. Hollywood gallerist Steve Turner told Glasstire, a California art blog, that UTA might regret the decision to invest in a fine-art division if the art market cools down and the bottom drops out. Or, perhaps, the public will lose interest in the people who make contemporary art.
"It's just because they read the big numbers, and some artists are making professional athlete or entertainer money," Turner told Glasstire. "That doesn't mean it will always be this way."
Other questions loom: What will UTA be doing that a gallery hasn't previously been able to handle? What cut will it get of the sales? Will the agency — which we have come to regard as a symbol of capitalist machismo (see: Entourage) — represent even more inequality in the art world? Will an artist get dropped if their marketability ebbs? Is there enough room for the entertainment industry to encroach on the art world? Is an artist who is collaborating with a brand on an idea that was facilitated by a lawyer actually creating any art at all?
One of Roth's colleagues, a longtime UTA employee, sat next to me at dinner. He cited Takashi Murakami and Yayoi Kusama's collaborations with Louis Vuitton as examples of what the agency might be looking to do with its clientele. (Murakami, for what it's worth, also wants to make more feature films, like his Jellyfish Eyes.) Another UTA employee chimed in, saying if they're working with one of their corporate clients (apart from Barneys, which they brought in as a co-host for the dinner, UTA also works with the likes of Frito-Lay, AT&T, Procter & Gamble, and Starbucks) and the client needs a façade for its store, they would bring it to one of their artists.
Also, he added, if an artist wanted to make a movie, they're well positioned to help them do that.
"If an artist's career objective is to create and connect with as many people as possible, which I think it is, ideally what we want to be able to do is help the artist achieve that goal," Roth told me. "Each artist has a different set of hopes and goals and dreams, and ideally we help them realize all that and help their careers grow and help them branch into the areas that they want to be in. It's about bridging the gap between worlds that don't have a literal or clear path between them."
Most of the speculation has been made as to who exactly will be UTA's clientele. Will it be Falls or Jordan Wolfson, two youngsters who have the potential of a rising-star actor? Will it be established but non-mainstream artists like Sterling Ruby and Sam Durant? Or are they looking for people on the level of, say, Richard Prince or Jeff Koons?
"We have signed some clients, and we have in fact completed some deals," Roth told me. "We are not announcing names right now because we want to keep the conversation focused on the potential of the agency in and of itself, rather than use names to create a conversation about what we're doing. Also, out of respect to the artists, because this has been such a high-profile topic of conversation, I didn't want to see people unnecessarily bothering them to find out what they're doing, what they're up to [with this], and what an agency is, because I get those questions every day, and they're doing their jobs."